William LeRoy Morgan. Picture taken 1916 when he was just 12 years old. Picture probably taken while the family was living on a farm in Rockland, Idaho. Roy was very much at home in the outdoors, either farming or working with the livestock.
William LeRoy Morgan was born 24 April 1904 in Neeley, Power, Idaho, and died 23 July 1981 in Boise, Ada, Idaho. He never married.
About 1927 Roy's father and mother moved from Rockland, Idaho to a farm in a wooded area next to Sunbeam Creek. There they farmed and gardened until about 1939 or 1940. It was during this time that Roy got a job herding sheep so he could bring home extra money to help the family. It was while living here that Roys mother contracted cancer and died. Roy was 25 years old when his mother passed away. His younger sister Wilma was only 8 years old and his younger twin brothers were 13 years old. Roy made a death bed promise to his mother that he would stay with his father until the three younger children were raised.
About 1939 or 1940 Roy moved with his family to Michaud, a farming area west of Pocatello. At that time the present day airport was an air force training base and Roy's father George William Morgan often "adopted" the lonely and homesick airmen who would come to the farm for recreation and home cooked meals.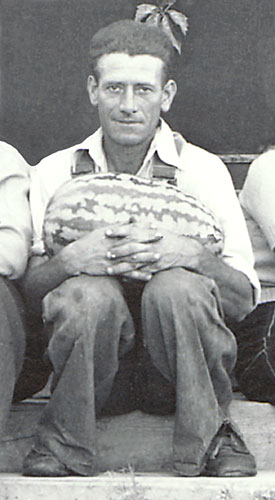 Roy Morgan holding a watermelon. This picture was taken while the family lived at Michaud. Roy was "lifted" from the larger picture. In the larger picture were two airmen who were visiting the family. Roy was said to love watermelon.
While living next to the air force base George William Morgan had a contract to haul kitchen garbage from the air force mess hall to a local hog farm. The airmen would scoop garbage off the mess hall tables, flatware, cups and all. After the hogs had eaten the food the flatware and heavy white mugs were left in the food troughs. George William gathered these, cleaned them, and gave them to his brothers and sisters. For many years after the war was finished the Kenneth Morgan family still used flatware with "US" stamped on it and the heavy white handleless Corning mugs that were practically indestructible.
About 1942 George William, Roy, and the remaining family moved to a 545 acre cattle ranch in the Lemhi valley near Baker, Idaho. Roy became half owner of this ranch and he and his father ran the ranch together.
In 1959 Roy sold his half of the ranch to his sister Wilma and her husband Robert Grounds. Roy bought a farm near Star, Idaho, a small community near the Snake River west of Boise, Idaho. Here he lived close to his brother and his wife, Merl and Billie Morgan. He was close with Merl and Billie and their children.
Robert and Wilma Grounds sold the ranch at Baker, Idaho in 1967, three years after George William Morgan died. Roy lived the rest of his life on his farm at Star, Idaho.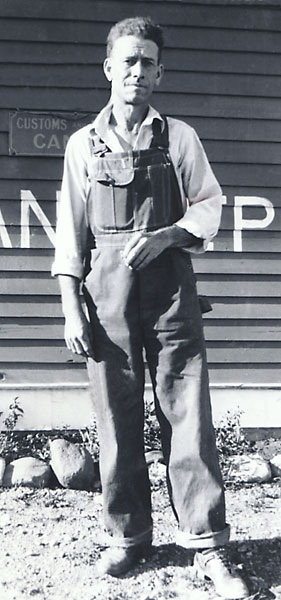 The picture above of Roy Morgan was taken in 1947 at a customs station on the Canadian border.