The family picture above was taken in 1963.

William Leon Morgan was born 19 July 1926 in American Falls, Power County, Idaho. He married Gwendlyn Aileens Hall 5 November 1949. Gwen died 24 July 1966. Bill died 19 August 1983.
The children in the picture are, left to right, Cindy, Robert, Donald and Connie. Donald died in a tractor accident 22 July 1966.
Life Sketch for William Leon Morgan
Taken from his own autobiography and information related by his brother Lonnie at Bill's funeral. Information supplied by Lonnie is in brackets.
[William Leon Morgan was born July 19, 1926 in American Falls, Idaho, the second child and first son of Leon and Mamie Morgan. He was born in grandpa Richardson's home there as were several of their grandchildren.]
The 19th day of July 1926 was a very important day in my life. I began my journey here on earth. This happened at the home of my grandparents, Levi and Erminnie Richardson, at American Falls, Power County, Idaho. I was the second of five children born to Leon Baugh Morgan and Mamie Dell Richardson.
My sister, Ladera, was two years older than me and the other younger boys were Theo, Jack and Lonnie. Theo was two years younger than I was and we grew up together to be almost like twins and we were able to play the big brother role to Jack and Lonnie.
Power county had been the home for the Morgan families for at least three generations before my time and it seemed to be "home," and so my boyhood was spent in and around American Falls.
[During his (Bills) growing up years the folks lived on a ranch at Sunbeam, a long ways from town on a dirt road. He (Bill) and Theo rode horses through mud and snow to go to school. As I remember it, each time they told the story, the snowdrifts were deeper!!]

[Bill loved to ride horses. He and Theo used to earn extra money by breaking horses for other people. Sometimes they had horses "run away" with the wagon while they were breaking them, or even afterwards.]
My earliest recollections of my life go back to the ranch at Sunbeam, an area south of American Falls, where dad raised dry farm grain and cattle. (I remember the) 1929's and 1930's as fun days full of exitement and exploration. As kids we would roam over the hills back of the house, playing games, hunting for flowers, birds nests or rabbits and squirrels. There was always a new territory to explore and new things to discover. A short distance in front of the house was Sunbeam Creek and all summer that was our swimming hole. We had many happy hours sliding down the banks into the water and of course there was the willow trees and the red Birch along the creek that we used to bend the tops down and climb on and ride our "wild horses" by straddling the big limbs and bouncing up and down.
The winter times was also lots of fun. We had the best sleigh riding hills in the world. I recall many evenings when the whole family and often the neighbors would be out on the hillsides with skies, taboggans, ect. and then came into the house half froze and would have chile and hot chocolate.
We were living several miles from town and often times it was several weeks between trips to town. I was too young to realize that times were rough and that the folks were having a stuggle to make a living just like the rest of the people, but I am thankful that I never remembered a time when we did not have plenty to eat and all we needed for a happy family life. No matter how tough it got, the folks always seemed to be happy and never would complain. Many times I remember the folks doing for others and their home was always open to whoever came along.
[He (Bill) loved to go hunting and each fall we enjoyed the venison he always brought back. One year though, this venison had a slightly different taste. He and Theo shot a bear while hunting. They dressed it out and added it to the supply of meat at home. That night mother fixed a large platter of steaks for company dinner. Everyone remarked how delicious they were, then someone recognized that it wasn't venison after all!]
[Bill was an artist - one who loved to create. As a young child he loved to build and make things. He often made the toys they played with. He was always fixing up and repairing the toys. He would also make note of things that needed fixing around the farm. This was his life's pattern. Whenever the folks would be gone a while, he and Theo would fix a gate or fence or whatever needed repairing to surpirse them when they returned home.
As far back as I can remember we had "family home evening." We did things as a family, all work and play was a family project--music, games, homemade candy.
I feel very fortunate to have lived in the times that I have for no previous generation of people have lived to see the great changes within the world. Changes that include going from the horse and buggy to present era of travel in space.
The summer of 1930 dad and one hired man plowed all spring using a 2 bottom plow and eight head of horses. I remember that I spent many hours turning the (handle of) the forge in the blacksmith shop to heat the plow shares and then dad would put the shares on a big anvil and hammer them into shape. This was the way you sharpened plow shares.
We also spent many days buring sage brush on the plowed ground. The hot summer days would only be made hotter with a big brush fire. A dip in the creek sure felt good!
Whenever there were any repairs to be made on the machinery they were done at home. Grandpa Morgan (George William Morgan) and dad (Leon Baugh Morgan) were very good with the forge and dad taught me how to weld metal using a hot fire, an anvil, and hammer and borox as a flux. I remember dad making parts for wagon wheels out of Choke Cherry wood and also any other part of a wagon that needed replaced.
Dad and mom were great believers in "home industry" and taught us all to be as self sufficient as possible. We always had lots of canned (home bottled) fruit and vegetables, home cured and canned (bottled) meats, home made butter, buttermilk and cheese. Mother was the greatest at homemade bread and hot rolls, cookies and cakes.

(Note: They did not have access, on the farm, to the technology to can fruits and vegetables in cans but they commonly bottled food in bottles with a home "canner." Thus the potential for confusion in terminology. "Canned" food would actually have been put up in bottles.)
Mom (Mamie Richardson Morgan) was always busy. I remember her helping do many things, both in the house and everything on the ranch. Mother always seemed to have time to help outside with the haying and grain harvest and help with the chores whenever needed. Often times we would be late getting home from the hills and she would have the chores started.
I started to school in 1932 at the Sunbeam School, a little school with 9 kids, 8 grades, 1 teacher. LaDera and I rode horseback to school as did several of the others. We lived the farthest from the school and in foul weather dad would take us in a covered sleigh and pick up the rest of the kids along the way. This sleigh that dad fixed up had a little wood stove in it to keep us warm and we had a lot of fun trips in that old "school bus."
During my second year in school the school districts all consolidated into one school in American Falls. So we had to move into town for the rest of the school time. We lived a short distance from school and it was a little different life style for awhile.
The next year dad decided to move the "ranch" closer to town to make it more convenient for us all. He bought an old house and moved it several miles to a nice location about three miles from town and began to build a complete new place to live. This house was moved with two large iron tired wagons and horses. I remember that it was quite a sight to see dad driving two wagons while standing in the doorway of the house. Before many months had passed dad and mom had remodeled the house, built a log barn, chicken house, sheds for the cattle, corrals, feed lots, and a nice cellar for storage.
[Bill was very talented in music. He played the violin, the madolin, the clarinet and saxophone.He played first chair clarinet in his high school band. He also played in the faily band for church and community dances.]
[After graduation from high school in 1945, he (Bill) entered the U.S. Army that summer. He took his basic training in Texas during July and August! Then was sent to Fort Jackson, South Carolina. After his discharge he joined his family who had moved to Salmon, Idaho.]
[My (Lonnie) earliest memory of Bill was him taking me with him on his dates. I was 3 or 4 years old and rode in the narrow window ledge in back of the seat in his Pontiac coupe. At that time he was dating a very lovely young lady, Gwendlyn Hall.]
[Bill and Gwen were married on November 5, 1949 at the folks ranch inSalmon. Their marriage was later solemnized in the Idaho Falls Temple. After their marriage he and his brother Theo went into partnership to operate a service station. Later, after our father became seriously ill with heart disease, he worked nights at the station so that he would have his days free to still come out and help dad on the farm. Bill went to auctioneering school and worked as an auctioneer for a while in Salmon and after they moved to Nampa.]
[The Morgans began moving to Boise Valley in late 1955 so Bill and his family moved there in January 1956 and have been members of the 3rd ward for 27 years.]
[In Nampa Bill worked initially in contstruction. Later he was head mechanic at Dobbs Motors for many years. He also worked for awhile as a realtor and finally returned to his real love - making things in his shop, particularly wood stoves. He personally built in excess of 500 wood stoves and inserts in his shop. Stoves that were highly refined and excellent in function and craftsmanship. (Bill's obituary states that he was owner and operator of Morgan Heaters, where he built custom wood stoves, at the time of his death)]
[Into every life tragedy must come. On July 22, 1966, his nine year old son Donald was helping his grandpa on the farm. The tractor tipped over and Donald was killed. Gwen was still recovering from the birth of baby Maureen. Two days after Donald's accident the family was returning from viewing Donald at the funeral home and Gwen passed away suddenly. Bill was left with 5 little children, including a two week old daughter, Maureen. During this time of great sorrow, Bill was the one who comforted the rest of us.]
[Happiness was to return though when he met Donna Bettis whom he married in March 1967. He became ill during the ceremony and was taken to the hospital for an emergency apendectomy and that is where he spent his honeymoon! Dopnna had 3 children of her own; Billie, David and Debra. Together they had tw more children; Tracy and Trudy.]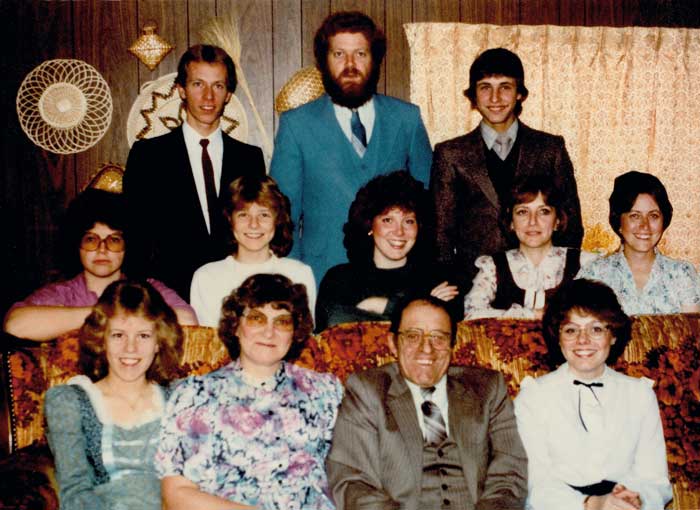 This Willliam Leon (Bill) Morgan picture with his second wife and combined family (his children, her children and their children) was taken in summer 1982. Bill passed away the following summer.
In the picture above are Bill Morgan and his second wife Donna Bettis. They were married in March 1967.
In the picture above are: Back Row, left to right: Robert, David and Byron. Robert and Byron were children of Bill and his first wife Gwen. Middle Row, left to right: Billie, Trudy, Debra, Cindy, and Connie. Connie and Cindy were children of Bill and his first wife Gwen. Front row, left to right: Maureen, Donna, Bill, Tracie. Maureen was a child of Bill and his first wife Gwen. Donna had 3 children when she married Bill. They were Billie, Debra and David. Bill and Donna had Trudie and Tracy after they were married.
Continuation of Bill Morgan life history:
[Bill was a very unselfish person, always helping others. When someone's car broke down Bill was there to repair it. He often took a load of wood to a widow or someone in need; furnished housing or food to many others, even strangers. He never turned down a request for help. We had to be careful about admiring something he had because he was very likely to give it to us. He generously shared garden produce and fruit from his trees to all who stopped by. This was so characteristic of Bill. Always doing things with and for others and asking nothing in return. He was always a giver and never a taker.]
[Bill always loved to do things for people and with people. He would often say, "Hey, it's about time to go to the hills and get a load of wood." He would make it a family affair. The more the merrier. The bigger the crew the better he liked it. We made countless trips to the hills. He believed in the counsel of the church leaders to have a 2 year supply of food and fuel on hand and he wanted all of the family to have theirs. You could see by the pile of wood in his back yard that he was prepared.]
[Bill was an active member all of his life in the LDS church, serving as a stake missionary, teacher, and counselor in the Bishopric, and other positions. He loved to teach and influenced many lives through his great knowledge and love of the Gospel. One of his great joys was teaching his sunday school class.]
Click on the link above to be taken back to the Leon Baugh Morgan page.