In the picture above are Amy Quinton Gourley (1894-1980) and Edward Sidney Gourley (1886-1962). They were married 18 May 1912 in Cardston, Alberta, Canada.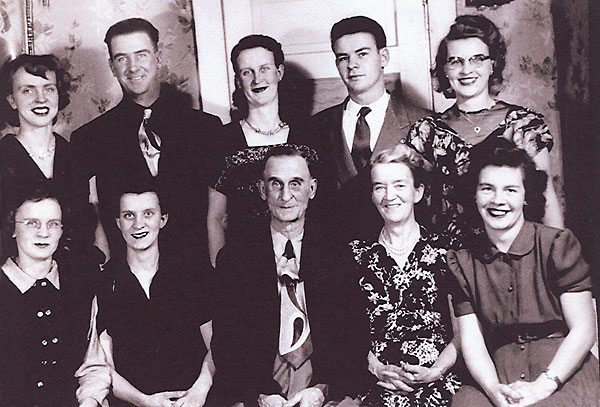 In the picture above are, back row, left to right: Lorna Beth Gourley Jarvis Blount (1924), Delbert Vernon Gourley (1913-1988), Mary Ellen Gourley Smith (1921), Edward Robert Gourley (1931), Melva Bess (Mia) Gourley (1918). Front Row, left to right: Mildred Ruth Gourley Dalgleish (1928), Bonnie Jean Gourley Pokornik (1933-1990), Edward Sidney (Ted) Gourley (1886-1962), Amy Quinton Gourley (1894-1980), Amy Garnet Gourley Jackson Boyes (1927-1945).
Life Sketch for Edward Sidney Gourley
by
Edward Robert Gourley, in 2004
In about 1905 Ted Gourley migrated to Alberta, Canada, where his sister Mary Ellen Rouse was living. Her husband, Walter Rouse, had a farm near the town of Raymond, one of the early settlements in southern Alberta. Ted worked for some time on a large cattle ranch, the Bar K2 near Cardston, and at one time had a barber shop in Cardston. Ted loved the outdoors and working with animals. In 1913 he married a fair haired lass named Amy Quinton and during the next 20 years they brought forth 10 children; nine of them grew to full maturity, and one was stillborn. Ted continued to farm in Raymond and Warner and worked during the sugar beet season at the Canadian Sugar Factory in Raymond.
In 1936 the sugar company built a new refinery at Picture Butte, and he moved his family there where he and Amy raised their children and lived for the remainder of his life. He was buried in the family plot in Raymond in 1962. Ted was in excellent health for most of his entire life and always had farm animals at home. He kept a milk cow, a pig to take care of the excess milk, and a few chickens for eggs. In spring he kept an extra few chicken fryers for the freezer. Upon Ted's passing, Amy moved into the city of Lethbridge, Alberta, where she remained for the next 16 years before her passing in 1980.
Amy's parents and most of their large family were English immigrants who had joined the LDS church, and after living in Bear Lake County, Idaho, for a few years, moved to a homestead farm just outside the Mormon town of Cardston just before Amy was born.
There is a life sketch for Ted Gourley in the book "Wagons to Wings," Warner, Alberta, 1987, page 460. There is a life sketch for Amy's Quinton family in "Chief Mountain Country, A History of the Cardston District," Vol. II, Cardson, Alberta, 1987, pages 422-424.