Joseph Charles Morgan was the fifth child of Thomas and Nancy Jane Radford Ryset Morgan.

Joseph Charles Morgan Life Sketch by Leon Pitman
Joseph Charles and Melissa Bassett Morgan
Joseph Charles (Joe) Morgan was born on October 27, 1879, in Oak City, Millard County, Utah, the son of Thomas Morgan and Nancy Jane Radford. During his early childhood he lived in the small community of Leamington in Millard County, located a few miles north of his birth place, Oak City. He lived in an adobe house there that Thomas Morgan built for his second wife Nancy Jane. This house is still standing on it's original site.
When Joseph was about 9 years old, in 1888, his family sold the house and farm in Leamington and moved to Star Valley Wyoming where his family, along with about 50 Radford and Morgan relatives founded the community of Etna in present Lincoln County. Later in life he wrote down some memories of life in Wyoming. His most prominent memories are of the terribly long, cold winters, starved livestock, and failed crops. At the age of 11 or 12 his family, along with many of his relatives moved to Poplar in Bonneville County, Idaho in 1891.
In the reminiscences of Joseph Morgan's life listed in the sources below, he recalled some of his childhood memories in Leamington, Utah. But he spoke more about people he remembered than of places where he had lived. His cousins Jim and George Lovell were among his boyhood chums. They were sons of his mother's sister Ellen and her husband Joseph Lovell. He had known them in Leamington and in Wyoming before they all moved to Idaho. When he was 20 years old his relatively young mother, age 53, died at the Morgan home in Poplar.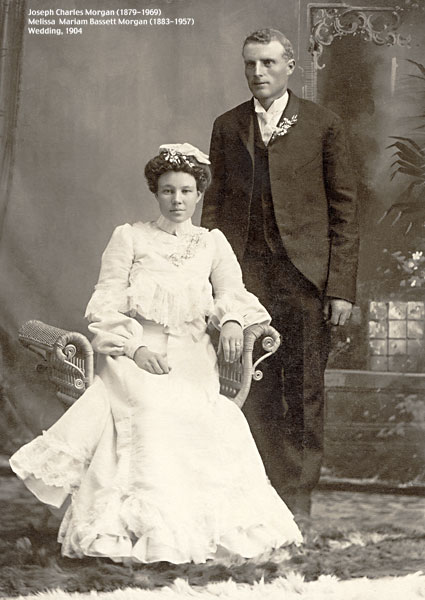 At the age of 24 Joseph married Melissa Bassett, the daughter of Edwin Bassett and Emily Ann Atkinson. Joseph first met Melissa (called Liz by her friends) at a dance and had a brief courtship. When they decided to marry in 1904, they took the train to Cache Valley, Utah, where Melissa had grown up. They stayed there in Clarkston for a time with Melissa's aunt Tillie and uncle Alfred Atkinson (Emily's brother) and were married in the Logan LDS temple 7 September 1904.


Life in Poplar
As a married couple, Joseph and Melissa Morgan first settled on a homestead in the rural tract of Poplar, in Bonneville County Idaho, about 16 miles east of Idaho Falls. Like his father Thomas Morgan, Joseph was a farmer and was active in the LDS Church. While living in Poplar he served for some time as the Bishop of the local ward, and also worked on community projects such as the construction of a dam across Anderson Canal. His formal education amounted to about two years of grammar school. Joseph farmed for many years in Poplar, and in the hills south of Poplar where he worked with his older brother Tom (John Thomas) Morgan, and his brother-in-law John Nebel, raising mainly wheat by the dry-farm method (without irrigation).

While in Poplar between 1904 and 1922 Joseph and Melissa had nine children, three of whom died in infancy. In about 1922 the family fell on hard economic times and had to give up the farm. They then moved to Idaho Falls where Joseph got a part time job in the Lincoln Sugar Mill which produced sugar from the many sugar beets grown in the area. During this time they had their tenth child, Cecil. After a year or so at Idaho Falls, the Joseph Morgan Family moved to the nearby community of Moreland in Bingham County, where they were able to rent a farm. While living there they had their eleventh child, Raymond in 1924.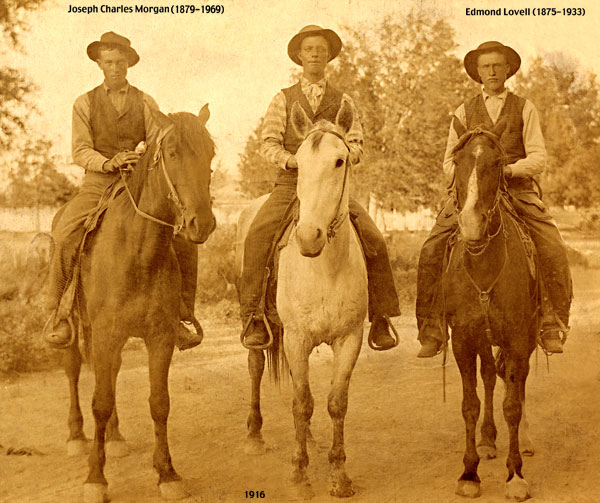 The people who own this picture were sure the man on the left is Joseph Charles Morgan. Others disagree. We present it here for historical purposes.
On the Move
In about 1924 the family gave up their efforts to farm in eastern Idaho. But they had apparently done well enough to buy a Model T Ford which they used to drive to Emmett in Gem County, western Idaho, a move which took them three days of troublesome driving. While at Emmett, Joseph Morgan worked for the Boise Payette sawmill. But even though he was paid over $4.00 per day, possibly more than he had ever been paid, he still preferred to try farming again. So after a year at the sawmill, he rented a farm in Montour, about 20 miles northeast of Emmett, in Gem County. But even after the family moved to Montour, Joseph still had to work at times at the saw mill. Their sons, Edwin and Alma, did much of the farm work. Lila remembered one of her chores while in Montour was taking care of turkeys. She also remembered that the family canned one year up to 700 quarts of fruit and vegetables, most of which was grown in their own gardens. Daughter Florence mentioned that of all the places they lived, Montour was her favorite.
While the family lived in western Idaho, their oldest daughter Emily married George Howard Pitman, whose family had once lived in Milo/Ucon just a few miles from the Morgans in eastern Idaho prior to their migration to Emmett.
In 1927, the Morgan family left Montour, and went to Glenns Ferry, a rather isolated community on the Snake River in Elmore County, Idaho. While there, their daughter Mamie married Owen Crocket. After about a year there, the family moved to Eden in Jerome County, south central Idaho. At Eden they farmed for two years, raising dry beans and potatoes on newly opened land, some of which Joseph and the older sons cleared themselves. In 1931, after rather unsuccessful efforts at Eden they moved to Dietrich in Lincoln County, south central Idaho. There they obtained a small farm and persuaded their daughter Emily and her husband George H. Pitman to move to a farm next to them. They stayed in Dietrich for the next ten years, eking out a living during the Depression years. The younger Morgan children attended school in Dietrich. Four members of the family married while living in Dietrich: Florence married Lee Wessel in 1934, Edwin married Thelma Morgan in 1934, Alma married Lucille Cooper in 1935 and Lila married Homer Anderson in 1935.
In September 1941, Joseph and Melissa finally gave up farming, moved the remainder of their family (Cecil and Raymond) to Roy, Weber County, Utah, where they operated an auto service station. By this time most of the older children had married and started families of their own. In 1945, Joseph and Melissa retired to Fruit Heights Davis County, Utah, where they tended a small orchard of fruit trees behind their small home at the foot of the Wasatch Mountains.
Melissa's children, when recalling aspects of their mother's life, most prominently mention that their mother often suffered from head-aches and ill health. During the last several years of her life she had a progressive loss of hearing, and she was often bedridden. The older girls did most of the domestic chores when their mother was down. In 1957 at the age of 74 she died in Salt Lake City, 7 May 1957, preceding her husband in death by 12 years. She is remembered as having had a reserved and quiet disposition. Her daughter Lila remembered fondly that Melissa played the guitar and sang. She was short in stature and had dark brown to black hair and a slim to medium frame.
In remembering their father the children mentioned his good nature, warmth, and friendliness. He had light brown hair, was medium in height and had a slim build. He had good health until his last few years when he had considerable memory loss possibly due to Alzheimer's disease and was unable to care for himself. His daughter Mamie and son Raymond, both of whom lived nearby, took care of him until his death in Ogden, Utah on November 1969 at the age of 90. They are buried together in the Layton, Utah Cemetery.

Together Joseph and Melissa had eleven children, eight of whom reached adulthood as follows:
1. Thomas Edwin, b. 2 July 1905 in Poplar and died 10 Mar. 1955 in Idaho. He married Thelma Morgan (not a relative), 24 Aug. 1934 in Shoshone, Idaho. Thelma died in 1994 in Salt Lake City.
2. Joseph Albert, b. 11 Mar. 1907 in Poplar and died 27 Mar. 1908.
3. Emily Jane, b. 12 Oct. 1908 in Teton, Idaho and died 26 June 1945 in Wendell, Idaho. She married George H. Pitman in 1929 and settled in Dietrich, Idaho. They had a family of five: Dale, Helen, Marvin, Leon and Phyllis.
4. Mamie Luella, b. 27 Aug 1911 in Poplar and died 22 Jan 1996 in Bountiful, Utah. She married first Owen Crocket in 1932 in Salt Lake City. He died in a plane crash in 1948. She married second in 1952 to John Voss who died in 1982. She lived most of her adult life in Layton, Utah. She had no children, but she and Owen adopted twin boys, Don and Dale.
5. Alma Lyman, b. 9 Mar 1913 in Poplar and died 24 May 1991 in Pasco, Washington. He married first Lucille Cooper who died in Spokane, Wash in 1976. He married second Delila Walkup. He and Lucile had children: Ruth, Joanne, Dorothy, Mary, David, Carol, Susan, and Karren.
6. Florence Melissa, b. 12 Dec. 1914 in Poplar, Idaho and died 8 Mar 1990 in Bountiful, Utah. She married first Leland H. Wessel in 1934. Florence and Lee had one child, Alice. After a divorce she married second George H. Pitman in 1946, her sister's widower, and lived in Dietrich, Idaho. George died in Twin Falls, Idaho in March 1985. Daughter Alice was raised in the Pitman household in Dietrich.
7. Lila Mary, b. 3 Feb. 1917 in Poplar and died 2 Oct. 1996 in Pocatello, Idaho; married Homer L. Anderson and lived in Dietrich and Shoshone, Idaho. Homer died in 1992. They had three girls: LaDona, Marjorie and Barbara.
8. James Ammon Morgan, b. 19 Jan. 1920 in Poplar and died 26 Jan. 1920.
9. Heber Anthony, b. 10 Mar. 1921 in Poplar and died 17 Mar. 1921.
10. Cecil Parley, b. 13 Oct. 1922 in Idaho Falls and died 3 Aug. 1985 in St. George, Utah. He married Dora Jane Butters in 1945, and lived most of his life in San Jose/Los Gatos, Calif. They had three children: Kent, Jerri and Steven.
11. Raymond Edgar, b. 26 Sep. 1924 in Moreland, Idaho. He married first Mary Watkins with whom he had one child, Ronald. After a divorce he married Janet Jean Abrams. They spent most of their lives in Fruit Heights/Kaysville, Utah where they had children: Howard, Linda, Meredith, Eileen, and Janice.