Anna Lorene Morgan Burt (1913--) and husband Ralph Nelson Burt. Married 18 April 1941.


Anna Lorene Morgan Burt (Lorene) (1913 - ).
On September 26, 1913, a great, sweet soul entered this world. She was born at home, in American Falls, Idaho. She was greatly wanted, as her mother had miscarried previously, and her Grandmother Allan had just lost her newborn baby. After Lorene was born, she was put in bed with Grandma.
Named for her two grandmothers, her official Idaho State name is Betsy Lovina Morgan. But when Lorene was taken to church and blessed / given a name by her father, her name was pronounced (and has been ever since) as Anna Lorene Morgan.

Lorene, oldest of eight children, has many happy childhood memories. She remembers living with her Grandpa Morgan [William Thomas Morgan], going to church with him, and how he called her 'Reen.
Christmas, as a child, included oranges and chocolates in a sock, with maybe a doll. Every year there was a big dinner with all the relatives. The kids ate last because there wasn't room at the table with the turkey, wild goose, chicken, sauce, and goodies heaped high (especially mince meat and pumpkin pie).
Lorene's favorite toy was an old-style phonograph with a crank on the side. Lorene would play record after record. She also loved listening to her father play the banjo, playing hopscotch, and being with her dog, the beloved, long-haired, cow-herding "Badger."
When Lorene was 13 years old, her family moved to the Bitter Root Valley in Montana. There she rode a horse to school (using a sleigh in the winter). Lorene helped with her brothers and sisters and with the family farm, raising cows, pigs, horses, and chickens, churning butter, and helping with the crops. The family stayed warm in the winter by gathering around the kitchen stove. Lorene washed clothes by getting water from the creek, heating the tub of water on the stove, and pushing the washer back and forth.
Lorene's family moved back to Idaho, and Lorene continued to help care for her siblings. She says that she was "ornery," and that at about age 16 she didn't want to go to school anymore, although she did attend secretarial classes. As she entered adulthood, she began working in the homes of wealthy families, including as a nanny for the children of Idaho's Governor Chase Clark. Lorene had several close girlfriends, spending all her spare time with them -- attending church, shows, and parties together.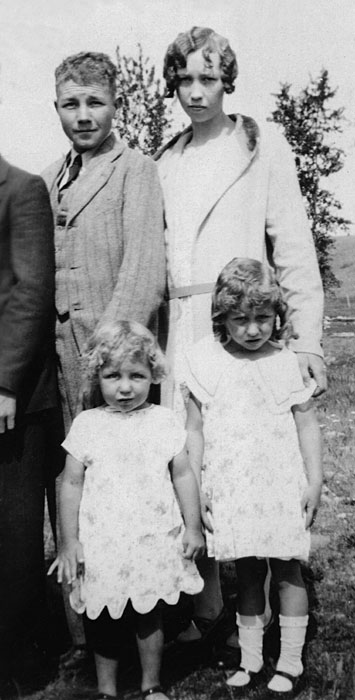 Lorene with her brother Dale and her sisters Donna and Marva. Marva is the older sister and Donna the younger.
Lorene's life changed dramatically on July 21, 1940, when she met Ralph Burt. Lorene was at a popular gathering spot for young adults (almost a "speak easy"), and she was surrounded by her girlfriends and her brother. But Ralph came in, saw Lorene, and walked directly to her and asked for her phone number. Both Ralph and Lorene were older and lonesome and soon felt that they could not live without each other. When Lorene moved to Boise with the Clark family, Ralph pursued her and they were married in Boise on April 18, 1941.
Lorene and Ralph lived in a small house that Ralph built, with Ralph working in construction until World War II tied up building supplies. Ralph then worked for 15 cents an hour in a potato warehouse, lifting, loading, and sorting potatoes. At the time, stamps cost 2 cents, gas was 25 cents per gallon, and going to a movie cost 25 cents. For entertainment they listened to the radio, as it would squeak and squawk; they would stay up all night and listen until it would fade away.
Then, on a bitterly cold day, January 16, 1942, Lorene went into labor. Ralph cranked up their Model T Ford (the one that had only a driver's seat -- the passenger seat was a wooden box), and took Lorene to the Idaho Falls hospital. Soon after, their first child, Sandra, was born. Lorene was happy to have a girl, one with dark curly hair like Sandra's Grandpa Morgan. Lorene spent 10 days in the hospital, with a total bill of $30. Because of the war, no one had money, although Ralph had property. He was able to pay off the hospital after building some more houses.

Lorene's little family began to move to places where Ralph could get work. First they moved to a defense plant, in Ogden, Utah. Then they moved to do construction work for the Hanford site in Washington State, and so they moved to Pasco, Washington. They lived in a small homemade trailer, which was pulled behind their 1934 Ford. Each move brought many neighbor friends and new ideas for how to grow the most delicious local produce.
Lorene's second child, Wally, arrived November 16, 1943. Ralph had difficulty visiting Lorene at the hospital because of car troubles -- the Ford's tires were always having problems. Tires were strictly rationed, and it was not unusual to have 3 or 4 blowouts per day (people just took tire patches along). Other things were rationed, too, like butter, sugar, gas, coffee . .
Lorene and Ralph then moved to five acres of land, cultivating two acres of asparagus, and to accommodate their growing family they built a room (onto another room) on their little trailer. They finally felt at home in February 1946, when they bought 15 acres of land at 303 E. 10th Avenue in nearby Kennewick, Washington. They lived in this home for fifty years. This home was a hive of activity, with six acres of prunes, two acres of concord grapes, a big garden, two chicken coops, and cattle and dairy cows. Lorene's life became exceptionally busy and full, with raising children (cloth diapers and all), tending to animals, helping to grow crops, and working in church callings. Lorene was (and is) a wonderful friend and a good neighbor to all, especially in moments of crisis (such as when Ralph accidentally burned down the neighbor's outhouse)
Ralph continued with carpentry and construction at Hanford, while doing part-time (and eventually full-time) farming. Lorene and Ralph cleared acres and acres of sagebrush, growing pinto beans, potatoes, beets, peas, spinach, wheat, and corn. Lorene even drove a hay baler (although she only made one round)! Lorene made and brought Ralph a lunch each day, especially his favorite: cheese sandwiches and tomato soup (this continues to be his favorite lunch).
At this time, just after World War II, Ralph and Lorene became actively involved with the LDS church. This aspect of their lives continues to be very important to them. For Lorene, the church became like family, with Lorene helping others, and receiving support from people, in good times as well as bad times. Lorene has had the opportunity to watch the LDS church grow in the Eastern Washington area. When Ralph and Lorene first moved to the area in 1946, church was held in a lodge, and Ralph would sweep the floor to get rid of the all of the cigars before church started. Then later they met in rooms above a hardware store, with Sunday School taught in the stairwell. With time and more church members, Ralph and Lorene were able to help build church buildings, and they donated the land for another church building which was dedicated in 1982. Lorene served as Relief Society President, among many other callings, and Ralph and Lorene later worked in the Seattle temple for seven years. Most recently, they were invited guests at the temple dedication of the Columbia River Temple (2001).


But going back to the late 1940s, Lorene's life, already full with children and farming and church activities, became even more busy and full as more children arrived: Larry, Ron, Diane, Shirlene, Cliff, and Jerry. Lorene had a total of eight children, and she remembers their infancies along with major life events. For example, when Larry was a baby, Lorene and her family were sealed in the Idaho Falls temple May 27, 1947, and Lorene's parents were with her. But challenges also arose: when Diane was a baby, there was a freak windstorm / mini tornado that blew Ralph off of some scaffolding and caused a wall to collapse on him. Ralph miraculously survived with only a broken pelvis but required extensive recovery. At the same time, Wally had an emergency appendectomy. Lorene continued through it all, caring for the children, visiting the hospital, and learning to make do in difficult circumstances. Then, when Cliff was a baby, Ralph had a heart attack which left him extremely weak and his recovery took six months. At that point, Ralph switched from construction and carpentry to full-time farming.
Lorene's family grew up in the 1950s and 1960s, and she remembers 10 people gathered each night around the small kitchen table (Ralph, Lorene, and their eight children). Lorene also helped raise the neighbors children, as Lorene's home and Ralph's barn (an improvised fix-it garage) became a magnet for young people. All helped with the milking and the gardening, but also there were motorcycles and dances and parties. Then, Lorene's children began to leave home, attending college, going on missions, and getting married. Lorene was sad to see them go.
Lorene's life took on an additional dimension when she became a grandmother in 1965. Her youngest son, Jerry, was only 7 years old when the grandchildren began to arrive -- and kept on arriving -- until 31 grandchildren were born. Lorene and Ralph love their grandchildren, feel close to them, and can hardly stand being far away from them. Lorene patiently stood by while her daughters and daughters-in-law, as new mothers, followed the latest baby fads, discipline techniques, and special diets. She was there as needed: to drive to the hospital, to hold the colicky ones, to help with the workload with each new arrival. As the grandchildren grew up, for many years Lorene wrote birthday cards to each one, enclosing dollar bills for each year that the grandchildren had attained. Many of her grandchildren lived close by, so Lorene helped raise those grandchildren, too (growing corn, playing on the tractors, sewing - - especially emergency repairs - - providing cookies and bread and a safe, warm, and welcoming place).

Now Lorene's grandchildren are having children. With her oldest great-grandson at age 16 (as of 2007), so far 40 great-grandchildren have arrived. Lorene still loves to visit with her children, grandchildren, and great-grandchildren. One of Lorene's gifts with the youngest ones is that she is extremely perceptive about what they need and what they are trying to communicate.
So far, Ralph and Lorene have celebrated 65 years together and are still going strong. They now live in a home built by their son Ron on the property Ralph used to farm. Lorene quips that Ralph "married me so that I could take care of him in his old age." But now, they both care for each other, at age 101 and 93. At Lorene's last family gathering, over 30 relatives celebrated her 93rd birthday. She was amazed when she was told, "All of these people are here because of you!" Lorene's best work and memorial of her life is her numerous, healthy, functional, and peace-loving family who honor her and love her dearly.

Children of Clifton and Velma Morgan
Click on the link above to see pictures of Lorene and her siblings.