Elizabeth (Betsy) Morgan was the second child born to Thomas Morgan and Ann Watkins Morgan. She was born 31 August 1845 in Bellhoughton Worcestershire, England, but as a young girl lived mainly in the town of Bishops Frome, Herefordshire where her parents had settled. As a farm laborer her father found temporary or seasonal work in different communities, thus her birth in Bellhoughton, located about 25 miles from Bishops Frome.
When Elizabeth was about six years old, in 1851, her parents joined the Mormon Church and looked forward to emigrating to Utah. In 1855, 10 year old Elizabeth boarded the ship Siddens in Liverpool, England with her parents and sisters Eliza and Priscilla, for the long journey to America. It took the ship two months to reach Philadelphia where they disembarked. After a railroad trip to Pittsburgh, the next two months were spent traveling down the Ohio River and up the Mississippi to St. Louis, Missouri and on to Atchison, Kansas, riding on at least three different steamboats.

Elizabeth's family spent the summer of 1855 working on a large LDS Church owned farm in Garden Grove, Kansas. The Morgans left Garden Grove on August 5, 1855, spending most of the next three months traveling in the Milo Andrus wagon train crossing 1200 miles of plains and mountains to the Salt Lake Valley, reaching their destination in late October of 1855.
Elizabeth's first home in Utah was Kaysville, about 20 miles north of Salt Lake City. Two years before her arrival, her uncle Joseph Morgan and her older brother Edward had made the trip to Utah and had settled in Kaysville.

After two years in Kaysville her Morgan family moved to Goshen, Utah. Located about 30 miles south of Provo, Goshen was just being founded in 1857, and her parents were original pioneers of that community. They may have lived for a brief time in Old Fort Goshen where the original settlers of Goshen lived until they were able to claim home sites in the newly founded town.
In 1862, at the age of 17, Elizabeth Morgan married Robert Gourley while living in Goshen. He was one of the original pioneers of that community and a native of Scotland. In 1866 Elizabeth and Robert moved temporarily to the pioneer community of Deseret where her parents and other relatives were involved in the initial founding of that town on the Seveir River in Millard County, Utah. But probably by 1868, when Deseret was being abandoned by its first pioneers, Elizabeth and Robert moved back to Goshen where they settled for the rest of their lives and raised a family of 11 children. They were a farm family, and Robert was a watermaster for an important irrigation ditch which delivered water to farms in the Goshen area. Later in her life Elizabeth traveled occasionally to the Ririe area of eastern Idaho where she appears in at least two group pictures with her parents and siblings. The first of these pictures was taken before her mother died in 1894. The second picture, taken about 1917, shows her with most of her siblings and half siblings.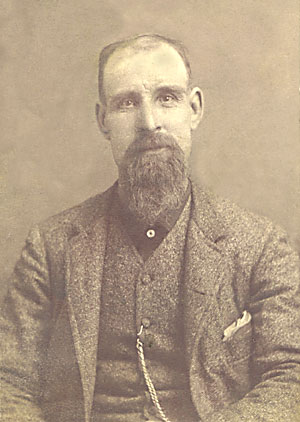 Robert Gourley (1839-1905)
Robert Gourley was born in Glasgow, Lanarkshire, Scotland 19 February 1839. He came to America, at the age of 17, with his father Paul Gourley and family in 1856 on the wooden ship Thornton as part of a Perpetual Immigration Fund group. He traveled to Utah with his father and family in the Martin handcart company which was destined to go down in LDS church history as the infamous Willie-Martin handcart tragedy. The baby they had with them died but the rest of the family, after much hardship, made it to Utah.

Robert Gourley and Elizabeth Morgan met while living in Goshen, Utah. He died in Goshen on 6 January 1905, leaving Elizabeth a widow with their two youngest unmarried children and nine married children. A few years before her death, Elizabeth moved to Eureka, Utah to be close to two of her sons and their families who were living there. She died in Eureka in January of 1925. She is buried in the Goshen Cemetery next to her husband.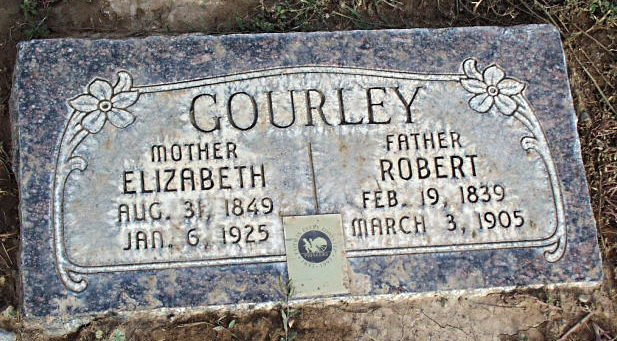 The children of Elizabeth Morgan and Robert Gourley, all born in Goshen, are:
Robert Thomas Paul Gourley, b. 14 March 1863 and died in Twin Falls, Idaho 9 October 1924. He married Elizabeth Ann Weech 3 June 1883 in Goshen.

Margaret Elizabeth, b. 15 May 1865 and died 28 July 1894 in Goshen. She married Volney Boswell in March, 1885 in Goshen.
Allison Ann, b. 10 April 1867. She married Brigham Riley.
Mary Ellen, b. 8 August 1869 and died 26 March 1928. She married Walter Scott Bouse, 28 March 1894.
Nicklous Luella, b. 16 December 1871 and died 2 May 1951. She married 9 Nov. 1891 to George Ercanbrack.
George D., b. 15 Nov. 1873 and died 10 July 1962 in Brigham City, Utah. He married Minnie Rose Finch in Goshen on 5 March 1893. Buried in Goshen Cemetery.
William, b. 1 December 1875 and died 29 Feb. 1916. He married Dora Emma Morgan 8 Oct 1898.
Robert, b. 8 March 1878 and died 1 March 1944 in Eureka, Juab Utah. He married Margaret Knotts on 18 April 1907, in Provo, Utah.
James Henry, b. 13 May 1880 and died 21 June 1945 in Eureka, Utah. He married Maggie May Rolfe on 26 December 1902.
Janet, b. 9 November 1883 and died 15 December 1967. She married James Paul Foster on 3 April 1906. She is buried in Provo City Cemetery, Provo, Utah. James Paul was born 10 Sept 1882 and died 8 Dec 1939. He is buried in Eureka Cemetery, Eureka, Juab County, Utah.
Edward Sidney, b. 30 March 1886 and died 23 September 1962 in Picture Butte, Alberta. He married Amy Quinton on 18 May 1912 in Raymond, Alberta
Click on the link above to be taken to a page with pictures and a life sketch for the Edward Sidney Gourley family.
Click on the link above to see a Thomas and Ann Morgan family picture with Elizabeth in it. She is on the right in the back row in the picture at the top of the page.
Thomas Morgan Family in America
Click on the link above to see Elizabeth Morgan Gourley in two later family group pictures when she was older.


Our Robert Gourley was 17 years old when he traveled across the plains with the Willy Handcart Company. Robert and his younger brother Alexander, age 15, were assigned the job of driving supply wagons for the Hunt Hodgetts wagon company that followed the handcart company to carry supplies and equipment in support of the handcart companies.
Paul Gourley was the father of our Robert Gourley. A very good history of Paul Gourley is available and is relevant to our Elizabeth Morgan and Robert Gourley history because it describes Paul and Robert's trip across the plains in the ill fated Martin Handcart Company in which some 150 people died and many others suffered frozen limbs. Click on the link below to download a .PDF file of Paul Gourley's life history and Paul and Robert Gourley's journey from Scotland to America that begins in 1813 and ends with Paul's death in 1890.
Click on the upper link above to download a very good history of Robert Gourley's father Paul Gourley and a graphic account of Paul and Robert Gourley's journey to America on a wooden sailing ship and across the plains to Utah in the Martin Handcart Company. This is an extensively researched and documented history that describes the sea voyage to America on wooden sailing ships and the arduous trip to Utah pulling handcarts. It is an excellent history. Click on the other link above to see two fine pictures of Paul Gourley with his second wife Ellison Gaape.
The Paul Gourley history that can be downloaded by clicking on the download link above is in .PDF format. The .PDF format document can be read using Adobe Reader which can be downloaded for free at http://www.adobe.com. Click on the button that says "Get Adobe Reader."