Click on the link below to see our major life history, with pictures, of Thomas Morgan and his families.

A History Of Thomas Morgan And His Families

Thomas and Ann Morgan in England
Click on the link above to be taken to a research paper (with pictures) that examines the origins of Thomas Morgan and his wife Ann Watkins Morgan in Herefordshire, England.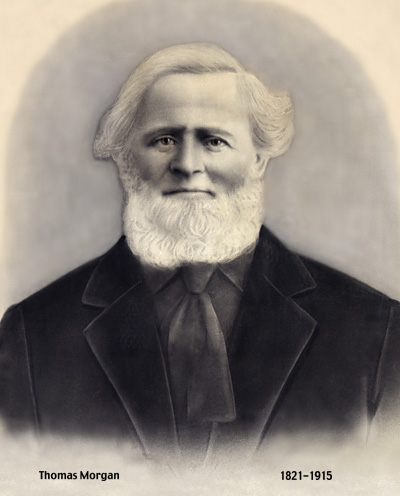 This exquisite old 16 inch by 20 inch portrait of Thomas Morgan was recently discovered in a children's toy closet. Mounted on canvas and a small wood border frame, it appeared to have been enclosed in an ornate outer frame at one time. It was torn and badly damaged. It was flown to New York City (Arriving just in time for the September 11 World Trade Center Attack, which it survived, fortunately) where it was scanned into computers and restored. What you are seeing here is a restored version of perhaps the most important picture in our Morgan Family Heritage: A large portrait of the man who brought the Morgan Family to America.
Name explanation: In many early Morgan Family group sheets Thomas is listed as Thomas William Morgan. However, recent research has not been able to verify that he was ever named William, so we have dropped William from his name. Those of you who have family group sheets using the name William will want to read our research paper titled "Thomas and Ann Morgan in England," which is an examination of Thomas Morgan's origins in Herefordshire. There is a link to this research paper on this page.
Click on the link above to see a picture of the original, much damaged, portrait of Thomas Morgan and another restored version.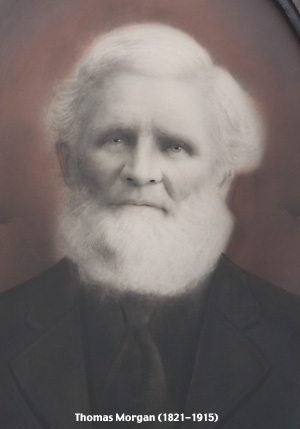 This interesting picture of Thomas Morgan is in an ornate oval frame and was in the collection of his daughter Lydia Almeda Morgan Nowlin.