Thomas Morgan (1821-1915) was a Mormon pioneer who emigrated from England to Utah in 1855. He, his wives and families, were pioneers in the truest sense of the word, clearing new land never before cultivated, building frontier homes, establishing community infrastructure, and contributing to church and institutions of stable community life. He and his two wives and families were involved in the founding or early settlement of at least seven communities in Utah, Wyoming, and Idaho. The descendants of Thomas Morgan and his two wives, Ann and Nancy Jane, now number in the thousands.

It is hoped that those who read and study the history of Thomas and his families will bond closer to their family roots, will further appreciate their origins, and gain a better understanding of the hard work and sacrifices these pioneer Morgans made for us, the descendants. The Morgans were clearly and strongly motivated by their new-found faith in Mormonism. Nothing of their lives after their conversion to the church in 1851 can be understood without knowing and understanding the depth of their commitment to Mormonism as a cause, as a social and religious movement, and as the source of their faith. The rawness and hardships of their pioneer lives are truly amazing to us today.

This story needs to be told but we are hampered by a lack of information directly from the Morgans. Our immigrant Morgan pioneers were not writers. They did not keep diaries. No known letters of theirs have survived. As a result we know little of their daily thoughts and feelings, their joys and griefs. What we have learned has come from three main sources: 1) records of the Morgans found in official documents such as church and civil records, 2) family records, stories, and memories written by a few early descendants, and 3) aspects of the broader history and the social and religious movements that the Morgans were a part of. This third source enables us to elaborate and put into broader context the circumstances and conditions of their lives. We are also fortunate that a few photographs have survived of Thomas Morgan and some of his family members. In our electronic age we are now able to improve the quality of the pictures and distribute them on the Internet.

Thomas Morgan died in Idaho in 1915. The two wives with whom he had children predeceased him. In 2002 there were three, perhaps four, living grandchildren of Thomas. Only one of them (Ruth Hansen, born in 1908) was born before his death.


Herefordshire, England, the Morgan Ancestral Home
The Frome River Valley near Bishops Frome, Herefordshire

Home area of the Thomas and Ann Morgan family in the 1840s and early 1850s. Picture taken 1991 by Leon Pitman.
The ancient county of Herefordshire, England is located in western England forming part of the English-Welsh border. The rural village of Much Cowarne, birth place of Thomas Morgan, is in the eastern part of that county in the relatively fertile Frome River Valley (pronounce "Froom" to rhyme with "broom"). For many centuries this region was a border land where at least three distinct cultures lived: the native Welsh (Britons), the English (Anglo-Saxons), and French nobles and rulers who built many of the castles in the area.

The Bishops Frome Church, Herefordshire in 1991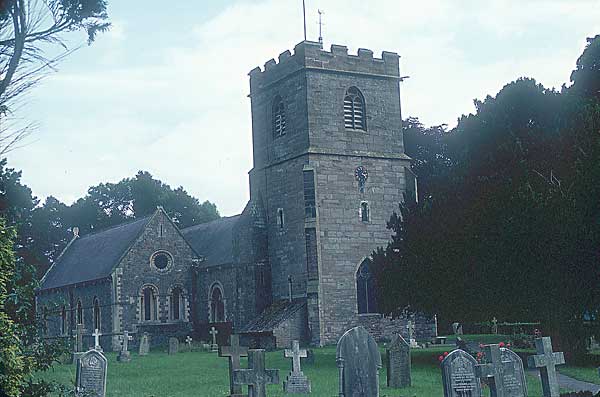 This is the Church of England Parish where Thomas and Ann Morgan's children, Edward, Elizabeth, Eliza and Priscilla were christened as infants.
The surname "Morgan" comes from the Welsh language. Some of our ancestors were named "Gwilliam" which is the Welsh form of William. Other of our ancestral names, "Davies" (meaning son of David or Davidson), and "Watkins" (son of Walter), are much more common in Wales than England. These names suggest a Welsh origin of at least some of our Herefordshire ancestors. The Welsh were essentially the "defeated" culture as the English took over and made Herefordshire part of England. The descendants of Welsh, therefore, at one time made up primarily the lower and working classes in this socially structured area.

Much Cowarne, the Morgans' birth village, is very ancient and once occupied more land than at present. More than 1000 years ago it was divided into two units, Little Cowarne to the north and Much Cowarne on the south. It has not been determined how far back in time our ancestors lived in this area.

Thomas Morgan was just a child of seven or eight when his father Thomas Morgan died in 1829, and he was orphaned at the age of about nine when his mother, Hannah Davies Morgan, died in 1830. His parents' premature deaths left a family of eight orphaned children, the oldest about 13, the youngest, 3 years. We dont know who raised the Morgan children after 1830 but it is possible that their maternal grandparents, William Davies and Hannah Gwilliam Davies, helped out some. Their grandfather Davies lived for 20 years after the children lost their mother, and grandmother Davies lived 15 years after the death of their mother.

The loss of their parents undoubtedly left the children poor and without opportunity for much education or formal training in the skilled trades. In England's first census of Herefordshire in 1841, Thomas Morgan was listed as 20 years old, single, and living in the Richard and Eleanor Haynes household with other single adults in what might have been a boarding house in Much Cowarne. No other member of his family lived in that household.

Thomas was identified in the Herefordshire censuses and other documents as a farm laborer. Persons in the census identified as farm laborers did not own the land they worked on. Most farmers who owned land in Herefordshire had small family farms which could not offer much steady work for young men like Thomas. Also, during the time our Morgan families lived in Herefordshire, new farming techniques were making farming more efficient. Much farmland consolidation was taking place. This was basically a period when larger and more efficient private landholders were buying out smaller farmers and publicly held lands, creating a surplus of farm labor and many landless peasants. Landless farm laborers had essentially no opportunities to buy their own land or make a good living as laborers. This depressed labor economy caused emigration of labor from the county, many choosing to go to the factory towns in the English Midlands or South Wales. But more than a few, like our Thomas Morgan and his brother Joseph, chose the much longer migration path to America, to be discussed later.

An example of the larger farms emerging in nineteenth century Herefordshire can be seen in the census of Herefordshire in 1851, where Thomas Morgan, his family, and brother Joseph (also a farm laborer), lived next door to the John Davies family (possibly relatives on his mother's side) who owned a comparatively large farm of 223 acres and employed servants and farm laborers. Thomas and Joseph possibly worked on that farm or some others like it.

As a farm laborer in Herefordshire, Thomas would have learned many practical skills very useful later in his life as a Mormon pioneer. Although Herefordshire and the American West are very different in climates and soils, many crops and animals are the same or similar in both regions. Herefordshire has a rolling, somewhat hilly countryside kept perpetually green and forested by up to four times as much rain as the settled areas in Utah. Fields in Herefordshire required no irrigation. Wheat, apples (for cider) and hops were important commercial crops, but agriculture in the Much Cowarne area was mainly livestock oriented, with most land being devoted to pasture, hay and fodder for sheep, cattle, and dairy cows. Wool had long been an important crop for sale and for home spinning into yarn. Beef cattle, especially the red-coated, white-faced Hereford named for this county, were very important in Thomas Morgan's region. Vegetables were grown mainly for the familys own use.

Landless farm labor families such as the Morgans rarely saw much real money. Just like on the Mormon frontier later in their lives, they would have traded much of their labor and goods in kind. Young Thomas Morgan's most valuable assets for later pioneering life in America was his knowledge of farm work and his willingness to work at all handy trades needed as a pioneer in Utah and Idaho. His wife Ann, likewise, would have learned many domestic trades needed to raise a large family in the largely self-reliant communities of the Mormon West. Community cooperation motivated by their faith in building a Mormon Zion was their driving force.

Much Cowarne in the nineteenth century had a population of about 500 people scattered in a rural tract with independent landowners living out on their privately held farm lands. In most of England farmhouses were clustered close to one another in rural "nucleated farm villages." The focal point of this dispersed farming community was the Much Cowarne Anglican church and a few farm houses. The closest city to Much Corwarn was Hereford, about nine miles to the southwest. Other of our ancestral communities in the vicinity of Much Cowarne, such as Bishops Frome (where several of Thomas Morgan's children were born), Castle Frome, and Avenbury are also dispersed rural farming tracts with an ancient Anglican church serving as each community's focal point. Mormon pioneer communities in Utah were different in many ways from Herefordshire communities. Farmers in pioneer Utah built their homes and farm buildings in town rather than out on farm lands. These Mormon nucleated farm villages were the result of a high degree of community involvement and cooperation promoted by their religious faith. As founders of Mormon frontier communities in Utah, Thomas Morgan could actually own and have title to the land he settled. As a poor farm laborer in Herefordshire, there would have been no opportunity for him to own land in his homeland.

The Hereford region of England is also especially notable for its many early converts to Mormonism. As early as 1840 the Mormon missionary, Wilford Woodruff, had more success in the Frome River Valley of Herefordshire than any other area, as he converted whole congregations of Protestants within a few weeks of preaching. The communities of Castle Frome and Bishops Frome where the Morgans sometimes lived saw more than 600 people baptized into the LDS church in 1840. Whole congregations of former Methodists called "United Brethren" joined the Mormons. As opposition to Mormonism grew, this rate of conversion was reduced but still remained relatively high for many years. Thomas Morgan converted to Mormonism in September of 1851, and his wife in 1852. Thomas and Ann remained faithful members of their new church all of their lives. Mormonism gave them a strong faith-based set of principles and a driving force which enabled them to work cooperatively with other saints in founding new settlements in the American West. More about this later.


Morgan Ancestors in Herefordshire
Pedigree charts are available at www.familysearch.org
Thomas Morgan was born in Much Cowarne in 1821 or 1822. He alone among his brothers and sisters is the only one whose christening or birthdate was not recorded in the Much Cowarne Parish Register. His exact birthdate remains unknown as he apparently did not know it himself. But in all available censuses in Britain and Utah, as well as in LDS Church records, his reported age consistently indicates that he was born sometime late in 1821 or early 1822.

Both of his parents had died by the time Thomas was about nine years old, as discussed above. It is not known what family raised him and his siblings after 1830, but possibly it was his Davies grandparents or other relatives.

Thomas Morgan was the third generation Morgan son named Thomas. In order to reduce confusion in this genealogy discussion he will be here only designated as Thomas Morgan III; his father Thomas Morgan II; his grandfather Thomas Morgan I.

Thomas Morgan III married Ann Watkins 17 April 1843 in the Avenbury Parish Church located less than 5 miles northeast of Much Cowarne. They lived for several years in Bishops Frome, a community of scattered farms adjacent to Much Cowarne. Parish records of Bishops Frome show that the birthplace of most of their first five children was in Bishops Frome as follows: Edward, born 16 May 1843; Elizabeth, 31 Aug. 1845; Eliza 11 Apr. 1849; Mary Ann 3 Nov. 1851 and died 26 Nov. 1852; Priscilla 3 Aug. 1854.
Parish Church at Much Cowarne, Herefordshire in 1991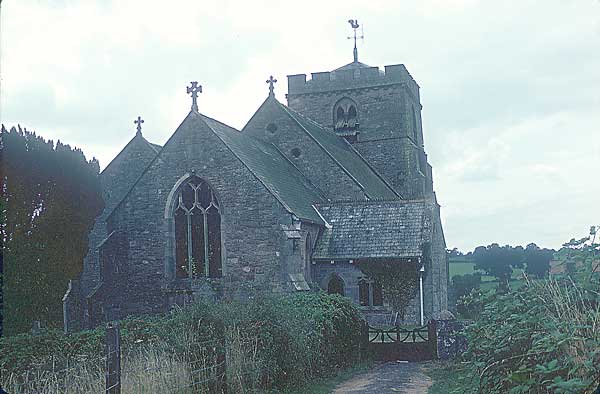 Vital records of this church show that Thomas Morgan's seven siblings and his father were Christened at this church, but no birth or Christening dates have been found for Thomas. Thomas Morgan's parents and family lived within the boundaries of this Church of England Parish before 1830.
Another source of information, the 1851 census of Herefordshire, reports Thomas and Ann's family living in Bishops Frome and his occupation agricultural laborer, age 30, born in Much Cowarne. Ann's age is listed as 28, born in nearby Avenbury. Their children: Edward, age 7, is listed as born in Bishops Frome; Elizabeth, age 5, born in Belbroughton, Worcestershire, about 40 miles northeast of Much Cowarne. The birthplace of Elizabeth, if reported correctly, suggests that this family moved temporarily, perhaps to go where farm work was available. The next child, Eliza, age 1, was listed as born in Bishops Frome, in the 1851 census. Also living in this family's household in 1851 was Thomas' brother Joseph Morgan, a 28-year-old agricultural laborer from Much Cowarne.

Thomas Morgan's parents were Thomas Morgan II (1777-1829) and Hannah Davies (1791-1830). Thomas II was christened at the Much Cowarne Parish Church 12 Feb. 1778. He married Hannah Davies, 8 May 1816, in the nearby Castle Frome Parish Church. Together they had a family of eight children: Ann, 1817; William, 1819; Charles, 1820; Thomas, 1821 or 22; Joseph, 1823; Hannah, 1824; Edward, 1826; and James, 1827. A family story about this Thomas claims that he fought in the battle of Waterloo, Belgium, where the British forces under the Duke of Wellington de-feated Napoleon Bonapart of France in 1815. He supposedly suffered from wounds sustained in the battle and his premature death at the age of 52 may in part have been from those wounds. His participation in that battle has not been verified by documents, but his "delayed" marriage in 1816, at the age of about 39, makes the story sound plausible. The Napoleonic wars were fought off and on for years before 1815, but ended at Waterloo. Thomas II could have been in the British Army for years before his marriage.

Thomas II (1777) was the son of Thomas Morgan I, born about 1751 at Bishops Frome, and Elizabeth Dance; they married on 28 Oct. 1777 in Much Cowarne. His death date is unknown. Elizabeth was born about 1755 in Much Cowarne and died in 1816 in Much Cowarne.

Thomas Morgan I, may have been the son of Joseph Morgan of Much Cowarne.

Hannah Davies, mother of our Thomas Morgan III, was the first of five children born to William Davies and Hannah Gwilliam. She was christened at the Bishops Frome Parish Church on 30 Nov. 1791. Nothing is known of her life except that she and husband Thomas lived in Much Cowarne and she died there in 1830 at age 39, leaving her young Morgan children, ages from 3 to 13, without parents. We don't know who raised these children but possibly her parents or some other relatives were involved.

Hannah's father, William Davies, was born about 1766 in Cradley, Herefordshire, about seven miles east of Much Cowarne. On 22 Feb. 1790 he married Hannah Gwilliam, who was born 1 June 1766 in Cradley He died in 1850. Hannah died in 1845.

Hannah Gwilliam was the daughter of Joseph Gwilliam (1739) and his wife Elizabeth (1742) of Much Cowarne. Hannah Gwilliam was the oldest child of a family of seven.


The Watkins Ancestors in Herefordshire
Thomas Morgan's wife Ann Watkins was the daughter of James Watkins who was born 12 Dec. 1776 in Avenbury, Herefordshire, and Elizabeth Holland, born in Handbury, Herefordshire. Some confusion over Ann's name arose because Ann is the diminutive for Nancy, the name she was given at birth but seldom used. In addition, in later years, someone added "Ollen" to her name. This was probably because her mother's name "Holland" is often pronounced without the "H" or the "d" and descendants in America appended the "Ollen" to her name the way they heard it pronounced. James Watkins was a blacksmith in Avenbury but had previously lived in Sheer, Herefordshire. According to records Ann joined the Mormon church in 1852, several months after her husband had joined. Perhaps she waited later because, according to Alvin Elmer Morgan and other descendants, her parents and perhaps others in her family seriously objected to her joining the Mormons.

By the 1850s anti-Mormon fervor had reached a high pitch in western England, in part due to its cult image fostered by the news media and opposition from the Church of England, and other Protestants. But, also, British families by this time knew that if one of their own joined the Mormons he or she was destined to emigrate from England, abandon their friends and family forever in order to cast their lot with this "strange cult" now being taken to an isolated desert wilderness in far-away America. We can't blame them for being angry or despondent at the thought of this loss. To some, losing a child to the Mormons was a fate worse than death.

A story about Ann's experience handed down to the Morgan descendants (as recorded by Alvin Elmer Morgan and others) is that her parents were so irate about her interest in the Mormons that they threatened to disown her if she were to join the Mormons. She in fact did not join until after her father's death. Later when she decided to emigrate to the new Zion some member(s) of her family threatened to kill her if she ever came back. She grieved over this for years. Such stories cannot be verified as to exactly what was said but experiences like these were relatively common among pioneer Mormon converts.

Family records, in part verified by the 1841 and 1851 census of Herefordshire indicate that James and Elizabeth had a family of at least six children as follows:

John Watkins, b. 4 June 1810, Herefordshire;

Edward Watkins, b. 15 April 1814, Sheer, Herefordshire;

Charley Watkins, b. 25 June 1816, Sheer, Herefordshire;

James Watkins, b. 12 August 1818, Sheer, Herefordshire;

Ann (Nancy) Watkins, b. 15 March 1822, Avenbury, Herefordshire;

Joseph Watkins


James died in Avenbury 23 Jun 1850 (before Ann joined the church). He was the son of John Watkins, born about 1750. Elizabeth Holland Watkins was born in 1784 in Handbury, Herefordshire, and died 26 March 1865, ten years after her daughter Ann (Nancy) Watkins Morgan had migrated to America. Her father was James Holland of Handbury, born about 1758. Her mothers name was Nancy, born about 1762.


SOURCES ON HEREFORDSHIRE AND THE MORGAN/WATKINS ANCESTORS

Census of Herefordshire County, England, 1841 (FHL Film #288 814)

Census of Herefordshire County, England, 1851 (FHL Film #087 381)

Dodgshon, R. A. An Historical Geography of England and Wales.
1978 Academic Press, London, New York, San Francisco.

"Early British Membership File" [Mormon Church] (FHL film # 415 451).
This file contains vital data provided by the Morgans themselves in 1857 when living in Goshen, Utah. It includes date and place data as well as the names of the parents of each and the dates they were first baptized into the Mormon Church.

Evans, Richard L. A Century of Mormonism in Great Britain.
1940 Deseret News Press, pages 109-118.

Hopkinson, Jean. Little Cowarne A Herefordshire Village.
1983 Bromyard District Local History Society

Parish Register of Avenbury, FHL Film #992 634, Items 10-17

Parish Register of Bishops Frome, FHL Film #992 635 Items 13-19.

Parish Register of Much Cowarne, FHL Film #1040324 Items 10-22

West, John and Margaret. A History of Herefordshire.
1985 University of Oxford Press.