This wonderful old picture was taken in the Rockland area. It is famously known in the Morgan Family as the "Four Generations of Morgan's Picture."
Present in this picture are William Thomas Morgan (1856-1946), his oldest son George William Morgan (1881-1964), George William's oldest son Leon Baugh Morgan (1902-1971) and Leon's oldest son William Leon Morgan (1926-1983).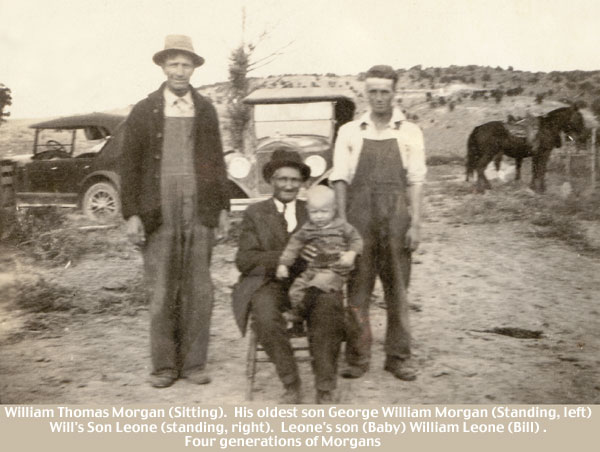 The picture above was taken at the Alvin Elmer Morgan place near Rockland, Idaho, which is near American Falls, Idaho. It was most likely taken about 1929.
Click on the link above to see a variation of this same picture with George William holding baby William Leon.
Click on the link above to see another picture taken at the same place on the same day but with different Morgan family members.
The large group picture below was taken on Orleans front porch (At the Lenard Nield farm near Idaho Falls, Idaho) at the time of Sarah Jane's funeral. Jane (Sarah Jane Holden Morgan Charlesworth) died October 17th, 1944.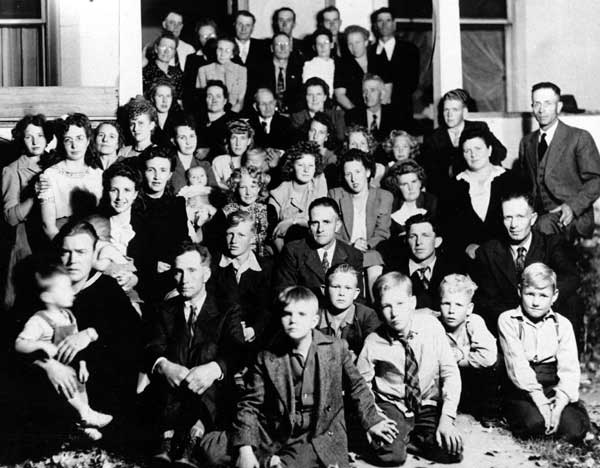 Top Back Row: Lenard and Orlean Nield, Dee Radford, Kenneth Morgan, Dale Morgan and Glen Montague. Next Row Forward: Ada Radford, Julie and Rast HAnson, Vonda Morgan, and Verna Radford Montague. Third Row Forward: Berniece Radford, Velma Morgan, William Thomas Morgan, Mary Morgan and Will Morgan.
Fourth Row Forward: Arlene Montague, Donna Morgan, Ruth Morgan, Wilma Ground, Marva Quinton holding Dick, Margie Morgan, Leah Morgan, Phyllis Montague, Doris and Rex Nield. Fifth Row Forward: LaRae and Lucy Morgan, Bonnie Nield, Erin Morgan, Jean Montague, Joyce and Anna Morgan, and Marvin Morgan.
Sixth Row Forward: Ross Quinton holding Marvin, Dick Morgan, Delbert Nield, Al Morgan, Sylner (Sy) Bergeman, and Jack Morgan. Front Row: Sheral Morgan, Von Morgan, Lynn Morgan, Errol Montague, and Monte Montague.
Click on the link above to see a panoramic picture of a large Morgan/Radford/Ross family reunion.