The following was taken from "Samuel Thomas and Martha Morgan Eames" by their daughter Ruth Hansen. Published in "The Pioneer History and Development of the Milo Ward, 1880 to 1960." Idaho Falls, 1960, pages 107-109.
Martha Morgan Riley Eames was born October 6, 1877, at Leamington, Millard County, Utah. Her parents were Thomas Morgan and Nancy Jane Radford. Her father had emigrated to Utah from England...and her mother and father both had crossed the Plains with the pioneers.
When Martha was eleven years old her family left Leamington and emigrated to Star Valley, Wyoming, where Etna is now. The snow that winter was over five feet deep on the level. Martha remembers how the families used to get in their sleighs and go to the home of Thomas Lee, who was the school teacher. They would dance until about midnight, then have supper. Venison was usually one of the main things served. Mrs. Lee would then make beds for the women all over the house, but the men stayed up and talked until morning when they would go home. They had staked out willows by the side of the roads, so they could follow them in the deep snow.
From Star Valley the family moved over many high mountains until they reached the brow of the hill overshadowing the eastern portion of the Snake River Valley. There was little to be seen then except the river with its beautiful green banks and the hue of the purple sage, dotted here and there with the log cabins of the early pioneers. This was in the spring of 1891, and Thomas Morgan homesteaded a 160-acre tract in the east end of the valley at Poplar.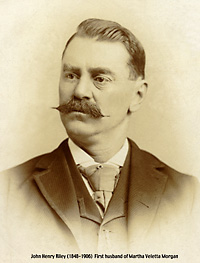 JOHN HENRY RILEY
It was here that Martha Morgan met and later married John H. Riley on February 27, 1895. Two children were born to this union, namely Julia and Mary. After about five years of marriage John Riley became ill with typhoid fever and pneumonia. He never fully recovered, and after a lingering illness [tuberculosis] of about six years, he passed away on February 10, 1906.
Martha, now a widow with two children, sought employment and was soon engaged as a cook on a farm near Ucon, Idaho [about 11 miles northeast of Idaho Falls]. There she met the foreman of the ranch, Samuel Thomas Eames, who was himself a widower with two children. Romance blossomed and on March 3, 1907, these two were wed.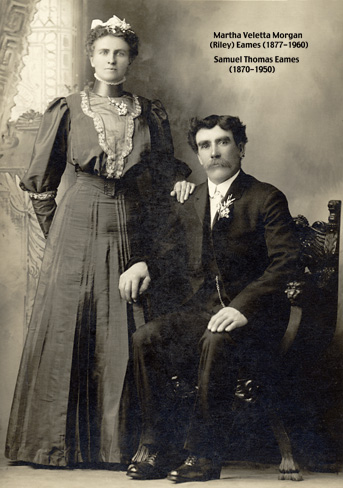 Sam and Martha wedding picture-standing version
Click on the link above to see a version of the wedding picture taken the same time and place but in which both Martha and Sam are standing.
Samuel Thomas Eames was born March 10, 1870, at Plain City, Weber, Utah. His parents were John Samuel Eames and Hannah Jenkins. John Samuel and Hannah Eames emigrated to Utah from England....They arrived in Plain City, Utah in 1868 with their large family of eleven children. Just before Samuel Thomas was born his father died with diphtheria. So Samuel never knew his father.
In the winter of 1884, Hannah Jenkins Eames with her family moved to Menan [Eastern], Idaho. Samuel was a young boy of about fourteen years of age. While at Menan he helped build the first canal there. Later he went to work for his brother, John, who had homesteaded on Moody Creek. There he met and married Emmaline Riggs Jones of Teton, Idaho, on December 20, 1894. After her death [on April 14, 1904], Samuel moved to Willow Creek [Milo] where he worked as foreman of ranches belonging to R. L. Bybee, Jabus Nowlin [father-in-law of Marthas sister], and later for the Utah-Idaho Sugar Company. It was while here that he met and married Martha Morgan Riley.
Martha and Samuel Eames then purchased a farm in Milo [about 15 miles northeast of Idaho Falls] and went to live there in November, 1907. [While] there, three children were born, namely Ruth, Elaine, and Morgan. There also they worked hard on their own farm and in the community. Martha was chosen to work in the [LDS] Primary Association. Samuel was made president of the [LDS] Young Mens Mutual Improvement Association...Later, Martha was made president of the Young Womens Mutual Improvement Association. A dramatic company was organized and several plays were staged. A ball team was organized. Holidays were celebrated and many dances were held in the recreation hall of the old church.
The young girls would canvas the ward and get a cup of sugar from most homes, from which candy was made; also homemade ice cream and lemonade. These were sold at the refreshment stand to defray expenses.
Samuel Eames also worked as president of the fourth [LDS} Elders quorum and as Sunday School and ward teacher. Samuel was an outstanding ball player. He also became a member of the school board.
In 1917 Martha was sustained as first counselor to Julia Huffaker in the Relief Society and in 1921 was made president. She was never too busy to leave her work to visit the sick and needy.
In 1924, the Eames moved from Milo. They resided one year at Taylorville [southeast of Idaho Falls], then moved to Osgood, Idaho [five miles north of Idaho Falls], where they resided until the death of Samuel on February 7, 1950.


LaDean Lee Marshall compiled, in 1951 and 1952, other details of Martha's life taken from family records, some from the words of Martha herself.
"Martha Veletta Morgan was born 6 October 1877, at Leamington, Millard County, Utah. Her parents were Thomas Morgan Jr., and Nancy Jane Radford Morgan. The house [Martha was born in] was of adobe. No doctor or midwife was present, but a woman who was the wife of Joseph Smith's [former] bodyguard cared for grandmother [Nancy Jane Radford Morgan] and mother's name Martha was after the above mentioned whose name was Martha Green... At this time grandfather [Thomas] Morgan had other children [by his other wife, Ann Watkins,...] The two families did not live together,...the children by Ann were older and married when mother [Martha] was born."
"They lived there in Leamington where they had access to school and church until Martha was eleven years old. They left there [Leamington] on 19 May 1889 and arrived in Salt River Valley, now called Star Valley [Wyoming] (where Etna, Wyoming now is), on the 19th of June 1889. They traveled in two wagons and a good new two-seated buggy. The next year [1890] they tried raising potatoes and garden, but there was just six weeks without a hard frost. They stayed until the spring of 1891...."


Writing about Martha's first husband John Riley, La Dean Marshall says:
"After about five years of married life [to John Riley], John became ill with typhoid fever and pneumonia. The most prominent farmers of the area had taken [purchased] stock in the first creamery in the valley. One day, John Riley and Bishop David Ririe had been out visiting the stockholders to see what they could do about the creamery, which was going bankrupt. John came home ill on this particular night and never fully recovered. His condition later developed into tubeculosis, and he was ill for six years before he died."
"John brought some of the first thoroughbred sheep to the Poplar section and during the Grover Cleveland administration the sheep were sold for $1.50 per head and the wool for five cents per pound. Then he purchased 440 acres of land [near Poplar], and he [with others] built a canal with which to water his land. The headgate of this canal was about three miles above the present Anderson headgate and was [is] called the Riley Ditch."
"John Riley died in Weiser, Idaho, February 10, 1906, and was buried there. After his death, the mother and two girls came back to Poplar and she was soon engaged as a cook on the farm where she met Samuel T. Eames who was foreman of the ranch. This ranch was located at Ucon."


Writing after Martha's death in 1960, LaDean Marshall provides additional details of Martha and Sam Eames' lives.
"Martha and Sam moved to Osgood in 1925. To you who have lived here in recent years, we say, you can't remember what Osgood was like then...the wind...and worse the dust...no gravel or paved roads, no power, nor water, few trees or grass or greenery to hold down the terra firma once the wind had its way. Then there was the back-breaking thinning [sugar beat thinning with a hoe]. But Sam and Martha thrived best on hard work and so they were happy.

Martha did not leave Relief Society behind when she came to Osgood. In 1925 she was sustained as counselor and in 1928 was made president. From then until 1939 she met the needs and was at the call of all who needed her."


From Martha's own history LaDean Marshall quotes:
"I was interested in all phases of my [Relief Society] work. My outstanding work was among the sick and I cherish many memories of different experiences I had among them."


Marshall further states that:
"We have no count of the babies Grandma Eames brought into the world. [daughter] Julia sayes Martha raised a dozen children besides her own. Many she took care of when their mother was sick. And [daughter] Elaine said they would sometimes get so attached to these children they would hate to see them return to their homes.

Countless are the burial clothes she has made in her useful life and for years the girls said she made the brides clothes in their ward and always gave them a quilt for a wedding present. She never did just nothing, either reading, sewing or busy with her hands. and this, I am sure, accounts for her useful life. She had even made her own clothes to be burried in, including the dress. What a noble spirit and rich mind she possessed."


Martha Veletta Morgan died 9 December, 1960 at Idaho Falls, Bonneville, Idaho.
Martha and Samuel raised eight children who survived to adulthood.
The names of Samuel and first wife Emmaline's children:
1. Bertha Eames, born Sept. 27, 1895, at Teton City, Idaho. She married Charles Ira Avery. She died Feb. 4, 1948. He married second Eliza Pierce in 1949. He died February 22, 1952.
2. Samuel Thomas Eames Jr., born July 23, 1898, at Milo. He married first Grace Summers 14 June 1916. After a divorce he married Dorthy Easter Butler 25 May 1926. They lived in Osgood.
3. Emmaline Eames, born March 4, 1904, and died August 16, 1904.


The names of Martha and first husband John Riley's children:
4. Julia Belle Riley, born April 25, 1896, at Poplar, Idaho. She married Warren Oscar Shelton, May 22, 1921, in Blackfoot, Idaho. She died October 6, 1981, in Idaho Falls. He died June 19, 1956, in Osgood, Idaho.
5. Mary Etta Riley, born Sept 2, 1897, at Poplar, Idaho. She died June 16, 1926, unmarried. Mary had a child out of wedlock, reared as a daughter by Martha and Sam. Her name was:
6. Dorothy Riley Eames, born 1918 at Milo, Idaho. Dorothy married Ferrel Black. The name of Dorothy's biological father was not revealed.
The names of the children of Samuel and Martha Morgan Riley Eames:
7. Hannah Ruth Eames, born August 17, 1908, at Milo, Idaho. She married J LaVon Hansen, 5 June, 1930. He died September 13, 1960.
8. Verna Elaine Eames born January 17, 1915, at Milo. She married Leland Jay Nickell, August 1, 1932. She died in 2001. He died September 5, 1987.
9. Morgan Wayne Eames, born Nov. 10, 1916, at Milo. He married Emma Pamela Perry on November, 24, 1938, and settled at Osgood, Idaho. He died July 31, 2002.
In February 2003, Leon Pitman compiled this history from the published source cited and two typed manuscripts by LaDean Marshall. He lightly edited this work with punctuation and bracket inserts. He also updated vital information on the children listed at the end.
Click on the link below to view a picture of Martha and Sam Eames with five of their family members.
Click on the link above to see a large picture of the women in the Osgood, Idaho ward taken in the 1940's.