In the picture above are Ferrel Thomas Black born 11 August 1915 and Dorothy Riley Eames born 13 Jun 1918. They were married 18 Aug 1939.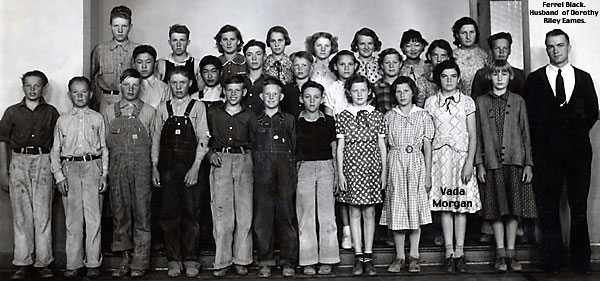 Ferrel Black is the teacher in this Osgood, Idaho 5th and 6th grade picture taken in 1937.
Standing, left, back row, is Don William Radford (1923-1998), son of Daniel H and Ada Morgan Radford. Martha Veletta Morgan Riley Eames was half sister to Ada Morgan Radford's father, William Morgan.
Front row, sixth from left, is Lee Shelton, son of Julia Belle Riley and Oscar Shelton. Julia Belle Riley Shelton and Dorothy Riley Eames Black were sisters.
Front row, tenth from left, is Vada Morgan Burden, daughter of Alvin Elmer and Sarah Anna Barnhart Morgan. Alvin Elmer Morgan and Ada Morgan Radford were children of William and Lovina Ross Morgan.