Frank Ryset Life Sketch by Leon Pitman
Francis Daniel (Frank) Ryset was born 11 Nov. 1866 in Deseret, Millard, Utah, the son and third child of Nancy Jane Radford Ryset and Francis Frederick Ryset. His father, a native of Germany, was born about 1836 and had come to Utah with Johnstons army as a civilian butcher. His mother was the daughter of John Whitlock Radford and Leah Smith Ross Radford, who were early Mormon pioneers.
His parents first two children, Miranda Jane and Sarah Ellen, both had died in Fillmore, Utah, before his parents moved to Deseret in about 1866. In 1868 another son Melvin was born, and in 1869 Don Carlos was born to this family. But sometime after June of 1870, when the parents and three boys were all listed in the Federal census in Oak City, Utah, their father left the family supposedly to look for work at a mine in Wyoming. But after more than a year of waiting for his return and hearing nothing from him, Nancy Jane and others presumed he had possibly been killed by Indians or died from some other cause.
Nancy Jane, convinced that her husband was dead after more than a year of his absence, married Thomas Morgan as his plural wife, on 25 September 1871 in Oak City.
But we learn by modern research what the Ryset family did not know then, that Frank Ryset, Sr., had not died. Ten years after he left his family, according to the 1880 census, Frank Ryset Sr. was proven to still be living in Wyoming. In 1880 he had a new wife, a one-year-old daughter and five-year-old stepdaughter living with him at Smith Fork, Uintah County, Wyoming. Whether Frank intentionally deserted his family is not known. According to Ryset descendant Helen Simper, Frank Ryset Sr. told Nancy that he would return to get her and the boys after he found a secure job. Some descendants say that Frank Sr. may have returned to Oak City after a long absence, but upon discovering that his wife had remarried, went back to Wyoming.
Tragedy again struck this family when, in December of 1871, three-year-old son Melvin died. And in 1873 the youngest child died, making young Frank Ryset the only child to survive of the five born to his parents. But his Morgan half siblings were arriving. Frank grew to adulthood as a member of his mothers Morgan family, being the oldest brother to his four half siblings. However, according to Ryset descendants, young Frank spent much of his time at the home of his aunt, Leah Ellen Radford Lovell, and other relatives who also lived in Oak City and nearby Leamington.
In October of 1879, just before Frank turned 14 years old, he was hired by Bishop, Platte D. Lyman to go with the Lyman party on an expedition to the San Juan country of Southern Utah, in search of new areas having potential for settlement. He returned from that expedition in January of 1880 and went to live with his grandparents, John W. and Leah Radford, in Kanosh, Utah, where he is listed with them in the 1880 census. At the age of about 18 he went with his uncle, Frank Radford, to Vale, Oregon, to help that family make their move to Oregon. He may have stayed with them in Oregon for about two years.
Upon his return from Oregon, at the age of 21, he married Sarah Priscilla Morgan in Leamington, Utah, August 8, 1888. She was a 16-year old "black-eyed beauty," a daughter of Edward and Sarah West Morgan, and a granddaughter of Thomas Morgan, who was Frank Rysets stepfather. The following fall, they traveled to an area north of Freedom, Wyoming (now Etna), with many members of the Morgan and Radford families. Frank and Priscilla had their first child, Nora, in Freedom (Etna) on September 6, 1889. But after two very difficult, long winters in Wyoming, Frank found work temporarily in Soda Springs, Idaho, and Pocatello, Idaho, until they settled on a homestead in Shelton near Ririe, Idaho, in the spring of 1891, along with many other members of the extended Radford and Morgan families. His mother, stepfather Thomas Morgan, and their children also made the move, as did his grandmother Leah Radford. His grandfather, John W. Radford, died while in Wyoming in December 1889. His mother died in Poplar (near Ririe), Idaho, in May 1900 at the age of 53
In addition to farming their new 80-acre homestead in Shelton, Frank found work hauling logs and working at a sawmill (where he lost two of his fingers in a saw accident). He also hauled lumber from the sawmill to market in Idaho Falls. He worked at a milk separator, hauling cream from the separator to an Idaho Falls dairy products facility. He helped build the rock church in Shelton where he, his wife, and family remained active members all of their lives. For several years he and members of his family spent the summer months on a dry farm (without irrigation) at Antelope, in the hills south of Shelton. But most of his adult life was spent on his farm and dairy at Shelton, where he and Priscilla raised a family of ten children. He died in Shelton, 24 Feb. 1924 at the age of 58. His wife, Sarah Priscilla, died in Shelton 8 March 1954.
Frank and Sarah Priscilla Morgan Ryset Family
Click on the link above to see pictures of the Frank and Sarah Priscilla Morgan Ryset family (all the children who lived to maturity).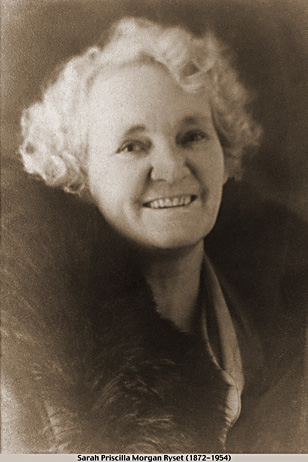 Above is a portrait of Sarah Priscilla.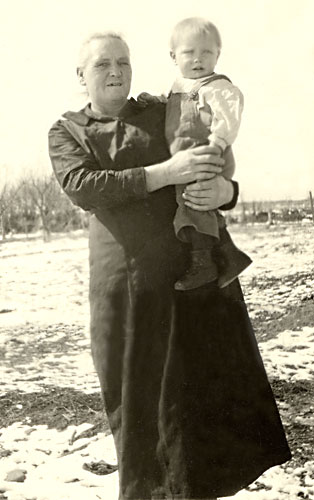 Grandma Priss holding a grandchild.
Frank and Priscilla Ryset Gravestone
Click on the link above to see a picture taken in the Shelton cemetery and the Frank and Priscilla Ryset headstones.