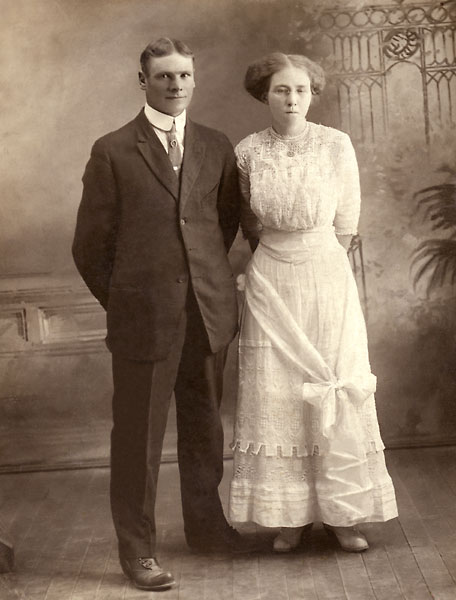 This photograph of Rast and Julia Morgan Hansen was clearly taken at the same time and place as the one at the top of the page. It appears that two poses were made, one standing without hats, and one sitting with hats. Earlier we had thought the pictures were taken at different times and places. But when we obtained better copies of the pictures it was clear that they were both taken at the same time and place.
In a short life history sketch written by Julia Morgan Hansen she states the following about her mother, Lovina Ross Holden Morgan: "She was married previously to being married to my father to a Mr. Holden. She never talked of this marriage so I know only that she had one daughter Sarah Jane, born 21st of June 1879 Lemington, Millard Co. Utah."
The older daughter Sarah Jane was born to Lovina Ross and John Holden before Lovina married William Morgan. We have not been able to find any records confirming this marriage but the family histories handed down all mention it. William and Lovina did raise Sarah Jane as one of their own.


Julia goes on to say that her parents (Wiliam and Lovina Morgan) came to American Falls, Idaho in 1880 where 6 families filed on 60 acres of land each 4 1/2 miles West of American Falls. She states that they came from Utah in covered wagons, that many of their livestock died that first winter but because of the provisions they brought with them no one was ever hungry.
She notes that their first home was a dugout, a cellar with dirt floor and a bank left higher on the sides for beds. And goes on to say that in spring they managed to get some logs from the canyon and "Father built a one room house." She notes that the following winter Diptheria came and one family lost 3 children.
There are errors in this account. William and Lovina came to Idaho in the fall of 1881, they may have lived in the dugouts for two winters before they got houses built, and homesteads in those days were usually larger than 60 acres. Julia was not born until 1883 so she would not have experienced the move to Idaho and must have learned about it second hand. But hers is still an interesting account of the move to Idaho.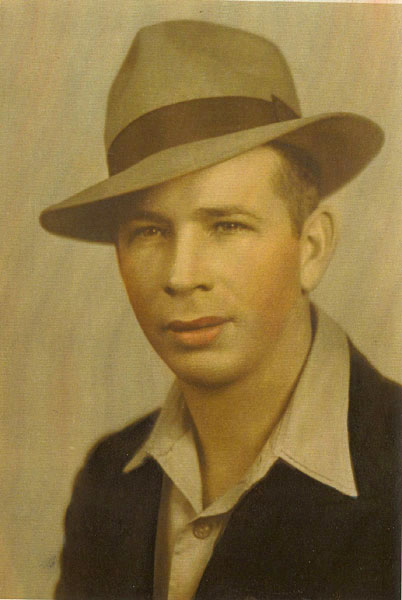 Rast and Julia Hansen were listed in the 1930 census as living in Meridian, Idaho, near Boise, Idaho. They made their home at Meridian, Idaho until their deaths. Julia Ann Morgan Hansen died at Meridian, Ada County, Idaho 28 January, 1957. Rasmum M. Hansen died 11 September 1960 at Boise, Ada, Idaho.
Julia and Rast Family Pictures
Click on the link above to see a collection of Julia and Rast Hansen family pictures.
Click on the link above to see an obituary for Rast Hansen.
Click on the link above to see a nice portrait of Julia and her sister Ada when they were young girls. The picture is at the bottom of the page.