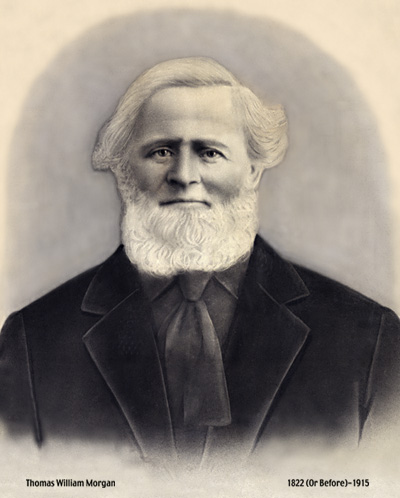 Above is the restored portrait.
As you can see from the top photograph, the original portrait is badly damaged and pieces of it are missing. The first step in restoring it was to have one of the best photography studios in New York City make a digital negative of it and burn the digital image onto a CD.
Then I put the CD in one of my powerful Macintosh Graphics Workstations, copied the digital image onto my hard drive, opened it in Photoshop, and began to rebuild it. Photoshop is a graphics program that allows the user to change the digital pixels that the photograph is made of.
First I removed the cracks and tears by moving good colors and textures over the damaged areas. Then I filled in the missing parts the same way. And then I lightened and smoothed the background. The final step was to adjust the colors. And then the digital restoration was burned to another CD. This CD is a digital negative from which a 16 inch by 20 inch portrait can be printed.
If any family member would like to have a 16 inch by 20 inch (Actually it is a bit smaller than that but will mat properly for a 16" by 20" frame) copy of this exquisite old portrait you can contact me and I will have it made for you at just the cost of printing. (I expect the cost to be around $50.00). Matting and framing would be extra.
I consider Thomas Morgan to be the Patron Saint of our Morgan family in America because he was the one who established our family in America. I have a large (16" X 20") portrait of him on my wall like family members tradionally did in the old days.