Dale Morgan with his first wife Vonda May Williams.




Life Story of Clifton Dale Morgan
Written by Lawauna Morgan Bailey and Linda Morgan Adams (Daughters) June 1998.
Clifton Dale Morgan was born November 22, 1914 at Neeley, Idaho to Clifton and Cecil Velma Allen Morgan. He was their second child and first son. His older sister is Lorene Burt. After Dale came Veril, Stanley, Betty Joy (died as an infant), Kay Lamoyne (died as an infant), Marva, Donna, Eugene, Lynn, and Mayda Louise (died as an infant).
This family started out in Neeley, Idaho where his dad built their first home out of pieces of lumber that came floating down the [Snake] river. They later moved to American Falls and his dad was the proud owner of one of the first of the [Ford] Model T's to arrive in American Falls. He paid $313.00 for this car. They leased some land on the [Fort Hall Indian] reservation that they farmed. While living there the Union Pacific Railroad offered free land to any farmer willing to move to Montana to help settle the country up there. His parents loaded up their family and left for Montana. They traveled there by boxcar with their livestock loaded in a second boxcar. While there they helped to build the Lone Rock School in Stevensville, which is where Dale went to school. After a few years his dad moved them to Hall, Montana. In two years they decided to move back to Idaho and leased a farm half a mile North of the county line on Buck Road near Rigby [Idaho].
Later his dad bought a 100 acre farm on the Shelton Road for $3500.00. This is where they raised their children. Dale and his friends were wild and full of mischief and energy. He used to catch wild mustangs on the reservation and sell them. Dad [Dale] was a handsome charming young man when he met and married Vonda May Williams on June 16, 1939 in Idaho Falls, Idaho. He was a friend of her brothers. Mom [Vonda] was young (16) and very pretty and he had his eye on her. They quickly had three little girls, Lawauna, Linda and Marilyn. One time when when mom was sick in bed, dad would put the dishpan down on the oven door and tell Linda and I to do the dishes! We were only 4 and almost 3. Nevertheless, we thought he was great. One time he came home with a baby rabbit in his pocket. Another time it was a puppy.
For a while during the war (World War II), dad worked at the ammunition plant in Pocatello. He also went to California with some cousins and friends and tried to find work, but only stayed there a few weeks. He had a hard time during those lean years finding work to take care of us. Once when I was in first grade, he insisted that mom leave me with Grandma Williams (so that I could go to school) and the rest of them, mom, dad, Linda and Marilyn went down to Ogden Utah to find work. This lasted about six months and they came back. Then he decided we should try our luck in Oregon and he moved us all to Silverton, Oregon where he did farm work. He worked there for a while and then he got an old trailer and moved us to Detroit, Oregon. Detroit was about ten houses in the middle of the forest. We lived in that small trailer and a tent cabin that he made. Dad worked as a logger there and got us a piece of ground which he was trying to clear the stumps and some trees off. He used dynamite to blast the stumps out. One time he used too much in a hole and the blast knocked our outhouse almost over. Marilyn refused to go in it until he fixed it! He would yell "fire in the hole!" and we would cover our ears. My sisters and I would play in the dirt and in the forest. It was great fun! There were lots of tall ferns which we used as swords. We picked wild flowers and climbed trees. Linda always climbed the highest!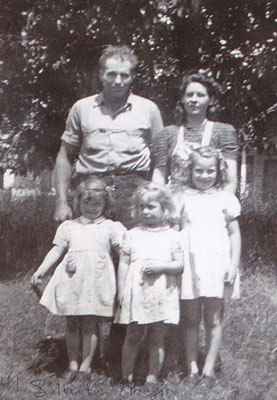 In the picture above: Dale, Vonda and "the girls," (left to right): Linda, Marilyn and Lawauna.
Dad worked hard and also built us a one room frame house. It was like camping out all the time and it was very hard on mom. She worked very hard trying to keep her little girls clean and fed. Mom and dad made friends with the few neighbors and used to play a lot of cards, especially on long winter nights. Dad went fishing a lot and he sometimes took us on hikes in the mountains. The brown bears used to sit on stumps and watch us. When they started building the Detroit Dam, dad quit logging and worked on the dam using a jack hammer on the sides of the cliffs. My sisters and I had to walk to school in Idanna, a mile away from home. When the dam was finished, the logging slowed down and so did the work. So dad moved us again, this time to Sweet Home, Oregon. This is where he decided to log for himself. We lived in town for a while, and then moved to a house about one mile out of town. We had a cow and chickens and a garden. For a little while he had a horse that pulled the logs after he cut down the trees. He was able to always get a stand of trees to log. He made himself a logging truck from an old Jeep truck. It was while we lived there that Kathryn was born in 1952. Mom was very sick and we almost lost her. Dad was pretty wild and was gone a lot and was not too much help to her. He made his little girls work hard, but mom put her foot down when he tried to get us to milk the cow! She said if he did that to us, he would never be home! We were all excited to have a new baby sister, she was so beautiful and tiny and sweet! For quite a few years we called her "Candy" because she was so sweet! We helped mom with her and she taught us how to cook and clean and churn butter and bake bread. She even made cottage cheese!
Dad loved to go on adventures...just drive and explore all the dirt roads everywhere. He got us lost sometimes, but usually not for too long. We did a lot of camping and fishing. Dad taught us how to clean our own fish and his too. He said he would pay us a nickel a fish. If we were lucky, he did. We backpacked in the mountains and made a lot of trips to the Oregon coast, where we always camped and slept out on the beach. As we traveled down all these roads, dad always sang to us and played games. We learned to recognize and name all the different models and makes of cars on our road trips with dad. He had a good voice and we loved his songs. You Are My Sunshine, O My Darling Clementine, Red River Valley, O My Dad Went Out In The Ford Machine, Don't Fence Me In, Home On The Range, and many more!
When it became too hard to get a stand of trees, dad moved us to Mill City, Oregon. Mill City was a very tiny town in the forest. Dad worked in the sawmills there. The dust in the cedar sawmill was very hard on him. We had a small house there and my sisters and I went to school. I was in the 8th grade, Linda the 7th grade and Marilyn the 6th grade when we moved there. Dad built a motorized swing in the back yard for Kathyrn. She loved to sit in it and swing around and around. My sisters and I would take turns going out to turn it on for her. She would hold her current cat and swing away. He always made a swing for her. Kathryn used to put his coat and hat and shoes on when he came home from work and walk around the house. He thought she was pretty cute. Work got very scarce in Mill City and we were in touble financially, so dad moved us across the mountains to central Oregon to Redmond. There he worked at a service station. We went to Redmond Union High School and Kathryn started grade school there. Mom worked at the hospital in Redmond trying to help out with the money. The work was very hard on her.
Wherever we lived, dad always had a garden and if possible, he planted trees. When we lived in Sweet Home, our mother saw to it that we were able to start going to church. Dad supported her in this. She made sure her girls got baptized and went to church. There was a branch of our church in Redmond, which we thought was wonderful. We lived in Redmond about three years. After I graduated and got married, dad moved the rest of the family from Redmond to Klamath Falls, Oregon. From there Linda left and went to Eugene, Oregon to go to beauty school, Marilyn graduated and married Jim Hastings and left to meet him and live in Verona, Italy for three years. It was hard on mom and Kathryn to have us older girls gone. Kathryn missed her big sisters! The years there were not happy for them. Mom took Kathryn and moved to Utah. Dad soon followed and they moved to Roy, Utah to try and make a home. A few years later, mom and dad were divorced. They had too many problems that they could not work out. It was a hard time for all of us, but especially for Kathryn as she was the only child still at home.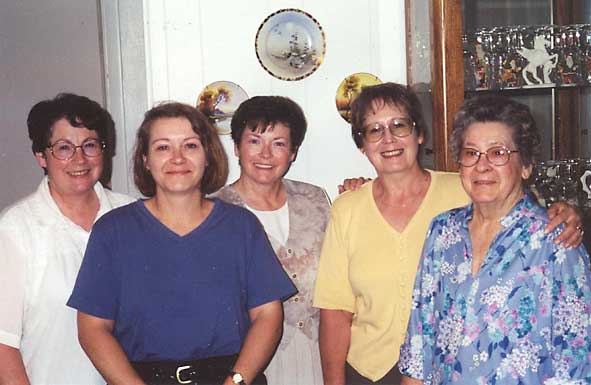 In the picture above: Left to Right: Lawauna M. Bailey, Kathryn M. Morris, Linda M. Adams, Marilyn M. Hastings, Vonda May Williams Morgan.
Dad met Ruth Williams Winters in Ogden [Utah] and they were married on June 13, 1969. When he retired from the flour mill in Ogden in the mid 1970's, dad and Ruth moved to Rigby, Idaho, and lived next door to his father, Clifton Morgan. Dad and Ruth spent their time together making a home, gardening, fishing and camping with his brothers and sisters and taking care of grandpa Morgan. Dad was good to Ruth and accepted her children as his own. Ruth's children are Terry D. Winters and Carol Groustra. Dad always loved to read and always kept abreast of politics and the latest news in health foods. He was a great fly fisherman and loved to fish. He also loved to putter around in his garage fixing things. His failing health (emphysema and prostate cancer) in the last few years put an end to his camping, but he never failed to have a garden with Ruth's help and hard work. He was noted for his very tall sunflowers!
Clifton Dale Morgan with his second wife Ruth Katherine Williams (Winters).
Dad passed away Sunday, March 20, 1994 at his home in Rigby from cancer. Ruth held him in her arms and his granddaughter, Colette, comforted him and helped Ruth to let him go. He was buried in the Ririe-Shelton cemetery on March 22, 1994.