Elmo Alvin Morgan was born 7 February 1920 in either Shelton, Bonneville, Idaho or Idaho Falls, Bonneville, Idaho. He married Iris Irene Hardcastle 6 December 1941. He died 8 June 1996.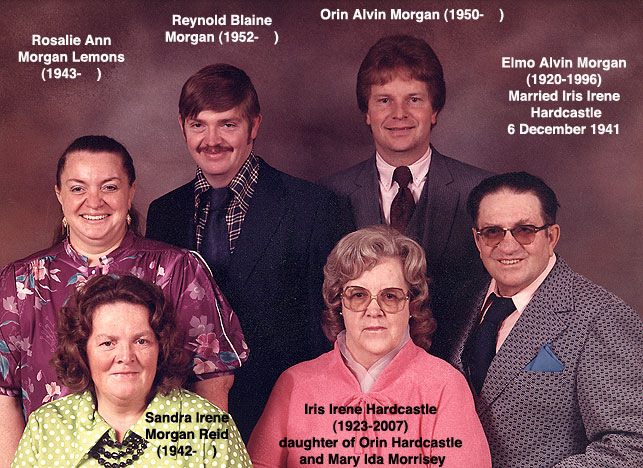 In the picture above is the family of Elmo and Iris Morgan taken about 1970 or a little later. Rosalie Ann Morgan married Carl Lemons. Reynold Blaine Morgan married Kathy ?. Orin Alvin Morgan married Peggy ?. Sandra Irene Morgan Married Dennis Reid.
Obituary for Iris Irene Morgan.
Iris Irene Morgan, 84, of Firth, Passed away December 22, 2007, surrounded by her family. She was born Jan. 17, 1923 in Lewisville, Idaho to Orin and Mary Ida Morissey Hardcastle. She grew up in the Lewisville/Rigby area and attended school in Rigby, Idaho.
On December 6 1941 she married her sweetheart, Elmo Alvin Morgan in Osgood, Idaho. Their marriage was later solemnized in the Idaho Falls LDS Temple.
She was a member of the Church of Jesus Christ of Latter-day Saints and served in various callings. Throughout her life Iris enjoyed spending time with her children and grand-children, traveling in the RV, crocheting and getting together with her childhood friends of 80 years- Fern Griffin, Georgia Chase, Wanda Weeks, Leah Hurley, Mary Carter and Mabel Wetizel.
Survivors include her children, Sandra [Dennis] Reid of Rexburg, Idaho, Rosalie [Carl] Lemons of Soda Springs, Idaho, Orin [Peggy] Morgan of Riverside, Idaho, and Reynold [Kathy] Morgan of Blackfoot, Idaho; her siblings, Dana and Kevin, both of the Dalles, Ore., and Lynn of Idaho Falls, Idaho; 27 grandchildren; 55 great-grandchildren and nine great-great grandchildren. She was preceded in death by her husband, Elmo, three brothers, five sisters, four grandchildren, and one great-grandchhild.
Funeral services were held Thursday, Dec. 27, 2007 at the LDS Firth Ward, 744 North 600 East. Family visited with friends at Nalder funeral Home, 110 West Oak in Shelley, Idaho. Services were held at the LDS church. Burial was in the Firth, Idaho Cemetery.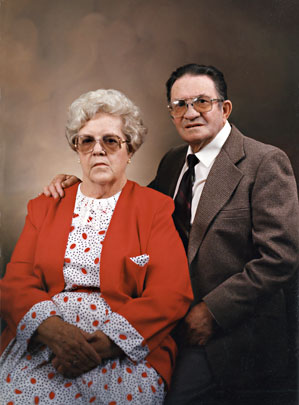 In the picture above are Elmo and Iris Morgan on their 50th wedding anniversary. They were married in 1941 so this picture would have been taken in 1991.