Because his mother died before he was a year old Edward Thomas and Violet Merab Richardson Morgan's youngest son Weldon Morgan was raised by his grandparents Thomas and Merab Richardson in Inkom, Idaho. His grandmother Merab died in 1913 and his grandfather remarried to a lady named Anna Cole. Anna passed away in 1920 and his grandfather Thomas Richardson passed away in 1924. Weldon then lived with his uncle Thomas Ives Richardson and aunt Hattie Richardson.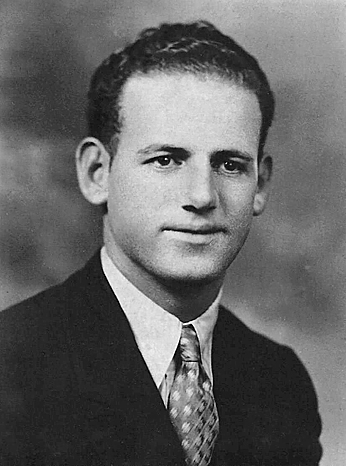 Above is a portrait of Weldon Morgan. Weldon married Frances Rita Maly on April 22, 1931 in Ogden, Utah. They had four children. John (who became a Catholic Priest), Ann, Charlotte (who took the name Johnna when she became a nun) and Edward.
Weldon is buried in the Mountain View Cemetery in Pocatello, Idaho. After Weldon's death Frances Morgan took their four children to the Nampa Idaho area where she remarried to a man named Yates and had one more child. She was a very devout Catholic and her oldest son John became a Catholic Priest. One daughter, Johnna, became a Catholic nun who taught school school but she later left the convent and married. When Francis Morgan passed away in 1997 her children brought her body back to Pocatello where she is buried next to Weldon in the Mountain View Cemetery.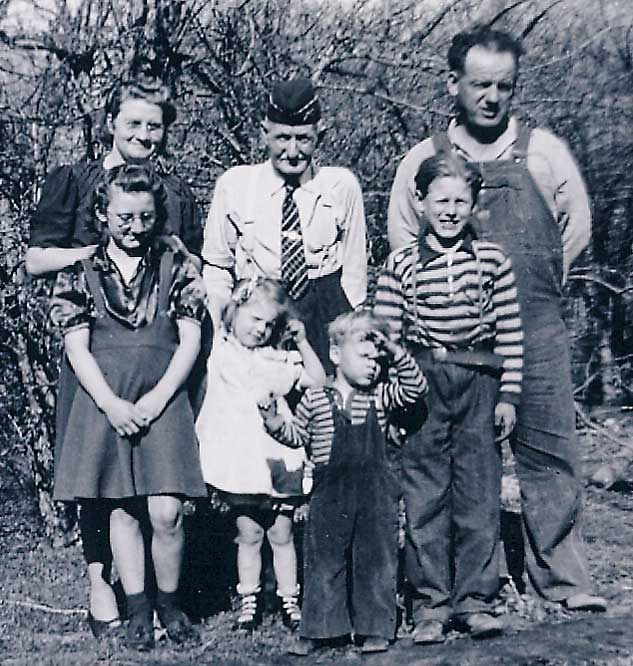 Above is a picture of Weldon Morgan, his wife Francis, and their children. The elderly man center is Weldon's father Edward Thomas Morgan.
Weldon and Francis' children in the picture above are, left to right (1) Oldest daughter Ann Morgan, born 30 Nov 1931, married Donald Allen Young in 1956, and died 27 Mar 1998 in Boise, (2) Johnna Morgan Schmidt, born 18 Nov 1937, married Frank Schmidt in 1974, died 18 Oct 2005 in Coeur d'Alene Idaho, (3) Edward Maly Morgan, born 31 May 1939, married Delores Jasters in 1962, and died 11 Aug 1991 in Clackamas County, Oregon, and (4) John Weldon Morgan.
Here is an edited version of accounts of Weldon's death that appeared in Pocatello and Idaho Falls, Idaho newspapers.
The sheriff reports that a man named Willard Wright, age 22, was engaged in a fight early Friday between two Union Pacific Railroad extra gangs after a night of drinking. Wright left the scene of the fight and found his way to Inkom where he prowled the car of Jess Palmer, night crane operator at the Idaho Cement Company in Inkom, and Inkom deputy sheriff. In the car Wright found Palmer's gun which was in the glove compartment. Wright then entered the car of Jack Staley and was trying to start it when he was spotted by Weldon Morgan, who was the night watchman. Weldon Morgan grabbed Wright by the wrist, pulled him from the car, and walked him toward the factory, where he called to Otto Jenkins, an employee at the plant, to fetch Palmer (the deputy sheriff). When Jenkins went to find Palmer he heard two shots and when he ran back to Morgan, found him sitting on the ground holding his stomach and moaning. He said he had been shot. Apparently Wright fired two shots and the gun jammed. He threw the gun to the ground and ran into the darkness. Weldon Morgan was brought to a hospital where he later died.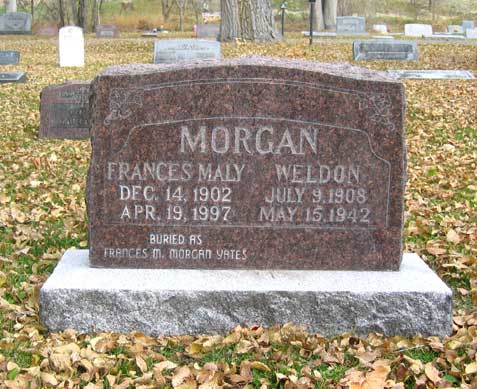 Above is the grave marker for Weldon Morgan and his wife Francis Maly in the Mountain View Cemetery, Pocatello, Idaho. After the death of Weldon in 1942 his wife Francis moved to Western Idaho, perhaps to the Nampa area, where she married again to a man named Yates. However, when she passed away she was brought, presumably at her own request, back to Pocatello where she was buried beside Weldon. This explains why the name Yates was added to the headstone.