by
Leon Pitman
(Revised 2000)



Richard Smith
Born September 19, 1792, Holston River, Sullivan County, Tennessee.
Died March 18, 1876, Provo, Utah.
Diana Braswell
Born October 9, 1797, Greenville County, South Carolina.
Died March 8, 1875, Heber City, Wasatch County, Utah.
Married December 11, 1817, Gibson County, Tennessee.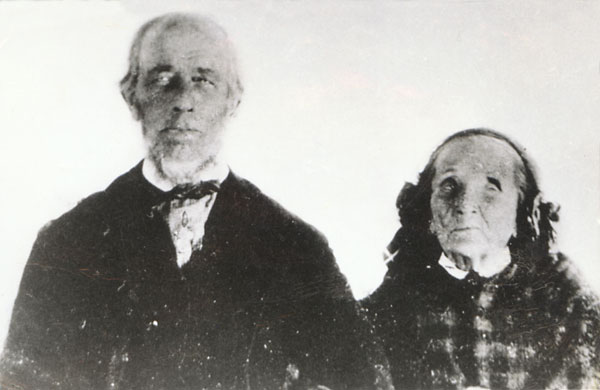 Shown in the picture above are Richard Smith and Diana Braswell Smith. (Picture courtesy LaDera Greenland)
Richard Smith's birth place of Holston River, Sullivan County, Tennessee was very much a new frontier area at the time he was born there. The county is located in the easternmost portion of that state near the Virginia border. The first permanent settlement by white people in Tennessee was in the Holston River valley in 1765, only a few years before Richard Smith's father arrived there sometime in the early 1780's. Richard Smith grew up there not only with his own father's large family but also with the families of his uncles on his mother's side of the family (the Agees).
Richard Smith's father, George Thomas Smith, was from the Piedmont of central Virginia, having been born either in Buckingham County or in Powhatan County where he would have known his wife's family, the Agees. From a source titled "Descendants of Sir George Thomas Smith of Virginia," it states that George T. Smith was born in Buckingham County Virginia May 9, 1741 or 1742. He married Leah Agee in about 1776. He may have lived in Powhatan County at that time on or near the estate of Edward Maxey Jr., son of Edward Maxey Sr. and brother of Elizabeth Maxey (wife of John Radford Sr.). In about 1782-84 a George Smith was leasing a large tract of land from an Edward Maxey in Powhatan County (see Hamlin). The Maxey families were neighbors and relatives to Agees and Radfords while living near Flat Rock, Virginia. They owned land adjacent to each other on Jones Creek and Mathews Branch (tributaries of the James River). The record states that about 1883-84, George Smith left that land to emigrate "to the west," (perhaps to Sullivan County, Tennessee). Leah Agee's father Anthony Agee and several of her brothers also eventually made the move to Sullivan County, Tennessee.
George Thomas Smith's parents were William Smith who was born in Pennsylvania in about 1692, and Elizabeth Maier, also of Pennsylvania, born about 1792.
Leah Agee was a descendent of a well known French Huguenot Family. Her Grandfather Mathew Agee, of France, arrived in Virginia about 1700 where he became the owner of land a few miles west of Richmond in a community called Manakin. He lived south of the James River in what is now Powhatan County. Leah's father Anthony Agee and mother Christan Worley both grew up in that Huguenot community and had some of their children there, but later moved to Buckingham Co. near Dyllwin Va. Leah Agee grew to adulthood there near Green Creek, a tributary to Slate River. Leah Agee's parents and several of her brothers also eventually made the move to Sullivan County (see Agee family).
All of George and Leah's ten children were born in Sullivan County Tennessee. At some later time (probably after most of the family had grown), George and his wife Leah moved to Lexington, Kentucky where George died in 1834, and his wife died in Lexington in 1815.
Richard Smith's wife Diana Braswell was born in the foothill (Piedmont) area of Greenville, South Carolina.
She is the daughter of John Braswell and Rebecca Pruitt whose ancestral origin in America is not yet certain, but it is believed that John Braswell's family were from Nash and Edgcombe Counties on the Lowland Plains of eastern North Carolina. Rebecca Freeman in her unpuplished book "Footprints in Time" includes a pedigree chart on Braswells showing their earliest ancestors in America lived in Isle of Wight County, in eastern Virginia as early as 1651.
At or near the time that Richard Smith married Diana Braswell in 1817, he and his wife were living in the area now Bradford, Gibson County, located in the far western part of Tennessee. They are said to be among the earliest settlers in that community (see Flossie Fletter) (and Culp). Gibson County was not formed as a county until 1823. Prior to that time it was a ward of adjacent Carrol county. And the name "Bradford" was not given to that community until after 1872 when the first railroad was constructed there. Probably all 13 of Richard and Diana's children were born in Gibson County, a densely forested wilderness at that time. There is some evidence that Richard's brothers James, Thomas and William also lived in Gibson County, as well as some Agees; all names are listed in the 1840 Tennessee Census Index.
Richard and Diana, according to Mormon Church records, joined the Church in August of 1840 or 41. They and their children remained in this frontier community in Gibson County until perhaps sometime in 1842 or l843 when they moved to St. Albans, Hancock, County, Illinois, about five miles south of the Mormon city of Nauvoo, Illinois.
Nauvoo, the principal Mormon city at that time, is located on the Illinois side of the Mississippi River just opposite the Iowa border. It was founded by the Mormon Church in l839. By l846 Nauvoo had already reached a population of over 12,000, essentially all were members of the Church. Mormon converts like the Smiths were also migrating to communities surrounding Nauvoo.
Rachel Leah Smith (always known as "Leah"), the third child of Richard and Diana was about 21 years old when she moved to St. Albans, presumably with her parents in l842 or 43. She had recently been widowed by the death of her first husband, Andrew Jackson Ross, who died from a logging accident in Tennessee. She had had two children by her first husband. They were James Richard (Dick) Ross, born in 1839, and Melvin Ross, born in 1842. These two Ross sons and their later families remained with their mother and her subsequent families for most of the rest of her life.
The Mormon exodus from the Nauvoo area to the Great Salt Lake Valley in Utah began in February l846 and continued for many years. The Smiths were among those Mormon groups that left Nauvoo in 1846. The slow and difficult progress across Iowa forced the Mormon leaders to reconsider their plan to continue on to the Great Salt Lake area in 1846. The Church established temporary settlements that could serve as outfitting points for those journeying to the far west in the following years.
In 1846 the Smith family moved to one of these camps in Iowa called Mt. Pisgah, where they remained for about four years. Mt. Pisgah was in what is now Union County, Iowa. While there their sons Thomas C. and Philip Smith married sisters Sarah and Eliza Frampton. In addition to Richad's sons and daughters, at least one of Richard Smith's brothers, James Agee Smith, and most of his family also joined the Mormons and migrated to Utah, settling eventually in Washington County near St. George, Utah (see Deuel).
By l850 more than 11,000 Mormons had reached Utah. The Richard Smith family, including Leah and her second husband John Whitlock Radford were participants in this movement, having arrived in Utah by l850. Richard, Diana and many of their children settled in the Provo area after an initial stay in Salt Lake City. Richard Smith is listed in both the l850 and the l860 census of Utah as a resident of Provo. In 1860 Richard and Diana were listed as farmers in Provo and had a house valued at $150.00. None of their children were listed as part of their household., they were age 68 and 67 respectively.
In about 1860 Richard and Diana and their son Ephraim and his family moved to the beautiful Heber Valley in the Wasatch Mountains east of Provo. They arrived there only one year after the initial settlers. They lived with other settlers in a compound of log cabins that were adjoined in a fort style arrangement forming a square, as they had previously done when first settling in Provo. These cabin row forts afforded protection against possible Indian raids. Ephraim became a tanner in Heber, a trade which he had learned in Tennessee. By 1862 another son, Thomas C. Smith and his family also moved to Heber, and their son Philip and his family also lived in Wasatch County (possibly in nearby Wallsburg). The Smiths all raised very large families in Heber. Leah, however was not among them, she instead moved with her husband John Whitlock Radford and their families to Millard County, Utah
Diana Braswell Smith died in Heber City, Wasatch County on March 8, l875. According to one report she was blind for about the last 20 years of her life (Mortimer p. 486). Her husband Richard then moved to Provo where he died a year later, March l8, l876. He and Diana are both buried in the Heber City cemetery.
During their eight decades of life, the Richard and Diana Smith family had helped establish at least five new pioneer settlements in four states and territories, and were among the very first pioneers in each of the these five communities: Bradford, Tenn.; St. Albans, Ill.; Mt. Pisgah, Iowa; Provo, Ut.; and Heber City, Ut. They left an exceedingly large number of descendants who today live primarily the western states.
Sources of information on the Richard Smith Family
Agee, Louis N.
1982 The Agee Register Gateway Press,
Baltimore.
Census of Tennessee, 1840
Census of Utah, 1850,1860
Culp, Frederick and Mrs. R. R. Ross,
1961 Gibson County Past and Present
Gibson County Historical Society,
Trenton, Tenn.
"Descendants of Sir George Thomas
Smith (Va.)" Unpublished typscript.
Deuel, Geneve Smith
1999 History of James Agee Smith
Privately published.
Flettar, Flossie "History of My Great Great
Grandparents Richard Smith and Deannah Braswell"
Unpublished.
Freeman, Rebecca 1993 "Foot Prints In Time,
A History of John Whitlock Radford and Rachel
Leah Smith and Their Families." Unpublished book.
Hamlin, Charles H.
1967 Virginia Ancestors and Adventures
Richmond, VA
Mortimer, William J (Compiler)
1963 How Beautiful Upon the Mountains.
Daughters of the Utah Pioneers of
Wasatch County, Published in Wasatch
County, Utah.
Richard and Diana Braswell Smith Grave Markers
Click on the link above to see pictures of the grave markers for Richard and Diana Braswell Smith in the Heber City, Utah cemetery.