Footprints taken at birth for Denis Morgan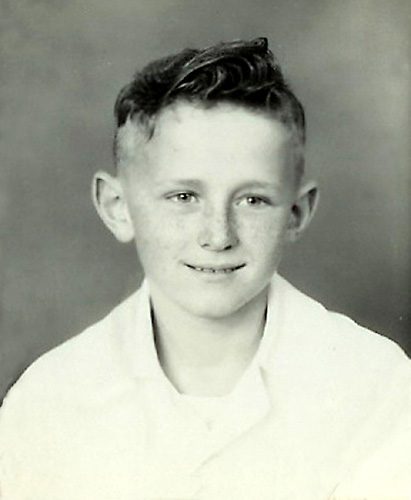 Denis Leroy Morgan was born 17 October 1938 in American Falls, Idaho and died in an airplane crash near Salmon, Idaho 14 June 1985.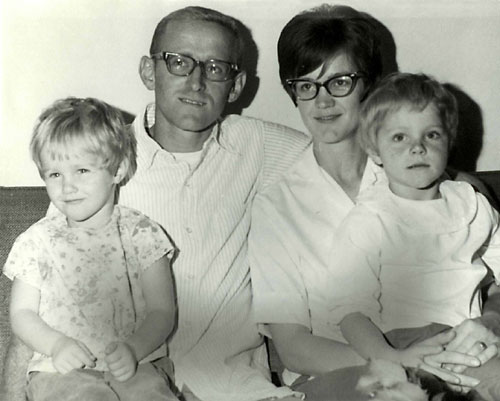 In the picture above are, left to right: Shawna, Denis Morgan, Dorothy Morgan, and Kelly.
Denis Leroy Morgan married Dorothy Louise Melton on 6 February 1960.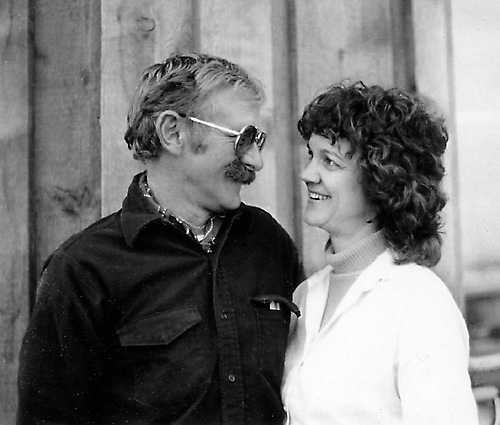 In the picture above, Denis and Dorothy taken in 1984.
Life sketch for Denis Morgan
By
Adella Morgan Hodges
Denis LeRoy Morgan was born to Kyrel Baugh Morgan and Velma Lee Morgan October 1938 in American Falls, Idaho. He joined three older syblings, Betty, Kay and Adella. (Arla Dean would join us later).
He was a thoughtful, interesting little boy and was a favorite of everyone. He loved learning about everything and anything. He drew pictures of his future life that included everything from involvement in the movies to a future flying his own planes, all of which came true.
In the third grade he was diagnosed with rheumatic fever and was forced to bedrest for the entire school year. His teacher came every day after school to give him assignments. It was tough to keep him down but he put the time to good use and studied everything he was interested in.
He was a special person, gifted in so many areas, building (dorey) boats to travel down the Salmon River. He was an artist, published his own newspaper, built the huge owl above the Owl Club on main street in Salmon (it's still there). He loved taking pictures as he flew over the states. As a boy he had several airplanes hanging from his ceiling, stacks of books on everything you could think of.
Denis was thin, wiry, always busy. He wore a handlebar mustache and a big grin and we all loved him.
Denis married Dorathy Melton in Salmon, Idaho, 5 February 1960. Two beautiful daughters blessed their lives, Kelly and Shauna.
They lived in Seal Beach, California, where he worked in movies, built his own house, went to College, then returned to Idaho.
He and Dorathy built the "Cabbage Patch" restaurant in Salmon, Idaho and a beautiful log home at Tendoy, Idaho. He later built an airport hanger and home next to the Salmon airport where they operated their own flying service into the back country mainly. He would fly into the little airport at Caldwell to spend time with family, but mostly to visit with dad, especially after mother died.
He was a favorite with all of us, his kindness and generosity to dad was very special.
When Denis's plane went down my dad lost the will to live and joined him in September, 1985.
January 30, 2007