Life Sketch of Julia Elizabeth Smith & Some of her Ancestors.
By

Leon Pitman
Julia Elizabeth Smith
Born: 29 July 1847, Kanesville (Council Bluffs), Pottawatamie, Iowa
Died: 28 October 1878, Leamington, Millard, Utah
Father: Silas Smith
Mother: Elizabeth Orton
Julia Elizabeth Smith was the first wife of Melvin Ross, the mother of Sarah Lovina Ross and an ancestor of many of our Morgan descendants. But very little is known about her life. No pictures of her and no story of her life are known to exist, though she has thousands of descendants from five of the seven children she bore with her husband Melvin Ross, and she was a descendant of a famous family. Her father was a cousin of Joseph Smith Jr. founder of the Mormon church. We have not even found a grave marker for her where she was buried in Leamington, Utah. Her family initially probably put up a simple wood marker which deteriorated over the years while all of her family long ago moved from Leamington.
When Julia was born in or near Kanesville, now Council Bluffs, Iowa, in 1847, her parents, like many Mormon migrants, were temporarily living in Iowa, waiting for an opportunity to migrate to Utah. In the 1850 census of Pottawattamie County, Iowa, Silas Smith, his wife Elizabeth, their children Marion (Silas Marion) 4, and Julia 2, were living next to Elizabeth's parents, William R. Orton, his wife Rebecca and their large family. When Julia was about 6 years old, her family made the trip to Utah in 1853 and first settled in Provo. Records have not been found about which wagon train company they traveled in. Julia's maternal grandparents, William and Rebecca Orton, also crossed the Plains from Iowa to Utah and settled in Provo.
While growing up in the 1850s, Julia lived in Provo where some of her siblings and half siblings were born between 1853 and 1861. In 1858 her father married her mother's sister Sarah Orton. In the 1860 census Julia's father Silas and his two wives (Elizabeth and Sarah) were all living in the same household in Provo, but Julia was not listed in the household at that time. Her maternal grandparents, William and Rebecca Orton also lived in Provo during the 1860 census. Melvin and Richard Ross are listed in the Provo census in the household of John W. Radford in 1850 in Provo, Utah. Melvin was 9 in 1850. They are also listed in the Provo 2nd Ward LDS Membership Records.
It was while living in Provo that Julia became acquainted with Melvin Ross, as both of them lived there and both were members of the Provo 2nd Ward of the LDS church. Julia and Melvin were married 18 Nov 1861 when Julia was 14 years old and Mel was 19. They were married in the town of Heber, Wasatch, Utah, about 40 miles northeast of Provo, where Mel's grandparents, Richard and Dianna Smith (not related to Julia's Smith line), and other of his family members lived at that time. Perhaps Mel was offered work in Heber by his mother's family. But Julia and Mel's first child, Sarah Lovina Ross, was born 27 March 1862 (some records say 1863) in Deseret, where by that time Mel's mother, brother, stepfather had all moved to help found this new community in Millard County, Utah. Julia's parents also had moved to Deseret by about 1861-62. Records show that Julia's father's plural wife Sarah Orton Smith's first child was born in Provo in 1859, but her second in 1861 was born in Deseret, Millard, Utah, indicating that the Silas Smith family had also moved in about 1861 to help found the town of Deseret.
Julia and Mel Ross apparently remained in Deseret until about 1868 when they, with many other members of his family made a move about 10 miles east to Oak City, Millard County. Her father and his two wives and families in 1864 moved to Meadow Creek, where they founded a new settlement called Meadow, Millard, Utah.
In the mid 1870s, Julia and Melvin Ross made another move, about 12 miles north of Oak City to the new town of Leamington, Millard County, where the family lived off and on until after Julia's death in 1878. In the book History of Millard County by Edward Lyman, page 170, it states that Julia Ross was the first school teacher in Leamington, when the first school opened in there in 1877.
Julia died 28 Oct 1878 in Leamington from injuries she sustained in a wagon accident. She was survived by her husband and seven children: the oldest, Sarah Lovina, soon married and moved from the family household. The 1880 census shows that Julia's parents had come to Leamington and were taking care of the two youngest children, Silas and Emma, and that the three older boys had gone to live with their other grandparents, Leah and John Radford in Kanosh, Millard County, Utah. Melvin Ross married his second wife Mary Ellen Hadden 18 July 1879 in Leamington. (See under the Melvin Ross link).
Julia Elizabeth Smith and her husband Melvin Ross had the following children:
1. Sarah Lovina Ross, born 27 Mar 1862 in Deseret, Millard, Utah, and died 10 Jan 1919 in Neeley, Power, Idaho. She first married John Holden who died soon after. She second married William Thomas Morgan 15 Feb 1880 in Leamington, Millard, Utah.
2. Francis Marion Ross, born 18 April 1866 in Deseret, Millard, Utah, and died 28 March 1949 in Salt Lake City, Utah. He first married Ellen Gurley (Gourley?) in about 1884 in Joseph, Sevier, Utah. They separated in 1891 with no children. He second married Alvira Ann Peterson at Beaver City, Beaver, Utah, in 1892. She was born 23 Aug 1870 in Beaver City, Utah. She died 20 Feb 1946 in Salt Lake City, Utah.
3. Don Carlos Ross, born 18 July 1867 in Oak City, Millard, Utah, and died 27 Oct 1918 in Idaho Falls, Idaho. He married 18 Oct 1888 to Alvira Ann Mackey in Richfield, Sevier, Utah. He died 27 Oct 1918 in Idaho Falls, Idaho. She died 5 June 1942 at Sevier, Utah.
4. James Melvin Ross, born 16 Jan 1869 in Oak City, Millard, Utah and died 25 July 1937 in Sevier County, Utah. He married Mary Elizabeth Hallett in Oct 1891. Elizabeth died in Pocatello, Bannock, Idaho.
5. Mary Ester Ross, born 14 Mar 1873 in Oak City, Millard, Utah, and died 2 April 1950 in Blackfoot, Bingham, Idaho. She married Hyrum Weld Stott 27 May 1896 in Salt Lake City, Utah. Hyrum was born 27 June 1875 in Meadow, Millard, Utah and died in Felt, Teton, Idaho, on 19 Jan 1958.
6. Silas Asahel Ross, born 17 Jun 1875 in Leamington, Millard, Utah, and died 18 Oct 1896. in Joseph, Sevier, Utah. He never married.
7. Emma Ross, born 7 Mar 1878 in Leamington, Millard, Utah, and died in 1881 from diphtheria.
Silas Smith
Silas Smith, Julia's father, was born 6 Jun 1822 in Stockholm, St. Lawrence, New York, died 14 Jun 1892 in Provo, Utah and was buried in Meadow, Millard, Utah, a community which he helped to found. Silas was one of 11 children born to Asael (Asahel) Smith Jr. and Elizabeth Schellenger Smith.
When Silas was a boy of 10 years old and living in Stockholm, NY, his parents converted to the new Mormon church recently founded by his cousin Joseph Smith Jr. Silas remained a part of the Mormon pioneer movement all his life. He married first Elizabeth Orton in the Mormon city of Nauvoo, Illinois, on 9 Feb 1844. She was the daughter of William Reed Orton and Rebecca Huey Orton. The Ortons were both originally from North Carolina but lived for many years in Clinton County, Illinois, where Elizabeth was born on 1 June 1826. The Orton's were also early converts to the Mormon Church, were Mormon pioneers in Missouri in the late 1830s, and later made the move to Nauvoo, Illinois. While living in Nauvoo, they became acquainted with Asael and Elizabeth Smith, parents of our Silas. Asael Smith Jr. died while living in Iowa, during the Mormon trek across Iowa, on 21 July 1848. Elizabeth also died in Iowa on 14 Oct. 1846.
Silas Smith, shown in the picture above, was the bishop who married William Thomas Morgan and Sarah Lovina Ross. He signed their marriage license. Sarah Lovina Ross was the oldest daughter of Julia Elizabeth Smith Ross.
In 1846, following the Mormon expulsion from Illinois, Silas and Elizabeth Orton Smith first fled to Lee County, Iowa, near present Keokuk, but later moved west to Pottawattamie County, Iowa, where they stayed for several years. In 1853 they migrated to Provo, Utah, where they remained until about 1861. Elizabeth's parents and family also made the move to Provo. In 1854 Silas was called on a mission to the Hawaiian Islands. On 9 Feb 1858 Silas married Sarah Orton as a plural wife in Salt Lake City. She was Elizabeth's sister, born 12 May 1830 in Illinois. Both of Silas's wives had large families and for most of their married lives they lived in the same household or near each other. Elizabeth bore eight children, three of whom died young. Sarah had six children, three of whom died young.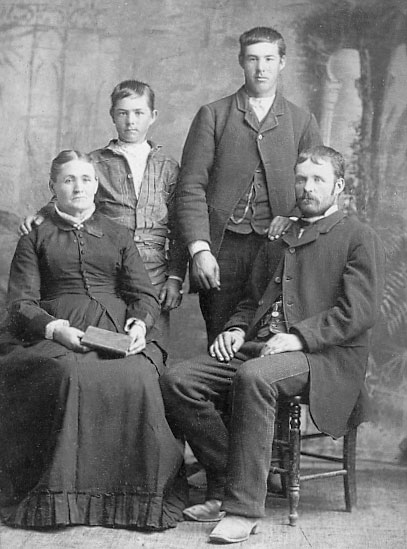 In the picture above are Sarah Orton (second wife of Silas Smith) and her sons. Since three of her children died young we presume these three sons are the surviving children who lived to adulthood.
In 1861 Silas and at least some of his family moved to Deseret, Millard, Utah, where the had to live under raw pioneering conditions. They remained there until 1864 when again Silas became involved in the founding of another new settlement; Meadow, in Millard County south of Fillmore. He and his two wives and family remained in Meadow most of the rest of their lives. The 1870 census lists them in Meadow, showing second wife Sarah in Silas's household. Elizabeth, identified as Orton Smith, is in the household of her son Silas Marion Smith. The 1880 census shows that Silas and his wife Elizabeth had moved temporarily to Leamington, probably to help Julia's young family after her untimely death. Elizabeth Orton Smith died 27 Nov 1902 in Meadow and is buried next to her husband in Meadow. Sarah Orton Smith died in Fairview, Uinta, Wyoming, 11 Dec 1912 and is buried in Fairview. Silas's sister Martha also lived in Meadow.
Ancestors of Silas Smith
Silas Smith's paternal ancestors were Asael Smith Jr., 1773-1848 (Elizabeth Schellenger); Asael Smith 1744-1830 (Mary Duty); Samuel Smith, 1714-1785 (Priscilla Gould); Samuel Smith, 1666-1748; Robert Smith, 1626-1693.
Citing author Richard Lyman Bushman's book on Joseph Smith, pp 14-17:

"Until Asael Smith Sr.'s generation scattered to the north and west, the Smith ancestors were rooted in Topsfield, Massachusetts. Twelve-year-old Robert Smith had sailed from England in 1638 at the height of the Puritan migration and his descendants settled in Topsfield, a farm village ten miles north of Salem. Robert's son, the first Samuel Smith, was among the accusers of a witch at the famous trials. Asael Sr. was the fourth generation of Smiths in the town. His father, the second Samuel, received nearly all the honors the town could bestow. He was repeatedly chosen assessor, selectman, town clerk, representative to the Massachusetts legislature, and delegate to the Provincial Congress..... He died in 1785.....
In 1767, at twenty-two, Asael Sr. married Mary Duty of Windham, New Hampshire. The next year Aseal and Mary began shuffling from farm to farm in eastern Massachusetts and southern New Hampshire, trying to get their feet under them. They lived in three different New Hampshire towns, interrupted only briefly by Asael's enlistment in the army in 1776. In about 1791 they settled for many years in Tunbridge, Vermont. They had seven sons and five daughters who grew up in Tunbridge. Between 1811 and 1818 most of this grown Smith family made one last move, settling finally in Stockholm, St. Lawrence County, New York. Asael and Mary's third son, Joseph Smith Sr., settled in Manchester, New York, near where his son Joseph Smith Jr. founded the Mormon Church in 1830.
In 1832 Joseph Smith Sr., traveled to the homes of his brothers and parents in Stockholm, in far northern New York state, to see if he could convert his family to the new Mormon church founded by his son Joseph Smith Jr. Three of the boys, including Aseal Jr., were converted in 1832 and many of the rest of the family joined later on. Most of them eventually made their way to Utah.
Aseal Jr., father to our Silas Smith, was born in 1773 in Windham, Rockingham, New Hampshire. As a young man he was a Vermont militia lieutenant. After he was converted to the Mormon faith in 1832 he and his wife and family became part of the Mormon community, moving eventually to the Mormon settlements of Kirkland, Ohio, and later to Nauvoo, Illinois. He married Elizabeth Schellenger in 1802 in Royalton, Windsor, Vermont. She was born 1 Dec 1785 in Chatham, Hartford, Connecticut, daughter of Abraham Schellenger and Jane Johnson.
Sources
Anderson, Richard Lloyd, Joseph Smith's New England Heritage, Salt Lake City, 1971.
Bushman, Richard Lyman, Joseph Smith Rough Stone Rolling, New York, 2005, pp 14-17; 114.
Census of Iowa, 1850; Utah 1860, 1870, 1880.
Day, Stella and others, Milestones of Millard, Daughters of Utah Pioneers.
Early LDS Church Ward Membership Records for Provo, Deseret, and Meadow, Utah.
Esshom, Frank, Pioneers and Prominent Men of Utah.
Lyman, Leo Edward, History of Millard County, 1999
www.ancestry.com (OneWorldTree)
www.familysearch.org (Ancestral File).
Click on the download link below to download a .pdf file of a Silas Smith history written April 1980 by Leona Bryner Christenson, grand-daughter of Silas and Elizabeth Orton Smith.
Click on the link below to see a memorial to Julia Elizabeth Smith Ross.