This picture, taken in Star Valley Wyoming, where Hannah is buried, now has a new memorial headstone thanks to the Camp Eliza Crook of the Daughters of Utah Pioneers in Etna, Wyoming and the Star Valley Wyoming Historical Society. The Morgan family is most grateful to these dedicated Wyoming historians who have extended their love to a woman who is not buried with her family, or with any family.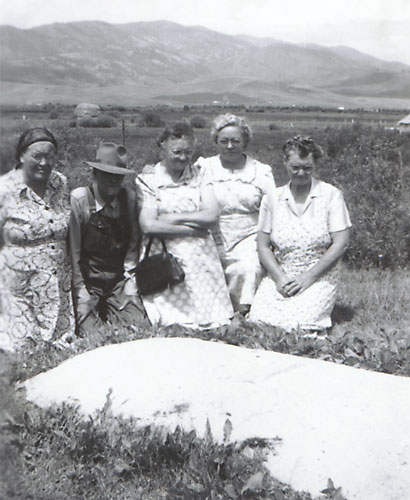 In the picture above are George Radford (1885-1968)and his wife Martha Spracher Radford (1888-1969)(Martha is on the right). Next to Martha, second from right, is Martha Grace Nielson Morgan (1903-1964), wife of Thomas Ezra Morgan. Third from right and next to George Radford, is Mary Emma Morgan Brown (1879-1964), daughter of Edward and Sarah Morgan. The woman on the left is perhaps Annie Myrtle Nielson Hadden who married Hannah's one surviving son, John Edward Hadden.
These family members are kneeling at the grave of Hannah Elizabeth Morgan Hadden in Wyoming. This picture was found in a collection that once belonged to John Thomas and Josephine Morgan, was passed to Martha Grace Nielson Morgan, and ended up in Utah. It went unnoticed in our archives until we visited the grave and recognized the concrete cover. George and Martha Radford died in the 1960's so this picture was probably taken in the 1940's or 1950's. So our Hannah was not lost to their generation.
Grace Nielson Morgan lived in the Twin Falls Idaho area and would have traveled some distance (for her day) to make contact with George and Martha Radford and Mary Emma Morgan in order to visit Hannah's grave. However, there is a connection between Grace and Hannah. Grace Nielson was a sister of Annie Myrtle Nielson who was the wife of John Edward Hadden, only living son of John Russell Hadden and Hannah Elizabeth Morgan. Grace did a lot of genealogy work and she and Ezra Morgan used to go up to Paul, Idaho, to visit John Edward Hadden and wife Annie. So the above graveside picture and a wedding picture of John Russell Hadden and Hannah Elizabeth came into the hands of Grace and Ezra Morgan and was passed from them to their adopted daughter Marceil in Utah. Marceil Morgan graciously made these pictures available to the Morgan Family Historians.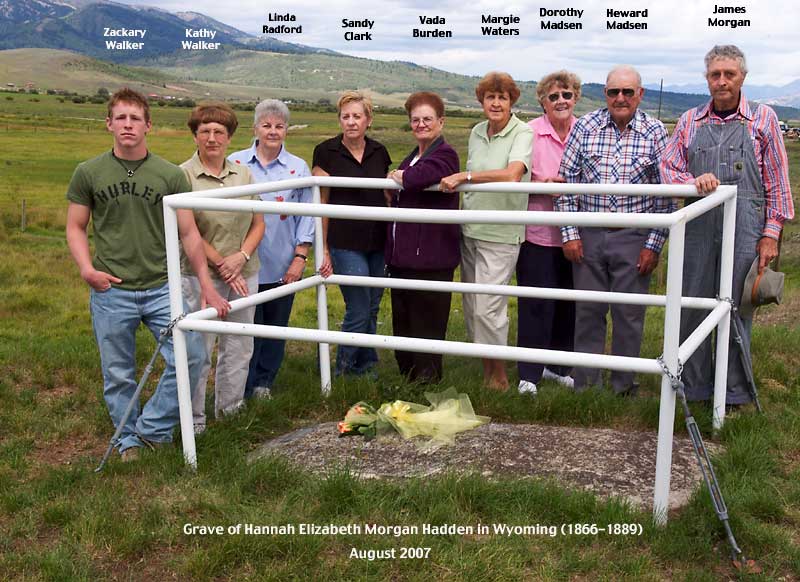 A reunion, in August, 2007, of those who worked to connect Hannah's family with her final resting place. She is not forgotten.
Driving directions to Hannah's grave.
Proceed on Highway 26 out of Idaho Falls, Idaho. Go past Ririe and Swan Valley and on to Alpine, Wyoming. Then on toward Etna, Wyoming. Turn off .4 mile due north of Etna, Wyoming on highway 26/89. Turn West (which will be right if you are coming from Idaho) on Highway 111 (Jacknife Road). Travel .7 mile on Jacknife road then turn right (North) on Highway 109 (Roberts-Wolfley Road.
The gravesite is .2 mile on the left (west) side. About 50 feet South of the gravesite is a telephone pole with a green metal fence gate attached. The gravesite itself is enclosed by a welded steel pipe fence.