We are delighted to have found a picture of Ira Moore for his page.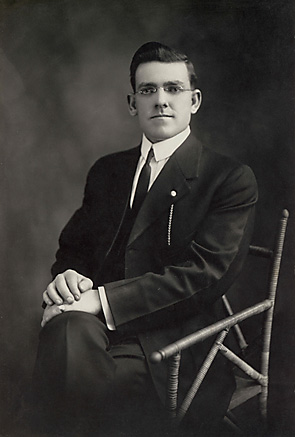 Above: Ira Moore as a young missionary in 1912.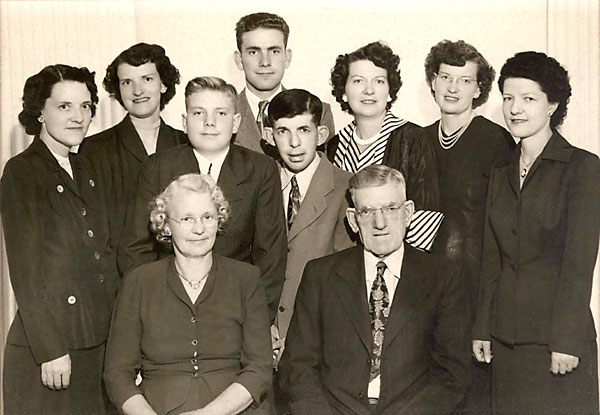 In the picture above is the Ira and Mamie Ferguson Moore family. They are: Back row, left to right: Louise, Reva, Lloyd, Delon, Dale, Bernece, Lila, and Elda Moore.
In the front row, left to right: Mary Ellen (Mamie) Ferguson Moore and Ira Moore.
Picture made the year of Delon (Lonnie's) death, 1953.
Life Story of Ira Moore
Ira Moore was born 10 September 1889 in Freedom, Lincoln County, Wyoming to Willard Cook Moore and Annie Lydia Morgan. He was the fifth child in a family of ten children. In 1891 he moved with his parents to Idaho where they homesteaded in the Shelton area. In his young manhood, Ira worked to help maintain canal headgates with his father who was Watermaster of the Great Feeder Canal Company for thirty-six years. The Great Feeder Canal is on the Snake River just below Heise.
In 1909, Ira was called on a mission for the LDS Church and served in the Western States Mission. He married Mary Ellen Ferguson in the Logan Temple on 4 December 1912. They lived at Shelton where he farmed, and a family of eight children were born to them-five girls and three boys.
Their children included: Mamie Louise Moore Malloy, born 5 September 1913; Elda Mae Moore Brown, born 7 December 1915; Bernece Moore Otteson, born 13 June 1918; Lila Moore Heileson Whitmill, born 1 May 1920; Dale Willard Moore, born 15 July 1923; Reva Moore Burton, born 19 September 1924; Rex Delon "Lonnie" Moore, born 25 June 1933; and Lloyd Jay Moore, born 10 May 1938. Unfortunately, their son Dale was born with mental and physical handicaps. The family took care of him with love and compassion for fifty-nine years.
Ira and Mamie Moore experienced other hardships common for those days, but were successful in making a comfortable home for themselves and their family. Besides their eight children, they also took in one of her nephews, Cecil Cleverly, who was orphaned at the age of nine, and raised him until he was grown.
In 1945 the Moores moved to Idaho Falls where they lived the rest of their lives. On 17 March 1953 their son, Delon, was killed in action on the battlefields of Korea. Later that year at a military ceremony in Pocatello, Ira Moore accepted posthumously on Delon's behalf, the Silver Star Medal for bravery above and beyond the call of duty.
Ira loved the out-of-doors, and was never happier than when traveling through the mountains and enjoying the beauties of nature. He loved to go camping, hunting, and fishing. Some of his happiest times were when he and Mamie and their married children and their families met every summer at Fishing Bridge in Yellowstone Park to spend a few days together. Those vacations were the highlight of his summers until his health became too fragile for him to make the trip.
Ira had a cheerful disposition and a wonderful sense of humor. He was so proud of his family and grandchildren and loved to have them near, showing deep affection for each one.
Ira possessed many talents. In his younger years, he played the violin, led community singing, and participated in many plays and monologues. He was a word artist, both on paper as well as when speaking. He was well-read in the Gospel and in world events. He could converse intelligently with anyone on nearly any subject and enjoyed doing so. While in the Idaho Falls 19th Ward, Ira was ordained a High Priest. A gifted teacher, he taught a Sunday School class as well as the High Priest Quorum until he became too ill to continue.
About eight years before his death, Ira developed a heart ailment, and his health began to fail. During his last two or three years, he spent many weeks in the hospital and was often confined to bed at home. His patient and loving wife, Mamie, cared for him with the help of the rest of the family. He was taken to the hospital two weeks before his passing, where he died on 27 October 1962.
Ira's wife, Mary Ellen (Mamie) Ferguson Moore survived him for nearly seven years; she passed away of a heart ailment on 24 August 1969. Mamie was the daughter of James Albert Ferguson and Mary Agnes Gneiting, and was born to them on 17 August 1892 in Logan, Utah, the third of eleven children. Mamie and Ira met as children when Mamie's family moved to the Shelton area in 1903. They fell in love, she waited for him while he served his mission, and they married upon his return.
Ira Moore is buried in the Rose Hill Cemetery in Idaho Falls, Idaho.