Life History of Joseph Hyrum Lovell and Leah Ellen Radford

By Leah Ann Lovell
Introduction by Elizabeth Ririe Hoggan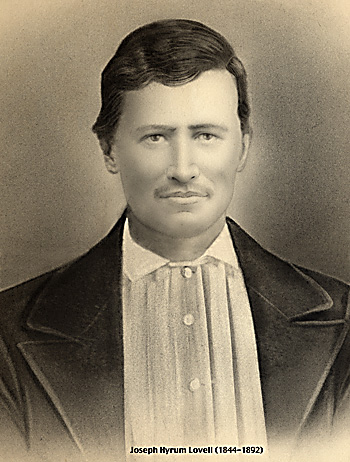 Joseph Hyrum Lovell, son of John Lovell and Ann Parsons, was born at Nauvoo, Illinois, on August 3, 1844. He was the first baby born after the martyrdom of the Prophet Joseph Smith and his brother, Hyrum Smith. Joseph Hyrum crossed the plains when he was seven years old. He grew to manhood in Southern Utah. He helped to build the fort at Deseret. He also helped to build the dams in the Sevier River. The dams went out repeatedly. The family was called by the Church to go to Oak city, Utah, to settle. Joseph made two trips back to winter Quarters for immigrants before building his own home at Oak City.
He married Leah Ellen Radford on August 30, 1869. Leah Ellen Radford, fourth child of Rachel Leah Smith Ross and John Whitlock Radford, was born in Provo, Utah on April 6, 1853. Her two older sisters, Nancy Jane and Catherine, were born as the family was making the trek across the plains. Her brother, John W. was also born in Provo. Her father had been married previously and his wife had left him, apparently when he joined the L.D.S. Church. Her mother, Rachel Leah Smith Ross Radford, had a previous husband, Andrew Jackson Ross, and two children by this marriage, Melvin and James Richard. Andrew Jackson Ross was killed in a logging accident in the Tennessee woods leaving her widowed at a young age.
The John Whitlock Radford family moved from Provo to Fillmore in Central Utah where they remained for several years and from there they were called to assist in the settling of Deseret in Millard County. This settlement was not successful due to their inability to get a stable water source for their crops. The Radford family, along with Thomas Morgan, John Lovell, and others, moved a few miles to the East and founded the community of Oak City.
It was in this tiny, peaceful, hamlet that Leah Ellen grew to maturity. It was a busy life as the pioneer family struggled to provide food and clothing and to raise their large family. Leah's father married Polly Stevens as a plural wife in December of 1855. She had four children before she died of childbed fever in 1863. Leah learned early how to work hard and that it was important to be thrifty and careful with what she had. These lessons were to be very important to her later in her life.
Leah Ellen was only sixteen when she married her sweetheart, Joseph Hyrum Lovell. He was the neighbor boy who lived on the block just behind her in Oak City. They made their home in Oak City where ten of their eleven children were born. Their oldest son, Joseph, died and was buried there when he was nine years old. During this time the people tried to live the united Order. This lasted for a year. Joseph Hyrum spent the season cutting timber. He was a successful farmer and stockman.
There seemed nothing in the future in and about Oak City which offered opportunity for the sons and daughters of Joseph Hyrum or which gave them much of a challenge towards building homes for themselves. Joseph decided to take his family into new country in Wyoming. When he left Oak City for Wyoming, one of the neighbors remarked,"Look at that line of wagons and that herd of cattle. Why a man with a start like that wants to pull off into new country is more than I can understand."
Many families decided to make the journey to the new area, including the Thomas Morgan, Edward Morgan, and James John Morgan families, the Abraham Woolsey family, the Francis Daniel Ryset family, the Willard Moore family, the John Russell Hadden family, the John Whitlock Radford family, and the James Richard Ross family. The intended goal was Star Valley in Wyoming. The Lovell company of several wagons, carrying all their possessions, their livestock, chickens, etc., left Oak City in May of 1889. These families probably did not all leave at the same time but, together, they made up a sizable migration. There has been speculation that Thomas Morgan and John Whitlock Radford, who were practicing polygamy in accordance with the policy of their church, may have promoted the move to Wyoming to avoid federal marshals who were known to be investigating polygamists and had jailed some of them. But others have stated that these families, all members of the Church of Jesus Christ of Latter Day Saints, were called by the church to colonize in Wyoming.
Editor's note: This movement of families from the Oak City and Leamington, Utah area to the Star Valley in Wyoming was a clan movement. So defined because the families were inter-related. Thomas Morgan had married John Whitlock Radford's daughter Nancy Jane Radford as a plural wife. Thomas Morgan's son Edward Morgan came with his extended families, which included Francis Daniel Ryset who was Thomas Morgan's stepson and had married Thomas Morgan's grand-daughter Sarah Priscilla, and Willard Moore who had married his grand-daughter Annie Lydia. Thomas Morgan's son James John Morgan and his family were there. James Richard Ross was a son of John Whitlock Radford's wife Rachel Leah Smith Ross from her first marriage. Joseph Hyrum Lovell and Abraham Woolsey had married two of John Whitlock Radford's daughters. Also included in this move to Wyoming was John Russell Hadden who was married to Edward Morgan's daughter Hannah Elizabeth Morgan who died in Star Valley and was buried by the wayside there. In all about 60 Morgan and Radford family members were included in this move to Wyoming.
Leah Ann Lovell tells the story of the journey and new home as follows: We had a company of seventeen wagons and a big band of horses and cattle. We left Oak city on the fourteenth of May and it took five weeks to make the journey into star valley. We cooked our bread in the big iron bake oven, and put coals over the top of it. When we landed there it wasn't the place we expected to find or what had been pictured to us. It was a wild country and there was plenty of wild hay, but there were so many willows and under-brush that it couldn't be cut until the land was cleared.
Grandfather and grandmother Radford went with us and just before we landed we met a man coming from Star Valley. Father asked him about the country and he told us that it was nine months of winter and three months of late in the fall. Grandfather was about seventy-four years old and this man said to him, "You are pretty old man to be going into a new country to live," and Grandfather answered, "I'm not going there to live. I'm going there to die with my family." He died on the seventh of December, 1889
Grandmother Radford was sick and was unable to travel or we wouldn't have stayed. Father took us into the mountains and found a nice spring and made us a home. We built corrals and stretched tents. There was a forest fire broke out soon after and Mother and George, a very small boy, with only one horse in camp, tore the tents down and hitched on to the wagon and pulled it to a clear place. Father, John and Ed were in the valley cutting logs. All we had accomplished in weeks of hard work was destroyed by fire.
We broke camp and went through the canyon into the valley. We got on an Indian trail and met a band of Indians drunk with juices sold to them by the white people. They were so drunk they could hardly sit on their horses. One time they came to our house when Father was away to work and wanted Mother to trade some sugar for some meat. Mother, being frightened nearly to death, went in the house and got a bowl full of sugar and they said that wasn't enough. They kept on asking for more and she had quite a time to get rid of them but they finally rode off. In a little while they came back and said they had decided to take the sugar. They took the bowl and dumped the sugar out and said it wasn't the same bowl because the other one had a lump in it. You could see for miles either way so Mother showed them some dust and told them that was Father coming home. They waited until he was nearly there, then they rode away.
One Sunday afternoon Grandmother was sick in bed and the Indians rode up. Uncle Dick (Ross) said for us to stand back so they could see her in bed and he would give them a scare. We turned the tent flaps back so they could see her in bed and told them that she had the small-pox. They left as fast as they could. All the rest of the summer they took a cut-off and never came back by our camp at all.
We stayed there until fall and Grandmother wasn't yet able to travel, so we stayed in the valley and Father took a squatter's right and built a two room log shack with split lumber to cover the top. The doors were made of rough lumber, as were the bunks in the bedroom that we used for beds. He split lumber for our table. After he had all that done, he and John and Ed went back to Montpelier to help in the harvest. It was quite a fall.
Father drove his cattle to Gray's Lake to be wintered. There wasn't a pound of hay to be bought in Salt River Valley. He got a colored man to take the cattle, but he had to agree to pay half the feed bill for the year in advance before he would take them. When he went back in the spring to get the cattle, they were all gone. They had starved to death.
John Whitlock Radford died 14 Dec 1889 (the first winter) and was buried near the present community of Etna Wyoming. (Later, after all the families had moved to the Shelton, Idaho area, John's body was moved to the Shelton Cemetery near Ririe, Idaho). The next winter Father worked out of the valley and got wheat and had it milled and took it into the valley, thinking he could keep milk cows alive for the winter. Some of the other settlers pulled out but Father wouldn't leave because of Grandmother's condition. (Editor's note: Most of the families stayed in the valley two winters before they left). The people who were left didn't have means to live on. Winter had only begun when they became short of flour and all kind of food stuff.
There was a branch of the Freedom Ward of the L.D.S. Church organized and Father was made its Presiding Elder. Our home was just West of where the Etna store now stands. When it was organized into a branch, it was called Liberty. Later the settlers all moved away. When it was re-settled it was called Etna.
Our first school was held in a small room that had been built for a shade for the cattle during the summer time. I should judge this room was about eleven by twelve with a small window. Many times, church and school were held in our house.
There wasn't a road or trail out of the valley that winter. The only way people had to get around was on snow shoes or skis, as they are called now. The older people or children were taken around on shoe-boggans made with two show shoes fastened together. After Grandfather died, Father often took Grandmother from house to visit on a shoe-boggan.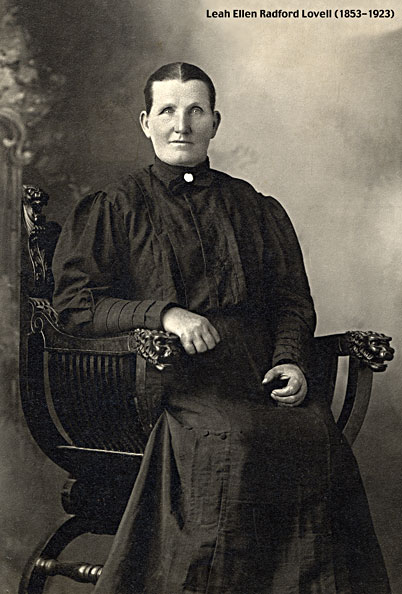 We used to have good times. We would go from house to house and have parties. Bishop Clark of Freedom Ward was with us on all of these gatherings until about February when an epidemic of the Grippe or Flue took an awful lot of the people throughout the valley, including the bishop.
On the first day of May that year, the Superintendent of the Sunday School, Brother William Jones, took the Sunday School children on a picnic on the crust of the snow. One week from that day we went over the same trail and Picked Johnny-Jump-Ups. They had grown under the snow. Miles and miles of the snow would slide off at one time.
We used to see bands of thirty and forty head of deer and elk passing on a trail. One time after a heavy snow fall, Father and the boys went out and came back with thirteen head of deer and elk, so you see meat was plentiful. We cut it up in strips and hung it up on the rafters of the house to dry.
Winter hadn't any more than started until the people ran out of food and Father divided the flour he had taken in for his family, with them. The bed ticks were emptied for the cows and horses and Father scraped the snow off and took grass from the meadows and dried it to try and keep the cows and horses alive. When he didn't have anything to keep the stock alive any longer, he went down in the meadow land and dug holes and took the dirt and threw it all over. That helped make the snow thaw off and he kept one milk cow and a team of horses alive. They were poor but he at least kept them from dying.
We stayed there all the next summer. Father and the boys worked and cleared the meadow ground off. He would have been able to have put up enough hay for his cattle, if he hadn't already lost them. They continued to live in their tiny home in the area that is now known as Etna, Wyoming. The Freedom Branch of the L.D.S. Church was organized in 1890 and Leah's husband, Joseph, was called as the Presiding Elder. A school was begun and was held in a small room that had been built as a shade for the cattle during the summer-time. It was a room about 11 x 12 feet. Still, however, it was difficult to make a living because of the short growing season.
Mother and we kids would pick wild berries and fruit. The strawberries were almost as large as tame strawberries. We would take our lunch and go pick berries for the day. The second winter we were there we had lots of wild fruit that had been taken care of. There were sarvis berries, gooseberries, strawberries, currants, and a berry that looked like a grape. After the second winter in Wyoming the other families, having lost most of their livestock, felt they couldn't survive in such a cold place and left, traveling West and North to the Upper Snake River Valley. Leah Ellen and her husband could not leave because the serious illness of her mother made travel impossible.
Father and the boys worked and cleared the willows off until nearly fall. Leah's mother was better and Joseph and Leah Ellen determined that they too would leave Star Valley and join their family and friends who had gone on to Idaho. They made preparations to move immediately. They brought Grandma Radford to where the other families had gone (where Ririe, Idaho is now located) and left her with the Woolsey folks. Mother and Father came down over the river road from Star Valley. They left John and Ed there to help with the fall harvest. Then Father just picked up and left. He never got a penny out of any of the improvements he had made.
We traveled the last three days in September. The second night on the way we camped on Chub Springs. We had in two wagons all of our earthly belongings. They unloaded one of the wagons to make beds for the small children. The rest of us - Mother, Father, George, Sylvia, Ada, Jane, and Jim - slept right out. The next morning we couldn't tell where our beds were for snow. We broke up camp and we hadn't gone very far when Father started to cross one of the springs and the front wheels went right out of sight, throwing the wagon bed right over onto the horses. We had to unload part of the load and take the other team to get the wagon out.
We went three or four miles to an old log cabin with no floor in it. Inside we spread our bedding out and Father made a fire right in the middle of the cabin, to dry our bedding. Everything was under snow so Father went to get what wood he could get. It happened that a man and woman were going up the canyon to get some wood. Father asked if he could help them get the wood and some for himself. They agreed and he went and stayed all night.
It was the third day of October 1891 when we came to a place where we could find a house to live in. We stretched a tent and lived in it for a few days while we got the house ready. It was that house that stood just below your place and it had been used for a barn. (Just below the George H. Lovell place.) It had been used as a storage shed and had to be cleaned and have windows installed, but they thought it would do for the winter. The boys made a dugout to sleep in and the rest of the family lived in one tiny room. Leah Ellen was so sick all winter that she couldn't even feed herself. Her young teen-age girls had to care for her and take care of the needs of the family as best they could.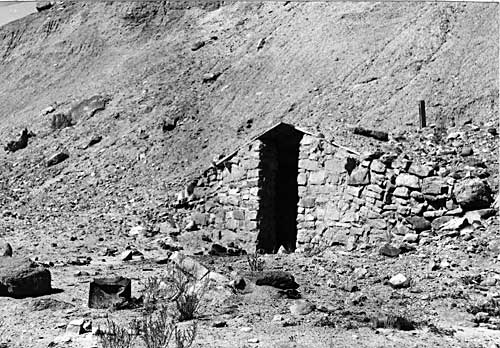 The dugout in the picture above is typical of the dugouts that were made for immediate living quarters by pioneer families. The dugouts were used until better houses of logs or planks could be constructed.
Father cleaned it up, put a window in it, and that was our home that first winter. They went to work and made a dug out large enough for two beds for John, Ed, George, and Jim. For our furniture Father made two beds in the end of the building. Jane and the two little girls slept in one and Father and Mother in the other. There was just room for the stove and a little table. Mother was sick all winter long. She had erysipelas. She couldn't feed herself. Father walked five miles to the saw mill, worked all day and walked back at night. When spring came, he quit long enough to get his crop in as he had rented David Ririe's farm for the summer. After that he went back to the saw mill to work. He had only been working a few days when he came back one day and went to bed. The next morning he went to go to work and every bit of strength left him. As he went to go out he grabbed a hold of the wall and fell across the wheel barrow. He never got out of bed again and died after five weeks time. He died on the sixteenth of June, eighteen hundred and ninety-two. Josie was born on the sixth of July. Mother was left with nine children. Martha was married. We didn't have a thing only what we had brought in the two wagons. (His death was called inflammation of the bowels).
When Josie was about two weeks old, Dolph Heath came and told Mother he could put her onto some land, that a man had filed on and hadn't lived on. This man was a friend of Dave Ririe's. He didn't intend to come back so Dolph Heath told her he would help her move on the land. Mother said she didn't have any money to get the land with, so Dolph Heath loaned her the money. The day that Josie was a month old, Mother was camped on the bank of the river going to Blackfoot to the land office to file on our home. She was a wonderful mother. A number of times she didn't have anything in the house to live on but she would never let her wants be known. Once she went out and prayed to the Lord that he would open up the way for her to get some salt and some soap. As she went out that evening after the cows, away out in the sage brush she picked up a new silver dollar. She said it wasn't even covered with dust as it had been left there for her benefit. So the next day she sent to Iona for some salt and soap and a few other notions that she needed so badly.
Mother worked very hard and did all that a woman could do toward making a livelihood for her family. In the early days in Utah, Father used to raise sheep and shear them. Mother would card the wool and knit our stockings. Until I was grown, I never knew what it was to have a pair of stockings that Mother hadn't made. She made her own soap most of the time and the lights we burned were candles she had made from mutton tallow. Two years after Father died Ada was crossing the foot-bridge over the canal when she fell in. Mother saw her fall and started to try to get her out. She would run along the bank, then as soon as she caught up with her she could jump in and try to grab her, but the current was too swift. She finally caught hold of her and pulled her out of the water but it was too late. She had George get on a horse and the water was so deep that it swam the horse where she had been in to get Ada out. He went to stop a threshing machine crew and get help. Mother said she didn't know how she had the strength to endure. A short time later Sylvia died of diptheria. She said some women came and sat up with Sylvia in the night before she died. In the morning she had had nothing but some bread in the house. She went out to the chicken coop and took one nest egg and beat it up and dipped the bread in it to make something for the women to eat. A few weeks later Grandmother Radford died. Mother died on the third day of February nineteen hundred and twenty-three. She would have been seventy years old on the sixth of April. She left a wonderful posterity and the building was filled with relatives and friends as they gathered in funeral services. The services were simple, yet impressive, to pay homage and last earthly respects to a noble woman. Joseph Hyrum Lovell helped to layout the Shelton-Ririe cemetery and he was the fifth person to be buried there and the third adult. Now he was joined by his loving companion. The souls of these two noble characters will long be remembered.
Above are the Lovell tombstones in the Shelton, Idaho Cemetery near Ririe, Idaho. The small stones are behind the large stone. We have put the two small stones into one picture so we could get them closer together. Pictures courtesy Becky Freeman.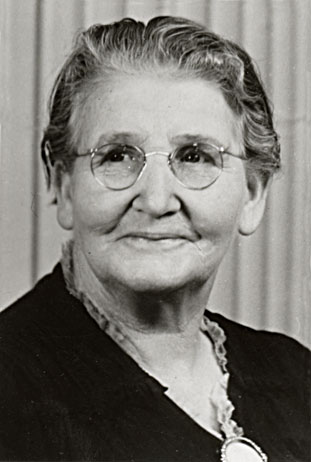 Leah Ann Lovell Ririe (1877-1948) was a daughter of Joseph Hyrum Lovell and his wife Leah Ellen Radford Lovell. She was 12 years old when the Lovell family made the move to Wyoming and 14 years old when they settled in Idaho. She is the primary author of the above life history for her father and mother. She married David Ririe a few years after the families settled in Idaho.