Sarah Lovina Ross (Holden) Morgan is in the front row, right side of this picture.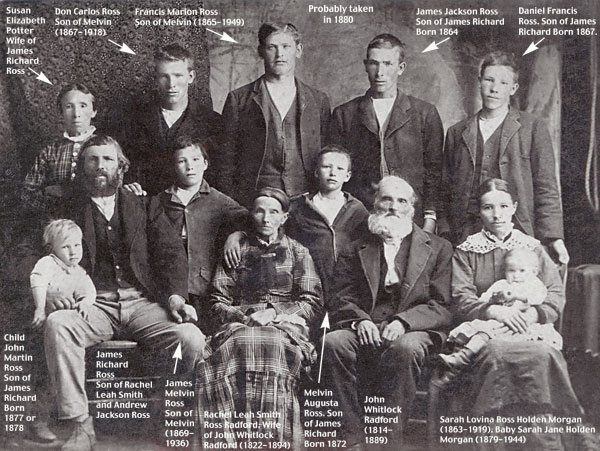 Julia Elizabeth Smith Ross married Melvin Ross in 1862. She was only 15 years old. This is the only surviving picture we have of the early Ross Family and, unfortunately, neither Julia or Melvin is in it. Julia was dead and Melvin was in prison when this picture was taken. Melvin Ross and Julia Elizabeth had seven children, four of whom are in this picture. While pregnant with her last child (Emma) Julia was injured when she fell between a wagon box and wheel. She died six months after Emma was born (In 1867). Three of Lovina Ross Morgan's brothers, her aunt and uncle James Richard and Susan Potter Ross, and four of her cousins are present in this picture.
John Whitlock Radford is a prominent figure in our Morgan Family history. Rachel Leah Smith first married Andrew Jackson Ross. James Richard Ross and Melvin Ross (Husband of Julia Elizabeth and father of Lovina) were born to this marriage. Rachel Leah Smith later married John Whitlock Radford (Making him Julia Elizabeth Smith Ross's stepfather) and one of their children, Nancy Jane Radford, married Thomas Morgan, our Morgan Family In America Patriarch, in 1871. John Whitlock Radford and his family accompanied Thomas Morgan and his family to Star Valley,Wyoming in 1888.
Melvin Ross, father of Sarah Lovina Ross Morgan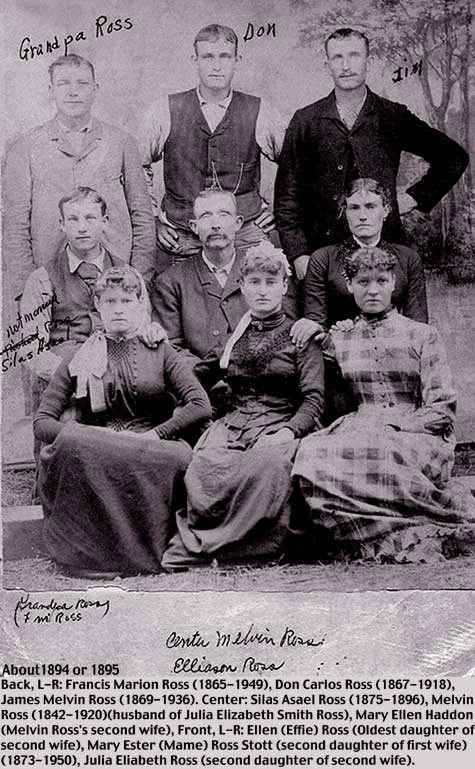 After Julia Elizabeth Smith Ross died Melvin Ross married again and raised a second family. He is in the center of this picture with his second wife (Mary Ellen Haddon), five of the children from his marriage to Julia Elizabeth, and two children from his second marriage. He named the second daughter in his second marriage Julia Elizabeth after his first wife. Sarah Lovina Ross Morgan was born in 1863. She got pregnant in September, 1878, a month before her mother died. Her first baby (Sarah Jane) was born in June, 1879, and her first husband (John Holden) was killed the day Sarah Jane was born.