Tensions between Indians and Mormon settlers, exacerbated by tensions between both groups and the U. S. Government, broke out into open warfare in 1865 when Pahvant, Ute and other Indians, who had raided Mormon towns and driven off cattle, ambushed a Mormon force that was following them to reclaim the cattle. This started the so-called Black Hawk War, which escalated as Indians discovered they could raid Mormon cattle and drive them North to Fort Bridger or South to New Mexico to sell. Small, outlying Mormon towns were particularly vulnerable to these raids and Brigham Young ordered some towns to be adandoned and others to be fortified. The men of Deseret built an adobe fort large enough to move most of the town inside. The structure measured 550 feet square with corner bastions ten feet high and walls three feet thick at the bottom, tapering to a foot and a half at the top.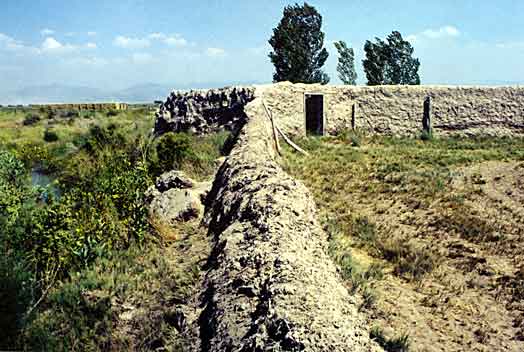 Fort Deseret was located near water and the walls, called "Spanish Walls," were made of adobe mud dug from ditches just outside the fort wall. The mud was mixed with straw in pits using the feet of oxen to do the mixing.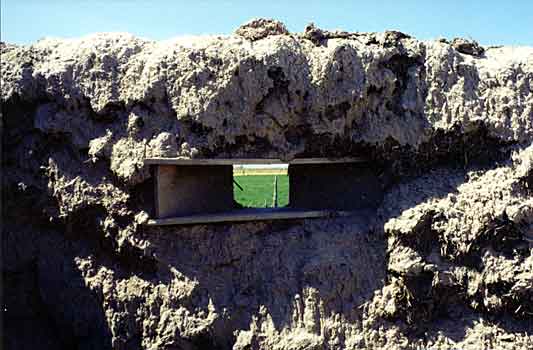 Several portholes were built into the walls of the round bastions at the corners and at intervals along the main wall.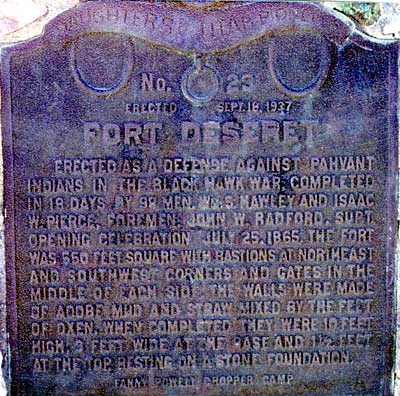 John Whitlock Radford was the construction supervisor over a crew of 98 men which included several members of our Morgan families. Among those known to have worked on the fort were Thomas Morgan; his son Edward Morgan, his son-in-law Robert Gourley (husband of Elizabeth Morgan) and a future son-in-law Frank Radford, who later married Priscilla Morgan. The fort was completed on July 25, 1866 after just 18 days of hard work. The fort never became a walled village, as did Goshen and other Mormon towns, because shortly after it was finished a treaty was negotiated and Indian hostilities abated.