Above, Left to Right: Mary Finn Morgan (1907-1999) (Wife of Kenneth Morgan), William Thomas Morgan (1856-1946), Ada Melissa Morgan Radford (1886-1968) (Daughter of William Morgan).


After William's wife Sarah Lovina Ross Morgan died in 1919 William sold his farm in Neeley, Idaho and moved to Rudy, Idaho (Now Clark). At the time of this move he still had two children at home, Kenneth Morgan and Orlean Lovina Morgan. He bought a farm in Clark where he lived for a number of years. Ada Morgan married Daniel H. (Dee) Radford in 1906. Kenneth Morgan married Mary Finn in 1925. This picture was probably taken somewhere between 1925 and 1930.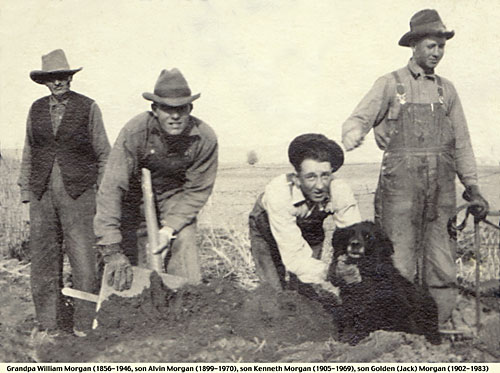 William Thomas Morgan, left, with his sons Alvin (Al), Kenneth (Ken) and Golden (Jack).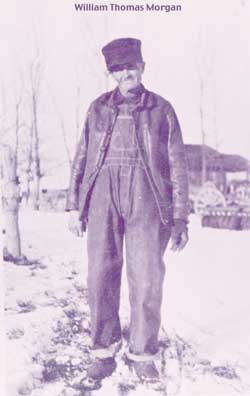 This picture was also taken after William Morgan moved to Clark, Idaho. When he became too old to care for himself he moved into a trailer house that was placed on the front lawn of his daughter Orlean Morgan Nield's home near Idaho Falls, Idaho. He lived there until he died 10 February 1946. He was taken back to the American Falls, Idaho area and buried beside his wife Lovina in the Neeley cemetery.