In late October of 1881 William Thomas Morgan and his wife, Sarah Lovina Ross Morgan, left Leamington, Utah in the company of Melvin Ross (Sarah Lovina's father), Ted Morgan and Jim Morgan (William's older and younger brothers), Willard Moore (Ted's son in law) and their families. They were bound for Malad County, later Power County, Idaho.
The difficult journey to Idaho took about a month through bad winter weather during which time they lost much of their livestock. Arriving late one night they set up camp on present day Warm Creek. They awoke the next morning to a foot of snow on the ground. With no shelter except for the covered wagons they had traveled in they proceeded to build mud dugouts for each family. The first church services were conducted in these dugouts.
About a month after their arrival a baby was born on December 24, 1881 which they named George William Morgan. He is considered to be the first white child born in this area of Idaho.
By spring four other children in the group had died of diptheria and were buried in the present day Neeley Cemetary. These early settlers also had to deal with sometimes unfriendly Indians and an often harsh climate.
According to one account while still living in the original dugout William Thomas built a granary. While he was gone for the day his wife Sarah moved the family into the granary to live, considering the granary to be an improvement in their living conditions.
Little is known of G. W. Morgan's childhood years except that they were spent in the Neeley area on the family farm.
As a nineteen year old G. W. met Emily Baugh from Logan, Utah. Emily had traveled to Neeley to visit her sister Mattie Stanger and there she met George. George and Emily were married in the Logan, Utah LDS temple on April 24, 1901.
At first the newly wed couple lived in Neeley, later moving onto leased land on the nearby Indian Reservation. After perhaps two years living on the Reservation raising grain they moved to "Fork in the Creek", several miles up the Sunbeam Creek where they lived in a tar-paper shack. From there they moved to a small farm in Rockland, Idaho.
Along the way seven children were born to them: Leon in 1902, Roy in 1904, Kyrel "Pete" in 1906, Vaughn in 1910, the twins Earl and Merl in 1916, and Wilma in 1921.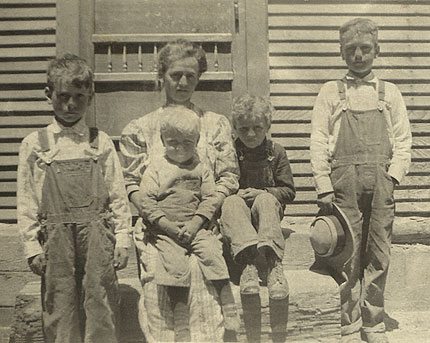 In the picture above are Emily Alice Baugh Morgan and the four oldest children, Leon, Roy, Pete and Vaughn.
Around 1927 they moved from Rockland to "The Gardens," located below the former "Fork in the Creek" place. "The Gardens" was a small wooded area in a ravine next to the Sunbeam Creek and was well-suited to gardening. There G. W. could engage in his favorite activity: raising gardens, which provided the means to help support their family. G.W. raised a variety of vegetables in his garden, including melons and squash. He was noted for the strawberries and raspberrries he grew. The gardens were supplemented with flocks of chickens with the eggs being sold for 10 cents a dozen.
It was while living at "The Gardens" that his wife Emily contracted cancer. Despite surgery and other treatment attempts Emily passed away on August 11, 1929.
By this time George's oldest son Leon was married. Roy had a job herding sheep from which he was able to send money to help support the family. George continued to raise the younger children, remaining at "The Gardens" until the late 1930's.
Around 1939 or 1940 George moved his remaining family to Michaud, a farming settlement to the west of Pocatello, across the highway from the present day airport and near the current fertilizer plant.
About 1942 George again moved his family, this time to the former "Dawson Ranch" near Baker, Id. The ranch consisted of some 545 acres, split into two sections. Here they raised hay and cattle and dealt with innumerable rattlesnakes. For a short period of time his son Leon and family lived on a ranch in between the two sections of the "Dawson Ranch."
The basic ranch house was later remodeled with indoor plumbing, to which G.W. could never quite accommodate. He still preferred the outdoor privy. While using the outdoor facilities in February, 1964 he slipped on the ice and fell, sustaining a severe concussion. He was admitted to the local Steele Memorial hospital in Salmon where he died on March 22, 1964. He was later buried in the Neeley, Idaho cemetary.
Grandpa George William Morgan was known to neighbors and friends as "GW", or "Dad Morgan", or "Uncle Will." He was tall and slender and carried himself with a quiet, peaceful demeanor. His meals were basic and memorable, often including fried potatoes, baking powder biscuits and beans. No one can remember him raising his voice in anger. His was a life of hard work, dedication to family, love of children, and the strength of basic values. He was a man true to his word.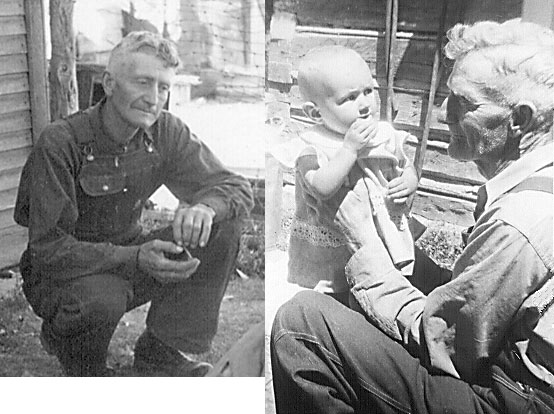 Children born to this marriage:
1. Leon Baugh Morgan born 16 April 1902 at Neeley, Power County, Idaho. Married Mamie Dell Richardson 28 September 1921. Died August, 1971. Mamie died 6 January 2002.
2. William LeRoy (Roy) Morgan born 24 April 1904 at Neeley, Power County, Idaho. Never married. Died 23 July 1981.
3. Kyrel (B) (Pete) Morgan born 29 July 1906 at Neeley, Power County, Idaho. Married Velma May Lee 19 May 1928. Velma died 22 September 1981. Pete died 10 September 1985.
4. Elmer Vaughn Morgan born 14 November 1910 at Neeley, Power County, Idaho. Married Ilah Fifield 15 September 1929. Vaughn died 1 October 1994. Ila died 23 November 2001.
5. Chester Earl Morgan (Twin) born 30 December 1916 at Neeley, Power County, Idaho. Married Verna Alleen Montague on 3 December 1927. Earl died 16 February 1999.
6. Francis Merl Morgan (Twin) born 30 December 1916 at Neeley, Power County, Idaho. Married Billie Dean Adams 10 August 1950. Merl died 27 February 2003.
7. Wilma Blanche Morgan born 24 November 1921 at American Falls, Power County, Idaho. Married Robert Grounds 29 November 1945.
There is a link at the bottom of this page to more pages of pictures and information on the George William Morgan family.