In the picture are, back row, Left to Right: Kyrel Baugh (Pete) Morgan (1906-1985), Betty Eileen Morgan (1929--), and Velma May Hubbard Lee Morgan (1911-1981). Center Row: Kyrel Lee (Kay) Morgan (1932--), and Adella May Morgan (1934--). Front: Denis Leroy Morgan (1938-1985).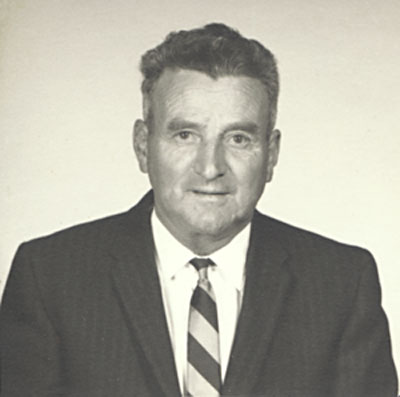 A portrait of Pete Morgan made in 1963.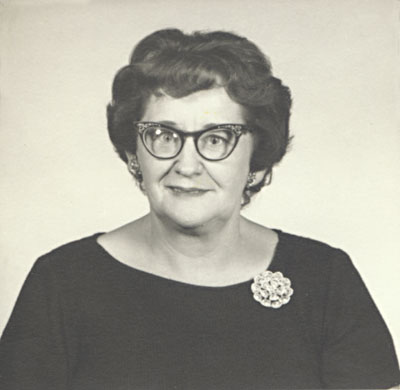 Above is a portrait of Velma Morgan made in 1963.
Life History for Kyrel Baugh (Pete) Morgan
Kyrel Baugh Morgan was born in Neeley, Idaho, July 29,1906, to George William & Emily Alice Baugh Morgan. He was the third son. Dad carried the nickname "Pete", throughout his life. He was no cowboy, like his brothers were, and preferred to help his mother in the house. He loved his little Mother and when she died it changed everything for each one of the family; they were a close family. Sunday afternoons were always a family gathering at one or the others' house, and always holidays.
Dad had a school teacher, when he was 6, who was amazingly smart, I think, dad, being left handed, and a little clumsy, the teacher taught him a "new" way to write. He would turn the page upside down, turn his left hand, elbow out, palm curled over his pencil, toward his chest and proceed to write. He wrote a beautiful hand. It was very distinctive, unlike anyone elses. Every morning of his life he would write a page in his journal, starting with, "the weather this morning is _" whatever it was. Then proceed to fill in whatever was happening that particular day.
When Dad was 8 years old he fell over a bucket and broke his leg while running to his Grandma Baugh's House. The Doctor came in a little black buggy with one horse pulling it. He carried a black bag full of "Magic-Medicines." Dad told us HE decided he, wanted to be a gentleman in a suit and tie, or a Doctor. His Uncle Dee Radford, who was very dear to him, took care of my dad. He carried him everywhere while he was healing. Dad always spoke about his love for this wonderful man, who carried him about until he had fully recovered.
All of our water faucets read differently than they were because of dad's lefthandedness. Hot was cold and cold read hot. It was a scalding issue at the house in American Falls when the hot water tank finally got up to speed.
In the fall of 1919, Uncle Roy and Dad looked for work in Aberdeen, Idaho and teased a teenage girl (called her Fatty) she responded with a few well directed potatoes thrown at him. This girl was named Velma May Lee. She married my Dad that next spring, May 19,1928, at the American Falls Court House.
They lived in a sheep Camp and Dad cooked for the Basque Sheep Herders at one point. Then when Betty, the oldest, was a baby, they lived in a cabin that burned to the ground. Dad had been paid $30.00 in silver dollars, which were in the pocket of his new black leather jacket. They got the baby, the high chair and the melted silver, all the rest was ashes. Mom and the baby then returned home to live with her parents, and they corresponded by letter until they could get enough money together to take up housekeeping again.
Click on the link above to see separate pictures of just Pete and Velma together and just the four children together.
Kay was born in the old Harm's Hospital in 1932. They lived in that yellow house that everyone mentions, for a short time. Adella May was born in 1934. Mother must have been sick because Uncle Roy and Dad took care of me (Adella) just long enough to warrant the purchase of a washing machine.
Uncle Vaughn and Dad built a trailer house for us on the creek at Sunbeam. The bed springs were tied to the wall in the daytime and laid on the floor at night. I remember Uncle Roy running to the creek to pull a crawdad off the toe of Betty's screaming friend. I remember Grandpa Morgan's house of logs in the trees, the glider swing he built sat on the lawn in the shade. A sweet, sweet place. Dad's brothers, Earl, Merle and Roy, had Rodeos there and as far as I know Dad was not a cowboy ever. I'm not sure about Vaughn. But the others rode wild horses and we watched through the pole fence 'till mother dragged us away.
Dad bought a house in American Falls, on Grant Street, when I was 4 years old. (Wilma tells me, the house cost $500.00, the great depression was still in evidence). They often had a struggle making the payments. The front porch was covered with virginia creeper vines, and there was a smaller back porch. There was a nice big backyard for the garden. Dad used a string tied to a stick to measure out the rows, which had to be perfect, you know. Mother was the main gardener though.
Uncle Vaughn and Dad went SnowShoeing in Yellowstone Park one winter. Dad became Snowblind and Vaughn took care of him. They hung Rabbit hides along the rafters of our basement. Dad loved people and I think Vaughn was the one he loved the most.
Uncle Vaughn was much loved by all of us, he and Dad worked together, Vaughn probably pulled most of the labor, dear man, Dad would rather visit. That may not sound fair, just observation.
My baby brother, Denis Leroy was born in October,1938. One year, Denis was very sick, Doctor Logan tented my parent's bed, with Denis inside with some kind of fumes blown in to help him breath. Dad was so worried and brought him a toy or some little thing every night after work 'till he was better. Dad was very loving and cared so much for all of his children. He may have spoiled us?
Charlotte May (Lottie) Hubbard Lee
Click on the link above to see a picture of Velma's family.
Click on the link above to see pictures and a life sketch for Denis Morgan.
One day we were sitting at the dinner table when Uncle Merle came in and said that Uncle Dee had died. My dad broke down and just cried (like I am now, as I write this). He said Dee (Daniel H Radford) was the kindest man he ever Knew. Uncle Dee was married to dad's aunt Ada Morgan.
The church was a focal point just a block from our house. It was red Brick. Each of our Grandfather's worked on this building, donating labor. It was a special place. My Dad smoked and Bishop Quinlan chided him, apparently used no tact, in doing so. Dad did have a chip on his shoulder for a while.
One of the things that was so funny to me was the "dreaded" insurance woman, a Mrs. Corbridge from Aberdeen. She must have weighed around 325 pounds. Every time she visited she sat in the wooden rocker. Well, it always fell apart, dropping her to the floor. Dad always muttered and repaired it over and over again, still she headed for the rocker every time. She always asked where my dad was, mom would make an excuse, like he was someplace else. One day Mrs. Corbridge went into the bathroom just as Dad was climbing out the window, on to the back porch. Mrs. C. hustled in to tell Mother to go stop him. Mom said, "oh that was Vaughn, not Pete," and then she raised her hand which held the butcher knife she was chopping meat with and said, I think you had better go - NOW. She never came back.
My Dad decided to "Tar the Roof " and uncle Roy (Or Vaughn), and we (kids) were up there, too, when Dad fell off the roof. His hand and arm went into the bucket of hot tar, up to his elbow. Mom poured turpentine over it, and then headed for Doc Logan's office. That never discouraged him from roof tarring though.
Dad and his brothers loved "Country Music." Saturday nights he would sit in his chair, peeling apples and slicing cheese, listening to "The Grand Old Oprey." He loved to sing. Sometimes Dennis would sing with Dad.
One day, when I stopped in at "Skinny West's" Saloon to pick up cigar boxes for my art supplies, there in the corner, playing cards, sat my Dad, Uncle Vaughn, mother's brother Frank and others. Dad said, "now don't you tell your Mother." I never did, 'till now!
When I was 7, in the summer of 1942, we moved to Ogden for work at "Hill Air Base." Dad put us in a large army surplus tent. It had adhesive tape over some of the holes, and it smelled like old dirty socks. This was set up in the middle of a man's nursery business. Uncle Vaughn's family had a trailer house. Dan Stanger and family also had a tent, not as old as ours. My mom and Sister used a hissing gas stove to cook on. Betty took care of us because Mom worked at the Base too. My brother Kay set fire to the hillside before my parents got home. Interestingly, there happened to be a fire station on each end of the road and they both responded.
When Dad took us back home in september the grass and weeds were way over my head. Dad went ahead of me so I wouldn't get lost. He never locked the door. In all the times we lived there it was unlocked all of the time.
One year Dad bought an old chevy coop and he and Vaughn decided to go to Yellowstone Park. They loaded up everybody and away we went. A Bear ate candy bars and bacon grease on uncle Vaughn's bedroll while he and Aunt Ila slept.
In the summer of 1945 Uncle Vaughn and family; Dad, Mom, Adella, Kay, Denis, Betty, her husband Neal and Randy (first Grandchild) travelled to Soda Springs to build a Machine shop for a Mr. Harold, who owned a wheat farm. They lived in a railroad car, fixed up to cook in. It snowed in August! I had to sleep in the car all summer (cold place).
My grandfather, William Leroy Lee, suffered a stroke while he was haying in Aberdeen so they sold the farm and my Dad, Uncle Vaughn, and Frank Lee (back from Sea-bees, Overseas) built a cinder block house for them in our back yard where the chicken house used to stand. When Grandpa had a second stroke, my Dad decided to move to (of all places) Salmon, Idaho. Our place was auctioned off, the 2 houses went for a Mere $6,000.00.
Dad bought nine acres on the Salmon River, half of it extended up the mountain across the highway. It had a log house made of two pushed together. There was no plumbing and only one lite bulb. It had one bedroom, a living room, and a hand pump. Mother tore it out, threw it away and the ancient hand cranked telephone, on the back wall, she tore it out also. The toilet, an outhouse, really was out. Outside in the cold. Dad built a house for my Lee grandparents. The sun made it over the Mountains at 10 am and was gone before 3 pm in summer. Winter was worse. It was a dreary place. Grandma said' "its like living in the bottom of a jug!" Dad and Mom shopped for chickens in the dark (literally), purchased the neighbor's chickens, and that venture bombed (the chickens were past their prime).
Grandpa Lee had a another stroke and was moved to a nursing home. Since he could no longer move at all my uncle Frank went to work there to care for him and my mother became the cook. Dad worked in town, building a store and doing remodeling jobs.
Grandpa Lee passed away in 1954. Dad sold the farm and came to Boise, where Mother drove Taxis. Then we moved on down to Middleton, Idaho, where he built a house and while burning out a ditch accidently burned down all of the old cottonwood trees which shaded the old stone Canyon School House on State Street. (a little notoriety there). He visited with the crowd he drew so it wasn't all bad and the trees grew back.
They went on a Mission to England and Scotland in 1964. Mother did the driving, Dad worked as supervisor on old Stone buildings and new wood framed ones, soaked up the culture, then came home. The Lee Etta homes were the next jobs (homes for wayward boys). They served another mission in Nauvoo, building the blacksmith shop. Dad was the stone mason supervisor and was so excited the day they dug down and found the original foundation. I have a painting of the finished building.
I'd like to add one little thing that drove my Mom nuts. She insisted that everyone clean their plate, but Dad didn't. He was taught by Grandma Baugh that a gentleman did not eat everything but left a little something to show that they were not poor nor starving. When he was finished his silverware was placed carefully over the remains of his meal with his napkin on top.
My Dad often spoke of his grandpa (William Morgan?) waking him by hoeing the garden at 4 am in the spring and summer while dad was still in bed. He could hear the "clink, ping" of the hoe in the gravel or rocks in the soil. That love of, or necessity of, growing things is apparently ingrained in some of us. A few of us like it. In growing things I find a feeling of peace and separation from daily cares. [Editor's note: The love of growing things, and farming, was a strong Morgan characteristic that came down from Thomas Morgan, who in turn, inherited it from generations of farm laborers in England]
My mom used to tell us about she and Dad going to the movies (15 cents) and setting their little coupe on the train tracks and driving to town. Saved their tires. My son, Lannie says thats the way Dad and uncle Vaughn drove to get the Doctor after that terrible head on train wreck. I remember that was in 1948, a very cold morning, some deaths occurred. Seems like it was near the Dam, just the other side. It was a bitterly cold morning, something didn't work at the switchyard, the man operating it knew what was coming, but was powerless to stop it. The towns people went out to gather the frozen vegetables (I remember peas and potatoes and the coal). The times were unbearably tough.
My dad could not back a car without wiping out other cars, wagons, sprinkler systems, gates and milk cans. I know because I've seen it. [Editors note: This was another Morgan characteristic during the years when Morgan men were adapting from horses to automobiles. William Morgan was known to have wiped out a few gates, Kenneth Morgan routinely backed into fences and other objects]
I used to go to mom, she was the intercepter, always. On the wall she had a copy of the beatitudes, and I did read them sometimes.
After Mother died Dad couldn't stand to stay in the house. So until it was his bed time, we drove all over, visited with people, stopped in cafes, left uneaten food, he just wanted to pass the time.
Thanks for letting me tell you about my Dad. There was so much I should have added, he was good-too much so- to his children and he was loved, even by strangers.