Edward Thomas Morgan, (referred to as Edward Thomas Morgan Sr. by the family because he had a son who was called Edward Thomas Morgan Jr.) the third child of Edward Morgan and Sarah West, was born 1 Dec 1869, Oak City, Millard, Utah, and died 12 July 1952 in Idaho Falls, Bonneville, Idaho. He was named after his father (Edward) and his grandfather (Thomas). He is buried in Ririe Shelton Cemetery beside his father and mother. (Obituary Idaho Falls Post Register July 16 1952.)
He married Violet Merab Richardson 17 August 1893 in Warm Creek, Oneida, Idaho. She was the daughter of Thomas Richardson and Merab A. Stone. She was born 17 October 1876 in Richmond, Cache, Utah, but grew up in Neeley, Idaho, where her parents moved after her birth. According to the Neeley Cemetery records Violet (aka Lettie) died in Neeley on 14 June 1909.
Violet Merab Richardson Morgan
In about 1872 young Edward Thomas Morgan moved with his family to Leamington, Millard, Utah, where he lived until he was about 12 years old. In 1881 a party of Leamington pioneers including the families of Edward, William, and James John Morgan, Melvin Ross, and Willard Moore founded the new settlement of Neeley near what is now American Falls, Idaho (see life sketch of William Morgan).
In 1887 his parents Edward and Sarah Morgan, along with most family members, left Neeley to return to Leamington. It is not known whether Edward Thomas Morgan, who would have been 18 in 1887, also left Neeley at that time or remained there with his uncle William Morgan and family.
Records show that all other members of the Edward and Sarah Morgan family migrated to Wyoming in 1888 or 89 and again to Shelton, Bonneville, Idaho, in 1891. The records specifically include Edward's two older married sisters, Annie Morgan Moore and Hannah Elizabeth Morgan Hadden, as well as his younger sister Sarah Priscilla Morgan, but Edward Thomas is not mentioned on any known records between 1887 and 1893.
Records are void about Edward Thomas' whereabouts during the large Morgan-Radford migrations to Wyoming and Idaho between 1888 and 1891, but it is likely that Edward Thomas and his wife lived with or near his uncle William Morgan and family, who are known to have remained in Neeley during those years. Adding to this speculation is the fact that Edward Thomas found his wife in Neeley and married her in Neeley in 1892. She had grown up in Neeley and lived there until her death in 1909.
LDS records of Neeley show that on 11 Jan 1893 Edward Thomas Morgan and his new wife Violet Merab Richardson were rebaptized into the LDS church by his uncle William Morgan. Rebaptism was commonly practiced by adult Mormons who wanted to renew and recommit to their faith. The fact that William Morgan performed the baptism may indicate a close connection to his uncle who was an active member and priesthood holder in the Mormon faith. The exact marriage date for the couple has not been found.
The 1900 census of Neeley (American Falls Precinct) show that the Edward Thomas and Lettie Morgan family lived in the same precinct as the William and Lovina Morgan family and close to her brother Thomas I. Richardson and father Thomas Richardson. Edward's occupation was listed as "farm laborer," indicating he did not own land there in 1900.
After giving birth to eight children from 1893 to 1908, Lettie died suddenly in 1909, possibly due to pregnancy complications. Shortly after her death Edward Thomas moved to the Ririe area of eastern Idaho where he raised most of his children and apparently never remarried. In 1930 he is listed as a farmer in Clark, Jefferson, Idaho. A grandson, Ron Morgan, wrote that the soil on this farm was so poor "he had a hard time growing anything on his farm" but he stayed there and managed to raise his boys and daughter. "My dad Earl Morgan stayed with his dad Edward Thomas Morgan and helped him on the farm until he was about 24 in 1924." Ron indicates that boys had to work hard shearing sheep and other farm labor. Some of them also found seasonal work at the large Rogers Brothers Seed Company in Idaho Falls, Idaho, which sorted, cleaned and packaged seed peas.
In 1946 Edward T. Morgan moved to a rest home in Idaho Falls, Idaho, where he remained until he died in 1952.
We are left speculating as to why Edward Thomas Morgan chose to move to Eastern Idaho after his wife's death and burial in Neeley in 1909. The answers most likely are that he had many relatives in the Shelton/Ririe area and had a chance to obtain farmland in the Clark Tract. The small town of Neeley, Idaho, area where he had been living and working as a farm laborer, perhaps offered few opportunities for him to own his own farm because essentially all available irrigation land there at that time had been claimed. The first American Falls Dam, which made possible much new irrigation land in that area was not completed until 1925.
Edward and Lettie's youngest two children, Dorothy Merab (Dot) and Weldon, left without a mother in 1909, went to live with their maternal grandparents Thomas and Merab Richardson who before 1910 had settled in Inkom, Bannock, Idaho. In the 1910 census of Inkom, Merab Dorothy (Dot) Morgan, age 4, and Weldon Morgan, age 2, are listed in the Richardson household as grandchildren. Merab Stone Richardson, Weldon and Dot's grandmother, died 7 February 1913 in Inkom, when Weldon was 5 years old and Dorothy was 7 years old. Thomas Richardson, Weldon and Dot's grandfather, later married Anna (or Hanna) Cole. (Ancestral File). So Merab Stone Richardson would have mothered Weldon and Dot for four years or less before her death. After that Thomas Richardson would have been responsible for the children until he remarried. And it would have been Ann (or Hanna) that mothered Weldon and Dot to their teen years. In the 1920 Census Weldon is living with his grandfather Thomas and Hanna Richardson in Inkom and he was 12 years old. Dorothy (Dot), who was 14 years old, had returned to live with her father. Grandfather Thomas Richardson died 22 December 1924 in Inkom, Idaho. In the 1930 census Weldon was living in the household of his uncle Thomas Ives Richardson and aunt Hatie in Inkom. Dorothy married in 1929 at the age of 23. Weldon married in 1931 just before his 23th birthday.
Edward Thomas Morgan and Voilet Merab Richardson had eight children as follows: (Neeley, Idaho, LDS Records, Eastern Idaho Obituaries and family notes):
1. Edward Thomas Morgan jr., born 20 April 1893 in Neeley, Power, Idaho, and died 28 November 1973 in Idaho Falls, Bonneville, Idaho. His obituary in the Idaho Falls Post Register on 29 November 1973 states that he was a rancher in the Ririe, Idaho, area for many years and that he was a veteran of World War I, having participated in some of the heaviest battles in France. He was the last survivor of a family of seven boys and one girl. His obituary lists no surviving children or wife. The Idaho Marriages Index for 1842 to 1996 shows that Edward T. Morgan married Mary L. Carter on 29 Mar 1916 in Coeur d'Alene, Kootenai, Idaho. There is no other known information on this wife or marriage.
2. Ernest Robert (Dutch) Morgan, born 13 August 1896 in Neeley, Idaho, and died 26 April 1964 in Idaho Falls, Bonneville, Idaho. He married Nellie Mae Bigham on 12 January 1916 in Ririe, Jefferson, Idaho. She was born 8 November 1896 in Albuquerque, New Mexico, the daughter of Rufus James Bigham and Ruth Dennis Wilbur. She died 12 March 1955 in Idaho Falls. They had a family of three girls. Her mother, Ruth Dennis Wilbur, after the death of her first husband, Rufus James Bigham, married James John Morgan, who was a younger brother to Dutch Morgan's grandfather Edward (Ted) Morgan.
3. Amos Morgan, born about 1898 in Neeley and died about 1900 in Neeley. He is listed in the family household in the 1900 census, American Falls Precinct.
4. Earl Morgan, born 6 April 1900 in Neeley, Idaho, and died 3 February 1971 in Idaho Falls, Idaho. He married 24 December 1924 in Ririe, Jefferson, Idaho, to Emma LaVell Rasmussen in Mink Creek, Franklin, Idaho, daughter of Hans Rasmussen and Nancy Nelson. Emma LaVell was born 9 May 1906 in Mink Creek and died 29 November 1997 in Idaho Falls, Bonneville, Idaho. Earl's son Ron Morgan wrote that his father as well as his uncle Ervin in about 1927 formed a sheep shearing business. They traveled to many areas together shearing the wool from sheep. James Morgan, an expert on sheep, states that shearing sheep was very hard back-breaking work. It required the men to work very long hours during long summer days for relatively small pay. Men who did this work tended to come from poor families with limited opportunities for better work.
5. Ervin (Ruff) Morgan, born 10 April 1902 in Neeley and died 7 July 1970 in Bakersfield, Kern, California. After living his early adult years in Eastern Idaho, he moved to California probably during the Great Depression of the 1930s. He lived in Monterey, California, at the time of his brother Weldon's death in 1942; Modesto, California, at the time of his father's death in 1952 and Bakersfield, California, in 1960 when his brother Albert died. (Death Notice, Bakersfield, California, July 1970).
6. Albert Morgan, born 6 June 1904 in Neeley, Idaho, and died 18 May 1960 in Idaho Falls, Idaho. He married 29 September 1925 in Ririe, Jefferson, Idaho to Grace Anona Birch of Lewisville, Jefferson, Idaho and lived his life in the Idaho Falls area. (obituary in Idaho Falls Post Register, 19 May 1960).
Seedhouse with Picture of Albert Morgan
7. Dorothy Merab Morgan, born about 1906 in Neeley, Idaho and died 12 March 1973 in Klamath Falls, Klamath, Oregon. In 1910, at the age of 4, she was living with her grandparents in Inkom, Idaho and was identified as Merab Morgan. According to the Western States Marriage Index she first married 13 Aug 1929 in Idaho Falls, Idaho, to Caradoc Ryllo. Nothing has been found about her first husband. In 1930 census Dorothy Ryllo was identified as a daughter in the household of Edward Thomas Morgan in Clark, Jefferson, Idaho. Dorothy later married Russell Duell and was living in Klamath Falls at the time of her father's death in 1952. She is known by the name Dorothy Duell in other records (Oregon Death Index.)
8. Weldon Morgan, born 19 July 1908 in Neeley, Idaho, and died the victim of a homicide 15 May 1942 at the age of 34 in a Pocatello, Idaho, hospital. As a result of his mother's untimely death on June 14, 1909, he was raised by his maternal grandparents, Thomas and Merab Richardson in Inkom, Idaho, near Pocatello. He married Francis Maly in April 1931 at Ogden, Utah. Weldon and Francis had four children, Ann, John Weldon, Charlotte, and Edward Maly Morgan. He worked at the Idaho Portland Cement Company plant in Inkom for 14 years and had become its foreman. He was also justice of the peace of the Inkom Precinct. One night he confronted a suspicious intruder at the cement plant and was shot by the intruder (Willard Wright), who shot Weldon with two bullets from which he died a few days later. (Pocatello Tribune 17 May 1942.)
Click on the link above to see Weldon Morgan's page.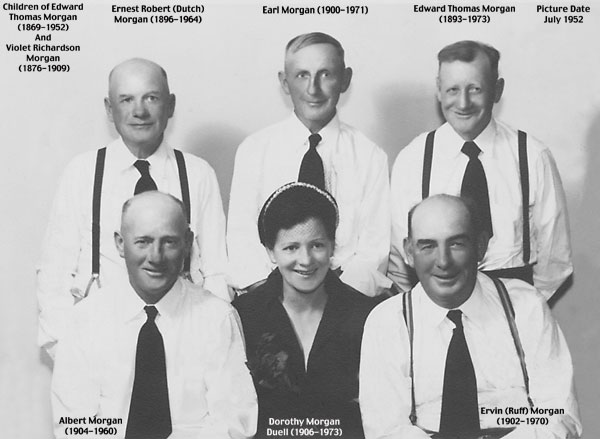 In the picture above are six of the children of Edward Thomas and Violet Merab Richardson Morgan. Picture taken in 1952 somewhere around the time of their father's death. The youngest member of the family, Weldon, was already deceased.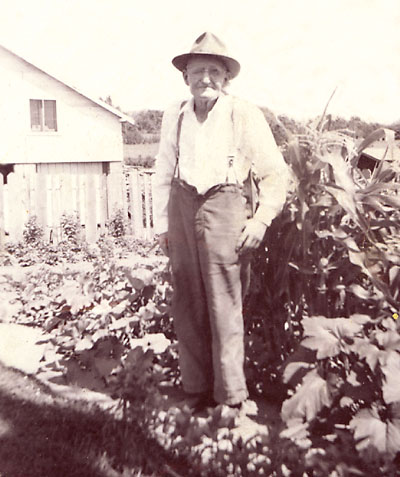 In the picture above is Edward Thomas Morgan in his older years. We also have this same picture with his daughter in the picture.
Headstones of Edward Thomas and Violet Morgan
Click on the link above to see pictures of the gravestones of Edward Thomas and Violet Morgan.